South African National Parks (SANParks) yesterday announced the arrests of 12 suspected rhino poachers in the Kruger National Park (KNP) since Thursday 19 April 2018. Two additional suspects were killed during the confrontations. And a SAPS officer at Skukuza was arrested.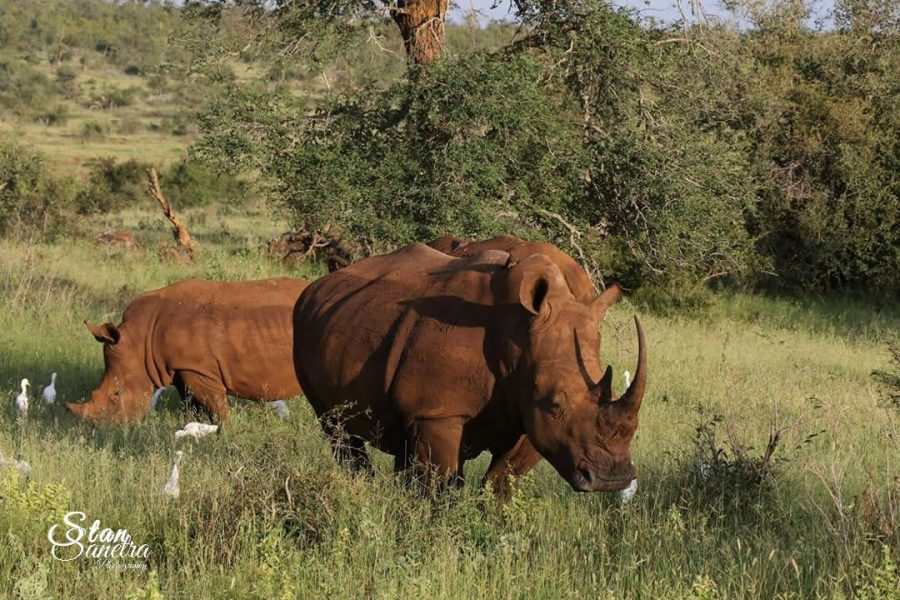 SANParks detailed the arrests in a media release on 24 April.
On Friday 20 April, KNP Rangers arrested three suspects in possession of a heavy calibre hunting rifle, ammunition, poaching equipment and a fresh set of rhino horns.
One of the suspects has since been identified as a recently retired Frelimo Commander who was in full camouflage uniform when arrested.
The following day, 21 April, brought another successful apprehension, of three suspected rhino poachers after rangers – along with the K9 team – tracked the group for a whole day. A heavy calibre hunting rifle, ammunition and poaching equipment was seized. On the same day rangers also managed to arrest two additional suspects.
SANParks added that "unfortunately one suspected poacher was fatally wounded in the armed engagement".
On the 22nd of April, Rangers, after detecting poacher activity, conducted follow up operations and made contact with two suspected poachers. One of the suspects was fatally wounded during the contact and the other one was wounded and arrested.
A heavy calibre hunting rifle, ammunition, poaching equipment and two fresh rhino horns were recovered at the scene. Almost at the same time, rangers made contact with a group of three suspected poachers. In the ensuing armed engagement, one suspect was fatally wounded and the other two managed to escape. A hunting rifle, poaching equipment and ammunition were recovered at the scene.
To crown the successful six days, a SAPS member based at the Skukuza Police Station was also arrested on suspicion of being involved in rhino poaching and is currently in custody.
Reacting to these arrests, the Managing Executive of KNP, Glenn Phillips said it is incredibly encouraging to know that the Kruger has such dedicated teams of Rangers who face this kind of pressure every day and continue to disrupt suspected poachers activities.
"We need to match the efforts of these gallant men and women in uniform outside of our parks if we are to make serious inroads against the criminal syndicates.
"Along with this, communities need to work with us in supplying information as young people are losing their freedom and lives because of the greed of a few highly corrupt and connected criminals," said Phillips.