One person has died, and two have been hospitalised, after a horrific attack at the Imam Hussain Mosque in Verulam, KwaZulu-Natal, in South Africa, on Thursday afternoon.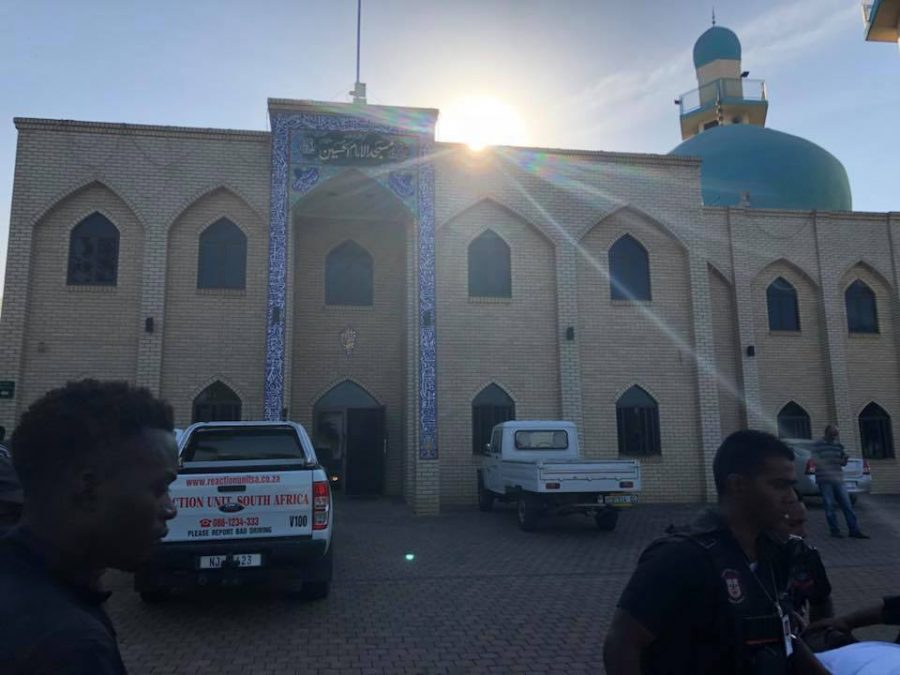 Three balaclava-clad men, believed to be Egyptian nationals, allegedly stormed the mosque  this afternoon, 10 May 2018, wielding knives. They slit the throats of the two people who were in the mosque, as well as a third who entered to investigate, after hearing their screams.
The attackers then set parts of the mosque alight.
One of the victims, father of two Abbas Essop, has sadly succumbed to his injuries.
Another man is still being treated in hospital, according to security company Reaction Unit SA. He is apparently in a stable condition.
The third man has been discharged after being treated. He is reported to be a moulana (Muslim cleric) who managed to escape by jumping out of a window on the second floor of the mosque. He had already been stabbed multiple times by the attackers.
According to a News24 source, the attackers claimed the mosque was brainwashing people.
The Chairperson of the Portfolio Committee on Police, Francois Beukman, has condemned the attack.
Beukman said the alleged attack was shocking and the South African Police Service should prioritise the investigation.
"A mosque is a religious institution, and South Africa's Constitution guarantees and protects the right to religious practices," Beukman said.
"This kind of attack on three innocent people is totally unjustified. We want our communities to live in harmony, practising their religions without fear."
Alleged mosque attacks had been reported in KZN, said Beukman. Another Muslim place of worship was set alight in a separate incident.
Beukman said everything should be done to arrest the perpetrators, and called on anyone with information to contact law enforcement agencies.
DA National Spokesperson Refiloe Nt'sekhe said in a media statement that the DA condemns in the strongest possible terms the "heinous attack".
Azad Seedat, one of the founders of the mosque, says the mosque refuses to be intimidated. Prayers will continue tomorrow as normal. He said the Mosque is named after Imam Hussain who himself was the victim of the same kind of atrocity… "so this is not something that is going to deter us from coming to worship!"
Azad Seedat, one of the founders of the mosque, says they refuse to be intimidated. Prayers will continue as normal tomorrow. The moulana, who was also attacked, has now been released from hospital. The other victim is still being treated. One man died. #MosqueAttack pic.twitter.com/pycSC934pT

— Dasen Thathiah (@DasenThathiah) May 10, 2018
The Imam Husan Mosque in Ottawa, north of Durban. 1 man was killed, 2 others injured when attackers entered earlier and slit their throats. We are told there was a previous attack in 2013. Leaders have also been receiving threats. #MosqueAttack pic.twitter.com/BLPchx2Abr

— Dasen Thathiah (@DasenThathiah) May 10, 2018
[WATCH] #MosqueAttack: Unconfirmed reports say three people have been attacked in Verulam in KZN. We understand a mosque has been set alight. eNCA's @thubao is on the scene with the latest. Courtesy #DStv403 pic.twitter.com/Ll2f9LjPOH

— eNCA (@eNCA) May 10, 2018