This Sunday's episode of Carte Blanche is packed with all the latest hot topics in South Africa – De Lille vs The DA, Protea Glen Land Grabs, Murder By Appointment and Being Transgender. South Africans abroad can watch this show (and many more) by subscribing to Showmax International, where this episode will be available to stream from Tuesday 15 May 2018.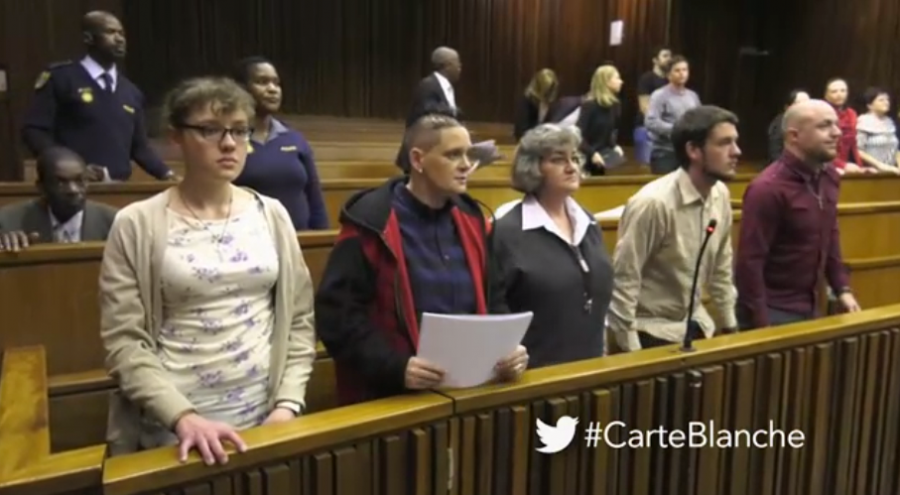 They've been dubbed the Krugersdorp Killers: the bizarre story of the Steyn family – a mother, her two teenage children and friends who are on trial for the brutal murders of 11 people.
The group unleashed a reign of terror that lasted 4 years from 2012 to 2016 , allegedly committing additional crimes ranging from robbery, aggravated assault and fraud to identity theft.
The case was due to start earlier this month, but has been postponed to 16 May as a couple of the accused are reportedly negotiating plea bargains.
It's believed that the serial murder spree began after Marinda Steyn's friend Cecilia Steyn (no relation) had a falling out with a pastor in Krugersdorp, and wanted revenge.
Cecilia allegedly recruited Marinda and a few others to intimidate the pastor and her friends and family. After committing several crimes without being caught, the group moved on to murder. At first the murders were related to the initial mission for revenge on the pastor, but apparently the group felt emblazoned after not being caught, and went on to commit another seven murders… these ones mainly for money.
But how did their killing spree finally come to an end? Carte Blanche investigates. (Producer: Kate Barry, Presenter: Devi Sankaree Govender)
Subscribe to Showmax to watch the show – click here 
They've been dubbed the #KrugersdorpKillers: the bizarre story of a family and friends on trial for the brutal murders of 11 people. Spanning over 4 years, the accused face charges of murder, robbery, aggravated assault, fraud and ID theft. #CarteBlanche Sun 7pm @MNet pic.twitter.com/qDsuFiqj1l

— Carte Blanche (@carteblanchetv) May 11, 2018
The battle between the Democratic Alliance and Cape Town mayor, Patricia de Lille has finally come to a head.   After months of attempting to remove De Lille from office through internal party disciplinary processes, the DA finally succeeded by withdrawing her membership. As the party continues to defend its position, De Lille insists she's not going without a fight and some analysts believe that these recent events show that the DA is imploding and losing support in its key constituencies. Carte Blanche analyses a party in crisis. (Producer: Liz Fish, Presenter: Macfarlane Moleli)
Members of the ANC and some DA members outside court in support of Patricia De Lille! This Sunday @carteblanchetv we look into what the issues are following her membership from the DA being withdrawn. #PatriciaDeLille pic.twitter.com/Y2iUs9SSx1

— Macfarlane Moleli (@macmoleli) May 11, 2018
Protea Glen residents have warned illegal land invaders to stay away from a piece of land near the Soweto suburb, saying they will not tolerate the erection of shacks next to their homes. But the land invaders seem determined, resulting in violent clashes with police.  According to research, the majority of land invaders are after residential spaces to be able to live closer to a working economy, rather than agricultural land. Has the invasion of land in Protea Glen turned the traditional notion of so-called land grabs on its head? (Producer: Nicky Troll, Presenter: Macfarlane Moleli)
Transgender is a little understood identity and for some, coming to terms with being a trans person, is the struggle of a lifetime. Elle and Siya often face difficult questions about their gender identities, but they believe that being transgender is the ultimate expression of living.  Carte Blanche explores how these women are helping to break the stereotype.(Producer: Nicola de Chaud, Presenter: Claire Mawisa)
For some, it's the battle of a lifetime – finding your true identity as a #transgender person. This Sunday, @clairemawisa meets two inspiring transgender women breaking the stereotypes and fighting against discrimination. That's #CarteBlanche Sun 7pm @MNet pic.twitter.com/E54xa7ROEe

— Carte Blanche (@carteblanchetv) May 9, 2018
***
Please note: Carte Blanche is only available to international Showmax subscribers in Andorra, Australia, Austria, Belgium, Canada, Denmark, Finland, France, Germany, Greece, Iceland, Indonesia, Ireland, Italy, Liechtenstein, Luxembourg, Malta, Monaco, Netherlands, New Zealand, Norway, Portugal, San Marino, Spain, Sweden, Switzerland, United Kingdom and United States. Not all titles are available in all territories. Showmax brings you the best South African series and movies, from the classics to the latest releases, from complete box sets to kids' favourites.