Two cash-in-transit vehicles were blown up Thursday morning in Atlas Road, in Boksburg, South Africa. Watch below.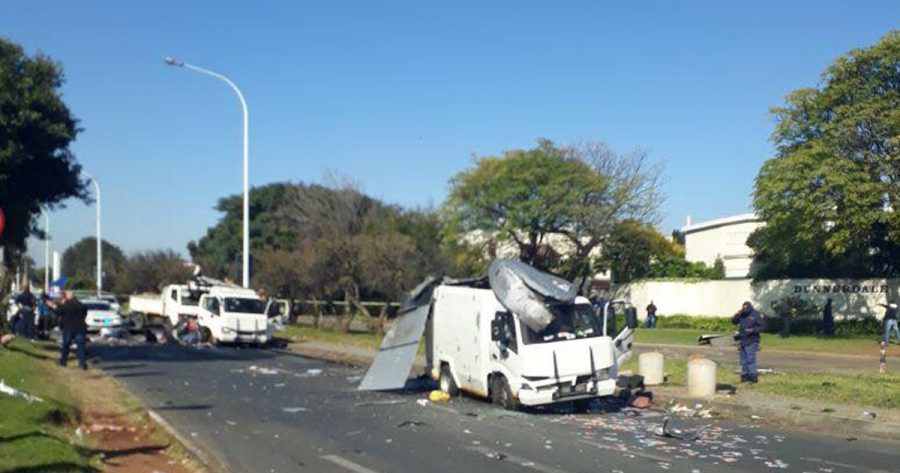 Cash heists have become an escalating problem in South Africa recently. Just last month five suspects were arrested for a R30-million cash-in-transit heist.
Five of today's alleged 10 suspects have reportedly already been caught by the South African Police Service (SAPS), thanks to a VERY speedy response rate!
According to local reports, the five were tracked down by police after a chase which included a couple of helicopters. The suspects were caught at Johannesburg's George Goch hostel. (One is rumoured to have been from the SAPS Canine unit.)
Police spokesperson Captain Mavela Masondo told TimesLive that the 10 suspects were using four vehicles, and approached two G4S security vans and started shooting at them, at around 09h30 this morning.
The suspects were able to grab some of the cash. The rest can be seen scattered on the road.
The police have recovered one of the vehicles and a rifle. The operation is still ongoing.
Two injured security guards have reportedly been taken to hospital. There were allegedly a total of four security guards. ER24 reported that a total of eight people sustained moderate injured during the shoot-out.
"ER24 paramedics came across the incident just before 10H00 where they found two blown up cash in transit vehicles. Upon further assessment, they found eight people who had sustained moderate injuries. Two of them are believed to be bystanders.
"ER24, as well as another medical service on the scene, transported the patients to hospital for further medical care."
The exact circumstances of the incident are not yet clear to our paramedics but police were on the scene for further investigations.
A couple of weeks ago, Hawks head Major General Prince Mokotedi said: "The spate of cash-in-transit heists are a cause for concern. Our members will work around the clock to make sure that outstanding suspects are brought to book, including the stolen money,"
Today Masondo told TimeLives that the arrest of these robbers is a breakthrough and SAPS believe this will bring the crime down.
WATCH Cash-in-transit heist in Boksburg, South Africa
WARNING: Some bad language (please don't watch if you're sensitive to swearing!)
CIT HEIST – A TRULY INCREDIBLE & INSPIRING JOB DONE BY SAPS & FLYING SQUAD

A Cash-In-Transit heist took place a short while ago on the corner of Northrand Road and Atlas. Mamba Operations Manager, Sean Stopford, made his way through there to see if he could offer help and on arrival jumped in with the Flying Squad to assist them with the chase. 3 Flying Squad vehicles and Sean commenced on the N12 from Boksburg towards Johannesburg. The suspects opened fire on the SAPS shooting a back door and back window out.These brave officers did not relent and got eyes on the suspects when they fled into a youth hostel close to city deep. Two choppers were also in the air assisting these officers with the chase. 4 suspects were caught and arrested. A Land Rover, AK47 and money was recovered. Authorities are still looking for more suspects and a silver BMW 5 Series. Mamba Units are assisting SAPS with crime scene management and crowd control. Well done to our SAPS & Flying Squad, these heroes risked their lives today to catch these criminals. #MambaCommunityHeroes #MambaSecurity

Posted by Mamba Strike Force on Thursday, May 17, 2018
UPDATE 22 MAY 2018
The five men arrested in connection with the Boksburg cash in transit heist appeared in the Boksburg Magistrate Court on Monday afternoon. The men face multiple charges of attempted murder, possession of illegal firearms and commercial explosives.