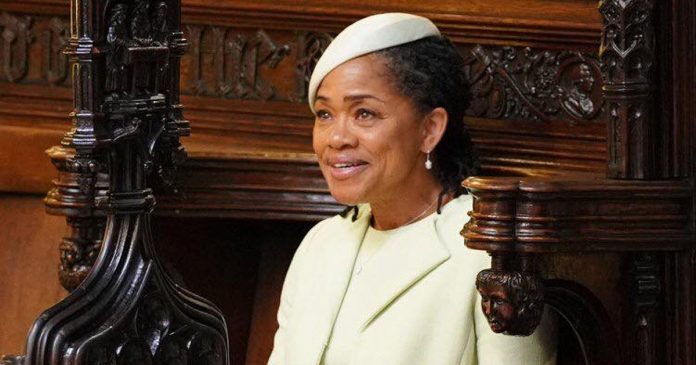 Freelance American writer and mother of four, Lisa Cole, penned a heartfelt message yesterday along with sharing a photo of Meghan Markle's mom, Doria Ragland, sitting in St George's Chapel… proudly – and sometimes tearfully – watching her beautiful princess marrying a prince.
Lisa's message was intended for her friends, but within 24 hours it has already been liked by over 1.1 million people from around the world (including South Africa)… and been quoted in magazines, newspapers and blogs internationally.
Lisa wrote: "Can we just take a moment to honor this beautiful, strong woman (Meghan Markle's Mother, Doria Ragland) who sat alone, wistfully alone, a million miles from home – in a situation so foreign to her own life – with grace, dignity, poise, honor and deep love for the child she raised? THAT, is royalty.
"Let's hear it for all the strong mamas of the world! #RoyalWedding."
A few hours later – at 02h38 am EST, Lisa posted an update, saying "I'm overwhelmed with the solidarity shown today by not just Mamas but WOMEN. Love showed up here, y'all. Seriously. I wrote these simple words on a whim sitting on the couch with my eight year old daughter on my lap after the ceremony ended, because I was so deeply moved by the sight of this mother's devotion.
"My heartfelt words which I never fathomed would move past my own state have now been shared and reposted and reblogged all over the world… So cool! Keep using these words. Do whatever you want to with them to create positivity in this world. Build mothers UP!
"Mamas deal with so so much in life already…. Postpartum. Divorce. Abuse. Neglect. Suicidal thoughts. Struggles deep and wide in ways not often spoken about with others. Why not put a smile on their faces instead?!"
Lisa added a PS – "Go hug your mama. Or call her. If you still can."
Not everybody was impressed though. A couple of women said Lisa had projected a lot of her own feelings onto the photo and that she had been condescending and didn't know Meghan's mom (a 61-year-old yoga teacher and social worker)… to which Lisa replied: "I'm unsure at the reason behind your vitriol and your inability to see the love I (and the one million people that these words resonated deeply with) had for this mother and her devotion to her child."
An hour ago, Lisa posted another message thanking all the "wonderful mamas" who've written to her in the past 24 hours, pouring out their hearts and life struggles.
She then signed off to spend a couple of hours with her own four babies!
Can we just take a moment to honor this beautiful, strong woman (Meghan Markle's Mother, Doria Ragland) who sat alone,…

Posted by Lisa Cole on Saturday, May 19, 2018