Looking at the current protests, economic hardship, racial tensions and increased Cape gang violence; I am sure the last thing we as Capetonians were thinking about, was "Kykie, how about a lekker new name for our Airport?" writes Vannie Kaap founder, Keyser Sôze.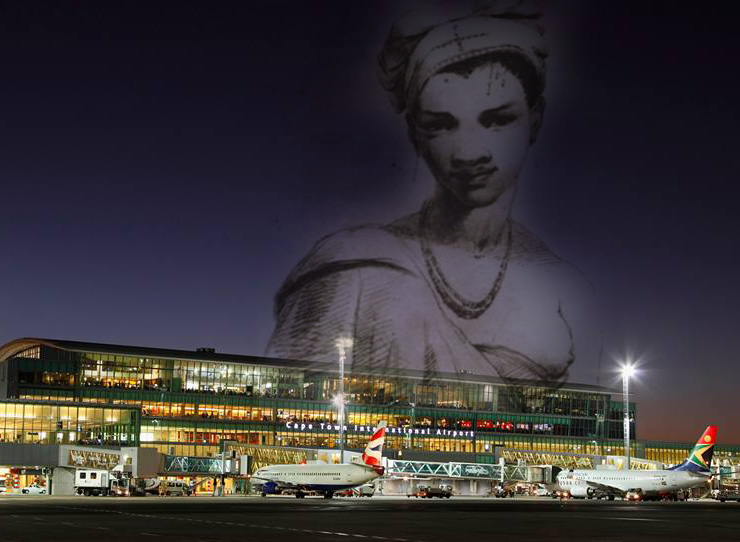 So let me start off by saying that I think the mood amongst most here in the Mother City, is that the name shouldn't be changed at all. I concur with the voices that are asking why money is being wasted to change a name, when that same money could be wisely spent on actually changing lives?
Manenberg, which is just a few minutes drive to the airport, is the same area where just recently 210 gun shots were recorded (via shotspotter) over a period of 4 days! Mitchell's Plain – another area in the Cape Flats – saw 10 people shot dead in 2 weeks. We live in literal war zones and some moegoes want to come to talk to us about blerrie names!
Ok rant over, now let's face the reality.
Cape Town International Airport will be renamed regardless of me using my 50 litres of water to wash the blood that flows in our streets. So I guess we may as well present our suggestions, even if it's just for history to show that we didn't remain silent, while knowing full well that our voices would probably still be ignored.
There are many worthy names being mentioned, but I'll focus on one of the two that has gained the most traction. Please note; this is my personal opinion, not necessarily that of the brand 'Vannie Kaap' or SAPeople.
The more I read about the indigene Krotoa, the more I realise how powerful and unifying her name actually is. Yes there are many that have a political agenda with their suggested names; however the name Krotoa transcends the racial and political divisions that have made the term 'Rainbow Nation' seem like a sad and failed experiment.
Much has been written and yet much has also been hidden/distorted about Krotoa; so it takes a bit of digging to unearth the true gem that she was. Whatever's missing or tainted in the historical record, is not missing or tainted enough to eliminate the strength and prowess of this Camissa woman.
Let's not forget that the progeny of Krotoa includes Blacks, Whites and 'Coloureds'. Her womb literally weaved the international tapestry of South Africa. She spoke fluent English, French, Dutch and Portuguese; ek mean ma, how more international can you get? Even the name 'Eva' that the Dutch gave her is from the name Eve, which means 'mother of all'. Think about it, she was actually the first mother of our nation and today her laaities are ignorantly fighting each other.
The Minister of Transport, Blade Nzimande, said: "Our ultimate preoccupation is to ensure that we name this airport after one of our heroes or heroines who contributed immensely to the attainment of a democratic South Africa, one that is united, non-racial, non-sexist, democratic and prosperous."
Ok Nzi, if you're going to spend millions renaming an airport in Cape Town to honour a freedom fighter, why not a forgotten Khoi heroine born in the Cape and sadly – in some form of poetic irony – died on the same island [Robben Island] where future anti-apartheid activists would be imprisoned? Why not a name that has a direct and historical link to the heritage of this beautiful city?
In no way does placing her name on that airport dishonour the already proposed names. Most tourists landing in Cape Town would have already heard of the name Mandela; but how many of them – including 'Coloured' children dodging bullets in the Cape Flats – would have ever heard of the name Krotoa?
#callitkrotoa #krotoainternationalairport
My Kaaps Glossary:
Kykie: Look here
Moegoes: Idiots
Blerrie: Bloody
Ek mean ma: I mean
By Vannie Kaap founder, Keyser Sôze.
This article first appeared on Vannie Kaap, and is republished with kind permission. Vannie Kaap exists to CELEBRATE Cape Coloured culture and to EDUCATE other cultures about it.
***
Krotoa – who was known as Eva to the Dutch and English settlers in the Cape – was the niece of a Khoi leader and interpreter to the Dutch. According to SAHistory.co.za she was taken in by Jan van Riebeeck at the age of around 11, and worked as a servant to his wife, learning Dutch and Portuguese, and becoming the first indigenous Southern African to be baptised a Christian (in 1662). She helped negotiate the end of the First Dutch-Khoi-khoi War and was often a go-between between the two cultures.