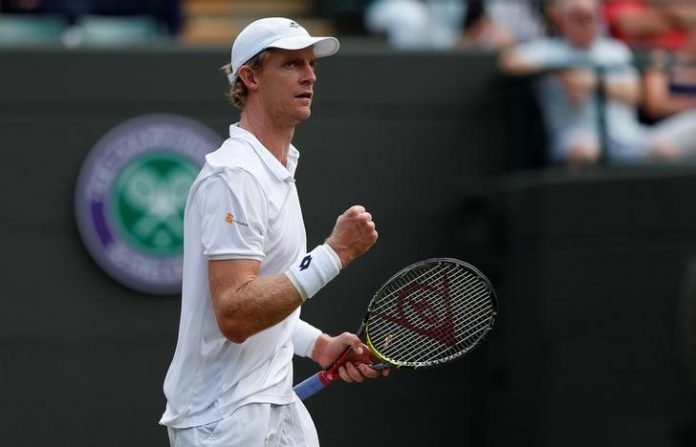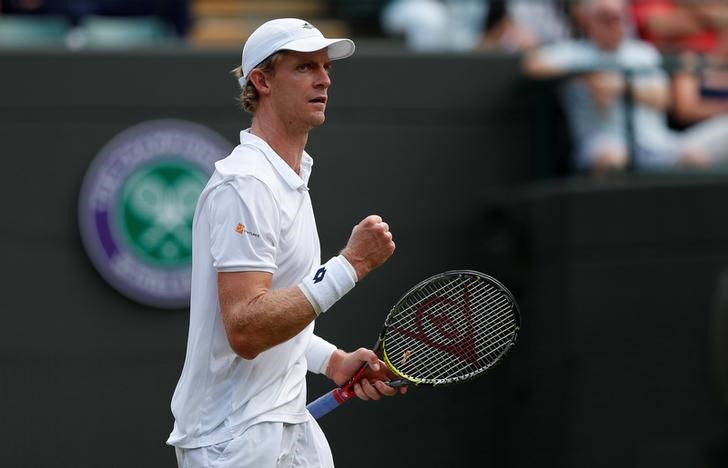 LONDON  – South African expat Kevin Anderson pulled off the biggest shock at Wimbledon – and in the tennis arena this year – by beating eight-times champion Roger Federer on Court One today!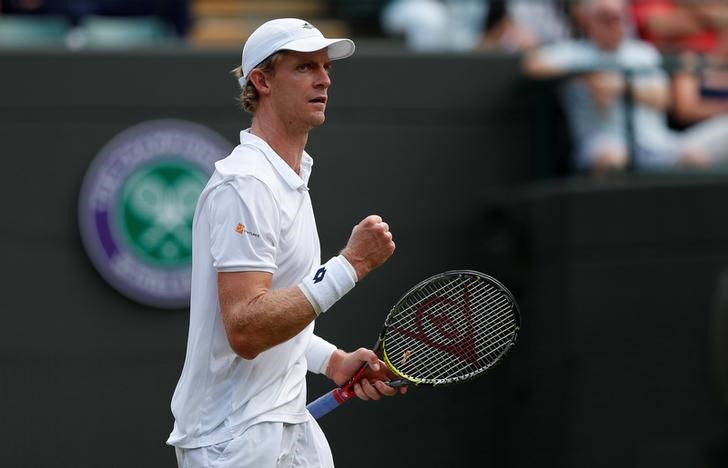 Anderson – who is seeded eighth – beat the number one seed Federer 2-6, 6-7, 7-5, 6-4, 13-11 in an amazing match at the All England Club in London on Wednesday afternoon.
Anderson now advances to the semi-finals – the furtherest he has ever gone at Wimbledon… and in reaching for his dreams he has crushed those of Federer – whose own mother Lynette is a South African expat herself – by putting a stop to the Swiss player's mission to win the Wimbledon title for the ninth time.
Federer found himself in unfamiliar territory when he took on the South African in the quarter-finals on Wednesday.
It was the first time in three years that the Swiss maestro had to play a match away from his beloved Centre Court lawn, after organisers pencilled him in for the Court One slot.
In a thrilling duel which lasted almost four and a half hours… Anderson managed to dethrone the defending champion after Federer had got close to winning in the third set, serving for the match!
That third set loss was the first time Federer had lost a set during this Wimbledon tournament, and the first time he had lost a set after 34 straight wins.
Anderson then broke Federer and went up 4-3 in the fourth set before holding on to force a decider against the legendary Wimbledon champion.
The two players each held their serve until 11-11 when the Swiss sportsman double-faulted for the first time in the match.
It then got nerve-wracking again as Anderson fell behind 15-0… but then served out for the match, clinching the next four points to become the man who has ended Federer's Wimbledon dream.
Former world number one Mats Wilander said before the match that the surprise switch to Court One would have given Anderson heart because he has played several matches there.
"I think psychologically there's a huge difference for Anderson to play on Court One rather then Centre," the Swede, working as Eurosport's chief analyst, told Reuters.
"The Royal Box is one thing, it's packed with celebrities. It's just different. I think this gives Anderson a better chance. He could potentially win a set and if he can win a set he could win two sets…"
Anderson, beaten by Murray in his only match on Centre Court, had previously lost all four career meetings with Federer.
Federer and Rafael Nadal were favourites to meet in Sunday's final. Let's hope we see South Africa's Kevin Anderson on Centre Court instead!
Federer told the press conference after the match that once he lose the third set, "I never really felt exactly 100 percent and that has nothing to do with my opponent, it was just one of those days you hope to get by somehow and I almost could have or should have.
He said he "didn't feel mental fatigue to be honest. Now I feel horribly fatigued and just awful. It's just terrible. But it's how it goes you know. Credit to him."
He's not giving up though. "Of course the goal is to come back here next year. I wouldn't call it unfinished business. I think I did some good business here in the past already, so I'm alright. Just disappointed now…"
South Africans are overjoyed! We haven't seen a South African male get this far at Wimbledon for over 30 years, since Kevin Curren in 1983. (Wayne Ferreira reached the quarter-finals in 1994.)
Wimbledon asked if this was maybe the match of Kevin Anderson's career, and South African former Minister of Sports Fikile Mbalula tweeted: "GOOD NEWS!!!EVER Kevin Anderson beat Roger Federer history made…."
Phew. #SoHappy #SoProud #GoKevin!
UPDATE: After the match, Anderson told reporters: "It felt great to get that match. I think the toughest thing players face when going out playing somebody like Roger in this setting is giving yourself a chance and I feel like often the times that I've played him before or other guys with his ranking in history, I haven't really allowed myself to play. The first set was an example of that so I was really proud of myself the way I was able to relax and play my game and that's a big goal that I've had."
(Reporting by Martyn Herman, editing by Ed Osmond and Jenni Baxter)
WATCH video – the moment Kevin Anderson will never forget – beating Roger Federer at Wimbledon to advance to the semi-finals – click here.
The match of Kevin Anderson's life?

The South African produces two love holds in a row when serving to remain in the match, taking us to 11-11 #Wimbledon

RADIO: https://t.co/JAnCt0TODB 📻
SCORES: https://t.co/E1bqtS9CC7 🎾 pic.twitter.com/REMUiAX2j1

— Wimbledon (@Wimbledon) July 11, 2018
GOOD NEWS!!!EVER Kevin Anderson beat Roger Federer history made….. @KAndersonATP

— Fikile (Mr Fearfokkol) (@MbalulaFikile) July 11, 2018
Kevin Anderson relaxed yesterday, before the Federer match…
Hard work on the practice court today 💪 Time to recover and be ready for tomorrow! 💦👊 #wimbledon pic.twitter.com/z2LnxYkLeo

— Kevin Anderson (@KAndersonATP) July 10, 2018