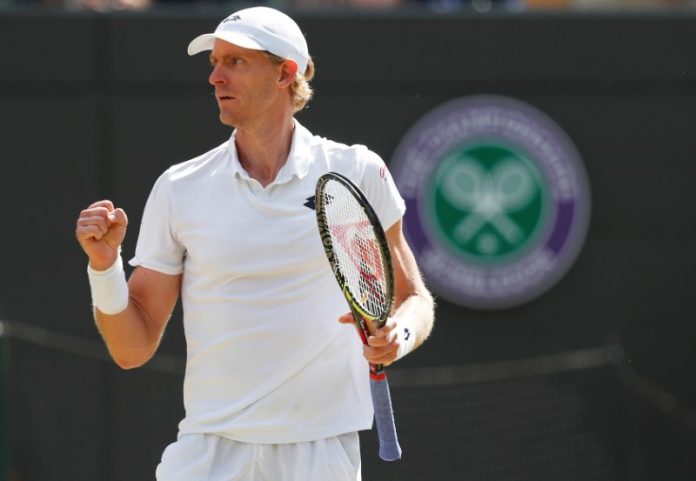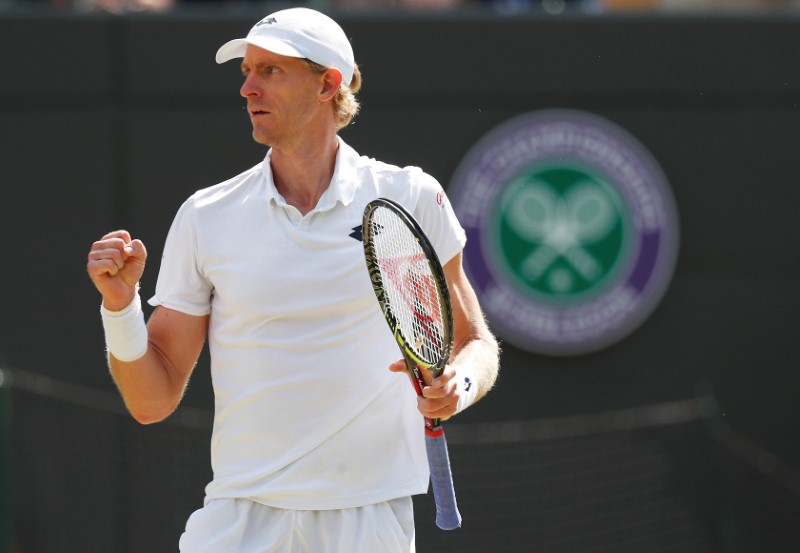 South African President Cyril Ramaphosa – who arrived in Saudi Arabia this morning – has tweeted a message of congratulations to three awesome South Africans at Wimbledon, including 'Miracle Man', SA expat Kevin Anderson, who stunned the world's number one player – Roger Federer – in a quarter-final cliffhanger yesterday.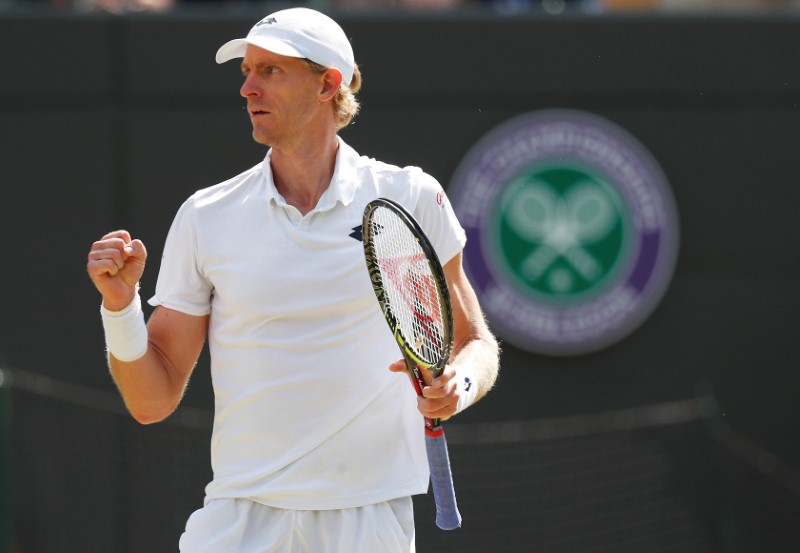 Ramaphosa said: "Congratulations to Kevin Anderson for reaching the men's singles semi-finals and to Raven Klaasen for reaching the men's doubles semi-finals at #Wimbledon.
"All the best to Kgothatso Montjane who's going to become first SA black woman to play at Wimbledon. We are proud of you all."
Roger Federer's hopes of a ninth Wimbledon title bit the dust as the 'Gentle Giant' from South Africa recovered from two sets down to win a quarter-final cliffhanger 2-6 6-7(5) 7-5 6-4 13-11 on a tension-filled Court One on Wednesday.
The 36-year-old Swiss, Federer (whose mother Lynette is a South African expat), not playing on Centre Court for the first time since 2015, started the match by stretching his streak of consecutive sets won at Wimbledon to 34… before squandering a match point in the 10th game of the third set. An inspired Anderson powered back to claim victory in four hours 14 minutes.
It was the biggest shock in a tournament already brimming with surprises, especially as Joahannesburg-born Anderson had not even won a set in their four previous meetings.
Anderson now becomes the first male player representing South Africa to contest a Wimbledon semi-final since Kevin Curren in 1983!
The 32-year-old South African expat – who now lives in the USA, and reached last year's U.S. Open final – will face big-serving American John Isner in the semis.
"Down 2-0 I tried my best to keep fighting and was able to scrape through and by the end I thought I did a great job. I was in the flow of the match," eighth seed Anderson said.
"Beating Roger Federer at Wimbledon will be one I remember. As the match went on, I gave it my all. I'm very ecstatic," Anderson told journalists.
Last night he tweeted: "All my respect to Roger. It was an honour to share the court with you. Thanks to all the fans for your support and nice messages. ? #wimbledon."
Chances Blown
It is the second time that 20-times Grand Slam champion Federer has lost at Wimbledon from two sets ahead, suffering the same fate against Jo-Wilfried Tsonga in the 2011 quarter-finals.
"It just wasn't one of my best days," Federer, who won the first set in 26 minutes, told reporters.
The Swiss refused to blame his surprise defeat on the decision to play the match on Court One rather than his customary Centre Court stage at the All England Club.
"I don't think it really mattered, to be honest. I had my chances and blew them, so… That's my problem really, the 36-year-old said. "I had my chances and I blew it."
On Thursday afternoon, Anderson tweeted a photo of himself at Wimbledon and said: "Getting ready for tomorrow. See you soon, Centre Court! ?"
South Africans around the world will be watching and holding thumbs that our Miracle Man makes it all the way through to the Final and wins the Title, making history for himself and South Africa!
(Reporting by Martyn Herman/Reuters and Jenni Baxter; editing by Ken Ferris/Reuters and Jenni Baxter)
Congratulations to Kevin Anderson for reaching the men's singles semi-finals and to Raven Klaasen for reaching the men's doubles semi-finals at #Wimbledon. All the best to Kgothatso Montjane who's going to become first SA black woman to play at Wimbledon. We are proud of you all. pic.twitter.com/hVW9CZKIiG

— President Cyril Ramaphosa (@CyrilRamaphosa) July 12, 2018
Getting ready for tomorrow. See you soon, Centre Court! ? #wimbledon pic.twitter.com/6w69QKrf9b

— Kevin Anderson (@KAndersonATP) July 12, 2018
It's every tennis players' dream to join the Last 8 Club at #wimbledon. Such an honour to be part of this special group. pic.twitter.com/13SNOODOjv

— Kevin Anderson (@KAndersonATP) July 12, 2018
All my respect to Roger. It was an honour to share the court with you. Thanks to all the fans for your support and nice messages. ? #wimbledon pic.twitter.com/apLrbh0yU1

— Kevin Anderson (@KAndersonATP) July 11, 2018