President Cyril Ramaphosa's  state visit to the Kingdom of Saudi Arabia kicked off on Thursday to great success – the Kingdom pledged $10-billion in new investment in South Africa… and King Salman bin Abdulaziz Al Saud bestowed the Order of King Abdulaziz upon Ramaphosa, the highest honour by the Kingdom.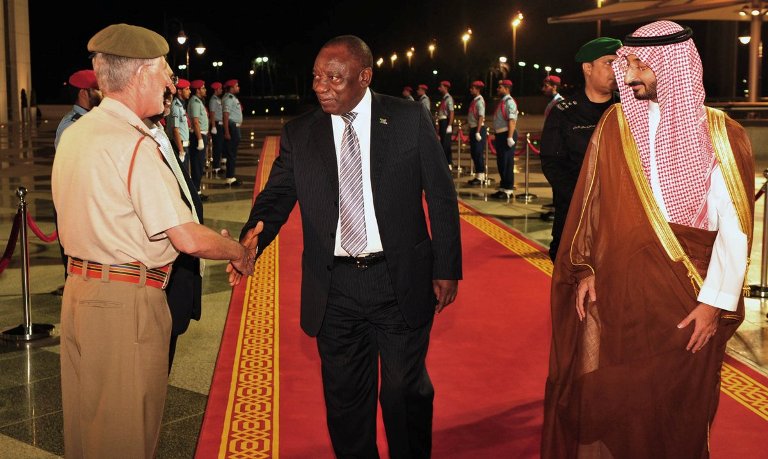 According to The Presidency, the order is awarded to citizens of Saudi Arabia and foreigners for "meritorious service to the Kingdom".
The purpose of Ramaphosa's State Visit is to primarily focus on "strengthening economic linkages between South Africa and Saudi Arabia, particularly in terms of increasing inward investment and diversifying the trade relationship".
To this end President Ramaphosa arrived in Jeddah this morning – together with a business delegation and some government Ministers – and met with the Crown Prince Mohamed bin Salman at the Al James Main Guest Palace.
The 32-year-old only became the Crown Prince a year ago… but in that space of time much change has occurred in Saudi Arabia, including women being allowed to drive and attend football matches, and cinemas being opened. According to the BBC, there has also been "a crackdown on corruption with senior figures detained and forced to put billions back into state coffers".
As part of the $10-billion pledged to South Africa, a minimum of 25% of that amount is to go towards projects in the energy sector, said the Presidency. Saudi Arabia is already a large investor in SA, particularly in the area of renewable energy.
South Africa currently imports about 47% of its oil from the Arab country and regards it as a strategic partner in the Middle East.
Total trade amounted to just more than R55 billion in 2017.
President Cyril Ramaphosa on arrival at the King Abdulaziz International Airport for his State Visit the Kingdom of Saudi Arabia. pic.twitter.com/asGivP34YF

— PresidencyZA (@PresidencyZA) July 12, 2018
The Kingdom of Saudi Arabia has pledged $10bn in new investment in South Africa, a minimum of 25% of that amount going towards projects in the energy sector. pic.twitter.com/blV8hcLFNc

— PresidencyZA (@PresidencyZA) July 12, 2018
President Cyril Ramaphosa arriving at the Royal Court in Jeddah, for the Welcome Ceremony during his State Visit to the Kingdom of Saudi Arabia, today, 12 July 2018. pic.twitter.com/oVPeHwenzw

— PresidencyZA (@PresidencyZA) July 12, 2018
President Ramaphosa meeting with the Crown Prince Mohamed bin Salman at the Al James Main Guest Palace in Jeddah, during his State Visit to the Kingdom of Saudi Arabia. pic.twitter.com/ot01tx2UWh

— PresidencyZA (@PresidencyZA) July 12, 2018
President @CyrilRamaphosa bestowed the Order of King Abdulaziz, the highest honour by the Kingdom of Saudi Arabia, during his State Visit by King Salman bin Abdulaziz Al Saud. The order is awarded to citizens of Saudi Arabia and foreigners for meritorious service to the Kingdom. pic.twitter.com/i2XLTAEPnR

— PresidencyZA (@PresidencyZA) July 12, 2018