Ever-dominant Caster Semenya was the highlight of the South African action on the final day of the African Championships in Asaba, Nigeria on Sunday.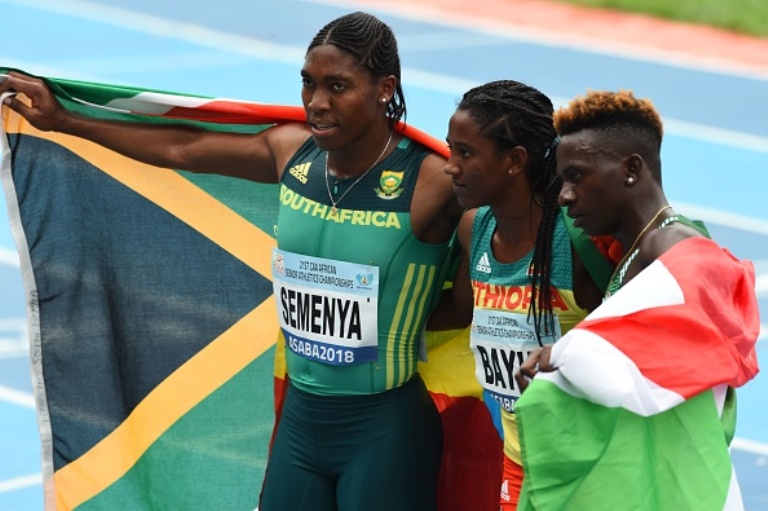 Semenya added to her 400m gold that she won earlier in the competition, and broke the 800m Africa record as she clipped 0.30 seconds off Mozambican Maria Mutola's 1993 African 800m record.
Semenya's new mark stands at 1min 56.06 seconds, which improved on the 1:56.36 record run at the African Championships in Durban 25 years ago. Burundian Francine Niyonsaba took silver in 1:57.97 and Bayih Habitam Alemu of Ethiopia took bronze in a time of 1:58.86.
'I was testing my limits and seeing how far I could go after running 49 seconds [in the 400m] and 1:56.06 is a beautiful time,' Semenya (27) said. 'I couldn't have asked for more.'
This was the South Africa's Olympic and world champion's 27th successive 800 metres win.
With winners in the championships qualifying for next month's Continental Cup in Ostrava, the Semenya confirmed she would contest both the 400m and 800m distances.
Semenya's medal was one of three gold medals won by South Africa as the rainbow nation ended second behind Kenya on the medals table.
SA won nine on the final day of the five-day competition, bringing the total to 30 (nine gold, 13 silver and eight bronze).
The other golds went to sprinter Ncincilili Titi who won the 200m, and Luxolo Adams bagging bronze.
Adding another double to the team's tally, Ischke Senekal won the shot put, and Mieke Strydom earned bronze.
Other athletes who grabbed silver medals included Phil-Mar van Rensburg in the javelin (76.57m), Lebogang Shange in the 20km race walk (1hr 25min 25sec), triple jump star Zinzi Chabangu (13.59m) and the men's 4x400m relay team (3min 03.50sec).
Hurdles specialist Wenda Nel also reached the podium, taking bronze in the 400m hurdles in 57.04sec.
Source: www.teamsa.co.za
Congratulations to the unstoppable #CasterSemenya for breaking the 800m African record on the final day of the 12st African Athletics Championships 🇿🇦 pic.twitter.com/DGQF6PwWFG

— South African Government (@GovernmentZA) August 6, 2018