A passenger, travelling from South Africa – who was allegedly carrying at least nine rhino horns in their luggage – was arrested at Istanbul's Atatürk Airport in Turkey on Tuesday.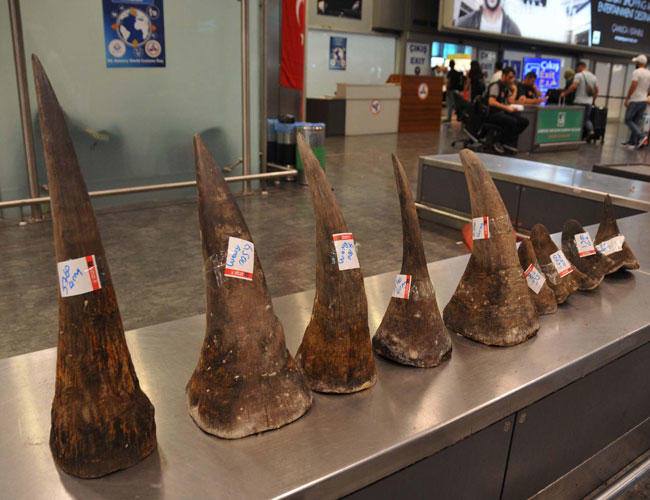 Rhino documentary filmmakers from 'Stroop: Journey into the Rhino Horn War' said: "One is heavy… but nine?!! No wonder the passenger was deemed suspicious at Istanbul's Atatürk Airport.
"And… how did that not get picked up at OR Tambo Intl. Airport???"
The Hurriyet Daily News in Turkey said that customs officers became suspicious when they saw a particular piece of the passenger's luggage.
"Alarmed by the security personnel's vigilant activities, the suspect left the airport without collecting their luggage," said the Daily News.
The officers x-rayed the unattended luggage and discovered an incredible nine rhino horns (five anterior and four posterior)… belonging to at least five rhino.
It's not yet known whether the passenger planned to sell the horns in Turkey or travel on to a country in Asia where the horns are in high demand and apparently worth more than gold. It's believed in countries like China and Vietnam that rhino horn contains supposed medicinal properties. It's also an insane status symbol, for those who don't realise that rhino are being brutally butchered to death for their horn.
The newspaper reported the horns – which have been seized by officers – are worth at least $245,000, according to the market value.
The oversight by South Africa's own airport officials at OR Tambo appears to point to insider corruption… even if the person was travelling business class (which allows for more weight).
"Absolutely," Stroop said on a comment on social media, when somebody raised the question of corruption.
During the making of their film, Stroop says that on several of the cases they followed "that's exactly what the traffickers do – fly business class."
Stroop added: "Corruption – it's the enabler."
Find out more about Stroop: www.facebook.com/stroopdiefilm/