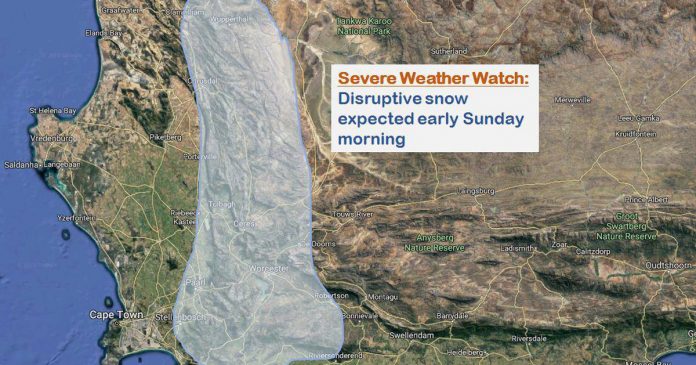 There's more snow forecast for South Africa this weekend… but it's not the "disruptive snowfall" that's got everyone talking as much as the shape of the zone that the South African Weather Service (SAWS) has predicted will receive snow.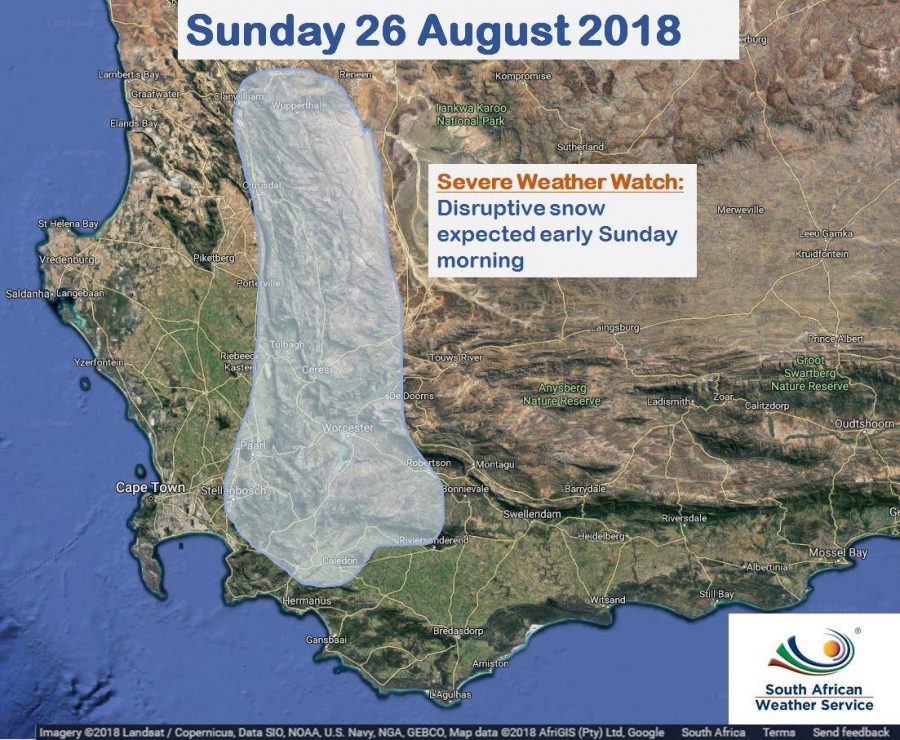 The comments on Snow Report SA have been priceless, with South African humour at its best. Here are just some of them:
Oh my, that area is SO screwed…. Marlene Quinot
Looks like this storm might hit HARD and LONG across South Africa. Those people in its GRASP are gonna need a STIFF drink. Ryan Hannocks
When preDICKtions are funny… Robbie Crouch
The shape of the area though ?? Graeme Musto 
That looks a bit willy…I mean…chilly. Jessica Antionette le Roux 
Looks like we are going to freeze our b@lls off??? John Prinsloo 
Be safe and responsible, wear a raincoat. Leoni Trollip 
One cock-up for the weekend with all this snow. Trevor Flugel 
Nothing may come of it… Guido Costa 
I'd say this report is far from being a phallacy…. Gareth Tiedt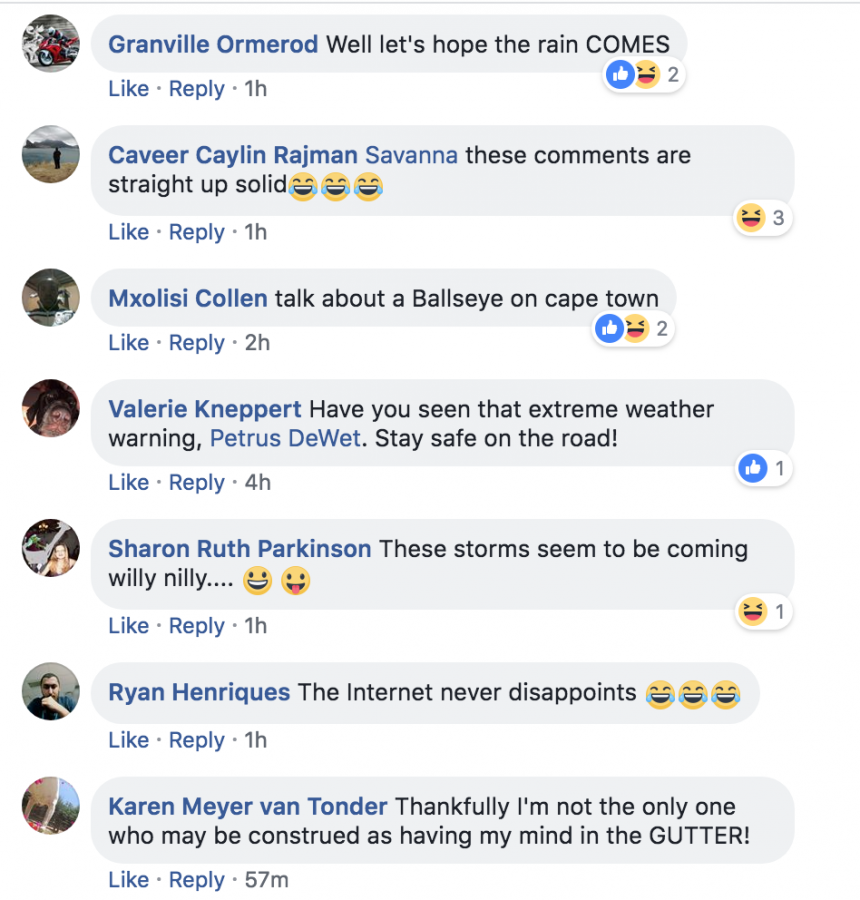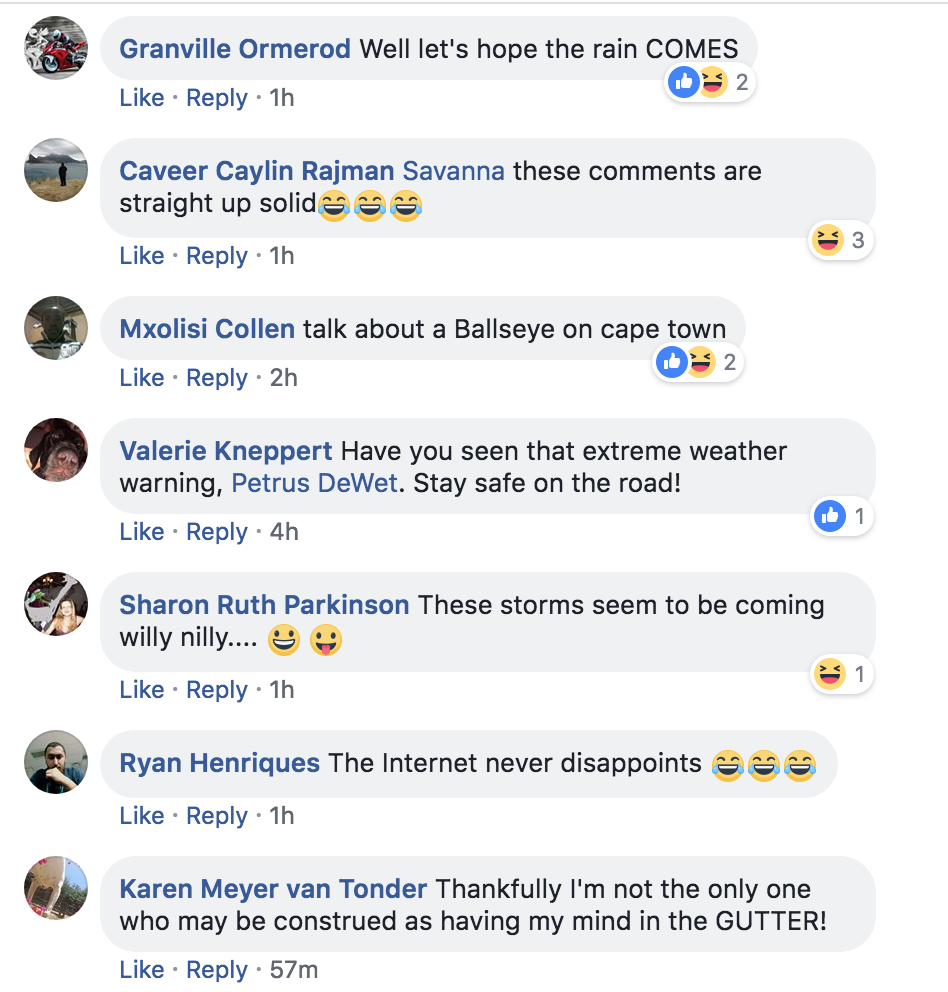 Looks like everyone is getting shafted Conrad Herbst 
If you'd interested in the actual details of the snow report… please see below.
The South African Snow Alert That Has Everyone's Attention!
Snow Report SA said if you plan on travelling on Saturday night or Sunday morning in the affected areas, please be extremely cautious of dangerous icy roads.
Some mountain passes  are expected to be closed.
The front is expected to make landfall in the Western Cape during Saturday 25th, with snow possible over all the south westerly mountain ranges by Saturday evening… falling into Sunday morning as the front moves east.
Light snowfalls are also expected in the Northern Cape.
"By mid-afternoon on Sunday, all snowfalls are expected to cease," said Snow Report SA.
More here: www.facebook.com/snowreportsa
Some interesting weather expected this weekend in the Western Cape (25 to 26 August 2018). Have a look below. Stay informed with @SAWeatherServic and follow us on facebook. For more information please go to our website https://t.co/82W3dwEEdB pic.twitter.com/3pyoKe1JJc

— SA Weather Service (@SAWeatherServic) August 23, 2018