CAPE TOWN (Reuters) – Britain supports South Africa's land reform programme provided it is carried out legally, Prime Minister Theresa May said in Cape Town on Tuesday, adding that she would discuss the issue with South African President Cyril Ramaphosa.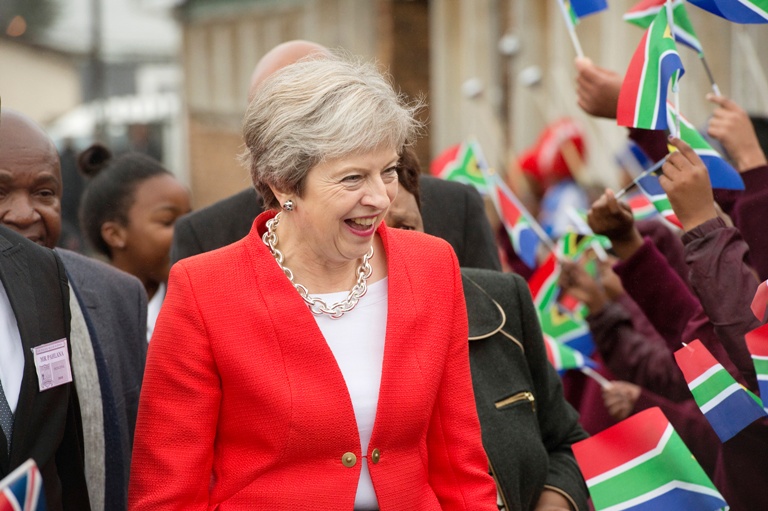 "The UK has for some time now supported land reform. Land reform that is legal, that is transparent, that is generated through a democratic process," May told reporters.
"It's an issue that I raised and discussed with President Ramaphosa when he was in London earlier this year. I'll be talking about it with him later today."
May is also expected to tell an audience in SA that Britain will use its international aid budget to boost its national interest and deepen trade ties with Africa.
According to extracts from her speech, released by her office, May is expected to recommit to maintaining the overall British aid budget at 0.7 percent of economic output but will add that she will be "unashamed" to use it in a way that helps Britain.
May, who is battling to unite her divided party over her plan to take Britain out of the European Union, will also visit Nigeria and Kenya as part of a three-day visit to Africa alongside a group of business delegates.
The target has previously come under fire from many of May's own lawmakers who say it is a blunt tool that is too high and should be spent elsewhere or in Britain itself.
May will say she wants Britain to become the biggest investor in Africa out of the countries in the Group of Seven nations, overtaking the United States, by using the aid budget to help British private sector companies invest on the continent.
"I am unashamed about the need to ensure that our aid programme works for the UK," May will say in her speech, according to extracts released by her office.
"Today I am committing that our development spending will not only combat extreme poverty, but at the same time tackle global challenges and support our own national interest. This will ensure that our investment in aid benefits us all, and is fully aligned with our wider national security priorities."
(Writing by Joe Brock, Kate Holton; Editing by Michael Holden, James Macharia and Jenni Baxter)
[WATCH]: Prime Minister #TheresaMay at ID Mkhize Senior Secondary in Gugulethu, Cape Town. @SABCNewsOnline @SAgovnews @KhayaJames @UbuntuRadioZA @PresidencyZA @DBE_SA pic.twitter.com/lanmSeKWAS

— DIRCO South Africa (@DIRCO_ZA) August 28, 2018