South Africa is celebrating the world's first lion cubs born through artificial insemination, which experts say is a pioneering moment in the conservation of the big cats.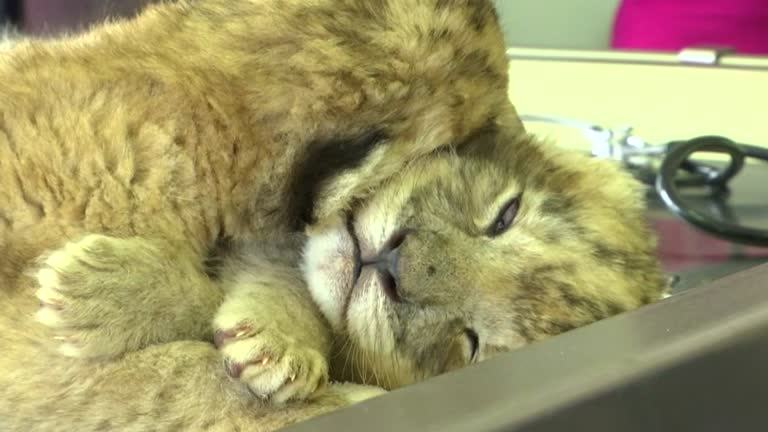 The fluffy pair were born on August 25, 2018 at the Ukutula Conservation Center in the North West province.
They were conceived through non-surgical artificial insemination using fresh semen collected from an adult male lion by joint research between Pretoria University and the Ukutula Conservation Center, headed by PhD student Isabel Callealta.
Ultimately the researchers would like to find the protocol to be able to use frozen sperm, which will be the key to ensuring the survival of lions if number get low.
The birth of these two lion cubs through artificial insemination is a major scientific breakthrough.
In honour of Dr Callealta and her fiance, the cubs have been named Isabel and Victor.
Dr Callealta, who is also Ukutula's vet, said: "It was really, really exciting actually because we all knew that the female was pregnant.
"But it's that moment of seeing that finally the cubs are there and that they are healthy, and that they are happy calling for their mom! It was a really exciting moment."
Little is known about reproductive patterns of lions and other big cats. Yet, several are on the United Nations endangered wildlife list. Callealta studied Ukutula's population of 40 lions to gain more insight.
A team of scientists from the University of Pretoria studied the reproductive physiology of the female African lion and the development of artificial insemination protocols for this species, which could be used as a baseline for other endangered large wild felids.
"We trained the lions to co-operate in terms of sample collection which refers to blood and feces. And after that we also included behavioral observations to find the right time for the lion to be receptive and then tried at several points in time with different individuals of the artificial insemination protocol," said Professor Andre Ganswindt, behavioral endocrinologist of Pretoria University.
Lions, tigers and cheetahs are under threat of extinction because of poaching, trophy hunting and human-wildlife conflict. Wild cat populations have been wiped out in half the countries in Africa. It's hoped that in-vitro fertilization will help prevent these creatures from disappearing on the earth.
There are only about 20,000 lions left in the world. They are extinct in 26 African countries and have vanished from over 90 % of their historic range.
For  Callealta and her team, there's still more work to be done, but this was an important step to ensuring the lion's survival and that of other felids.