Over the past year, tourism in Cape Town has suffered as considerate – or concerned – tourists have avoided the Western Cape region during its heavy drought… a drought which made world headlines after Cape Town announced that residential taps would be turned off on 'Day Zero'. The day fortunately never arrived… as Capetonians worked together to conserve water, and over the past couple of months the heavens opened – sending rain and snow to fill the dams.
In fact it was snowing just yesterday in the Western Cape, with a light flurry over Table Mountain:
Today City of Cape Town announced that current dam water levels are at 72.7 %.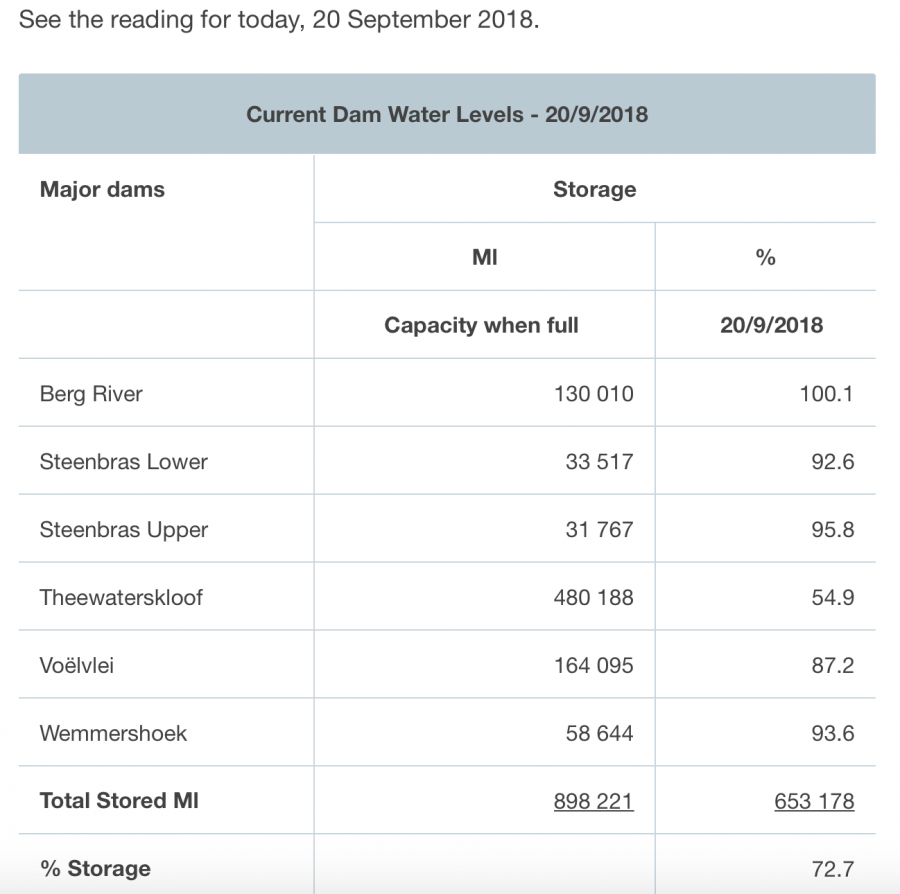 Berg River (Bergrivier) Dam, near Franschhoek has incredibly reached over 100%. The sluice gates have been opened and water is being transferred to Theewaterskloof Dam, which itself is at 54.9% (remarkable when not that long ago it was less than 20% with parts of the dam looking more like a desert than a water source). Theewaterskloof Dam is Cape Town's main source of drinking water.
The above system supplies water to Cape town and towns in the Overberg, Boland, West Coast and Swartland areas; as well as providing irrigation water for agriculture.
The #Bergrivier dam near Franschhoek as reach the level of 100%. The sluice gates has been opened and same #water is transfered to Theewaterkloof dam. Bergrivier dam is not overflowing 🎥 Riaan van Wyk shared video with LandWater @eNCA @JoelGuy_ @TeamNews24 @debeer_anika @zarsg pic.twitter.com/NlsXBSuMPn

— ReenvalSA (@ReenvalSA) September 20, 2018
Deputy Mayor Ian Neilson announced earlier this month that Cape Town will be relaxing its water restrictions from Level 6B to Level 5 from 1 October 2018.
This is good news for tourism to the Western Cape, and while residents are encouraged to continue their water saving strategies to avert another disaster, visitors are being encouraged to return back to the beautiful Mother City.
Please spread the word and let local and international tourists know.
Meanwhile at Clanwilliam Dam, six sluice gates were opened this morning. See videos below.
Western Cape – Clanwilliam Dam: Sluice Gates open – what a beautiful sight #CapeTown #WaterCrisis pic.twitter.com/8JSwXGg40e

— Rob Beezy (@TrafficSA) September 19, 2018
UPDATE! 6 sluice gates have been opened this morning at Clanwilliam dam @WeskusTourism @VisitWinelands @Vinpro_za pic.twitter.com/VKnNnGfxB0

— Namaqua West Coast (@visitNWC) September 20, 2018