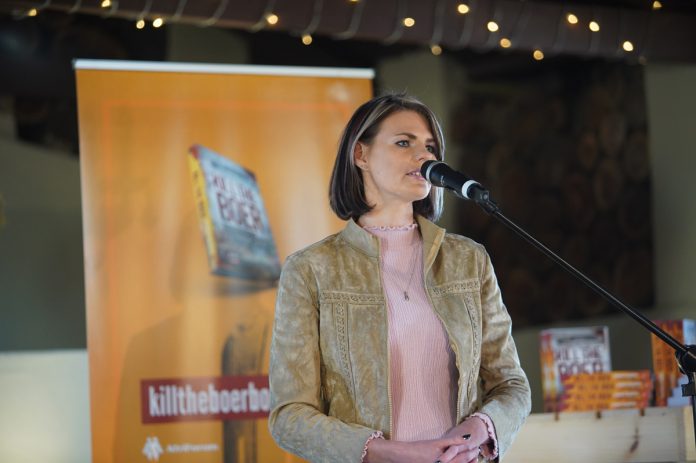 A South African widow, whose husband was murdered on their farm in 2016, has posted a public video message to President Cyril Ramaphosa and the people of the USA following Ramaphosa's statement to Bloomberg last week in New York that there are no farm killings in South Africa.
In the video Mariandra Heunis recalls the day that her husband Johann was shot six times in front of her and her six-year-old daughter. The couple had three children… and five days after "daddy's funeral" she gave birth to their fourth.
Heunis claims in the video that her husband was killed in "cold blood" and that "they stole nothing".
According to AfriForum's Deputy CEO Ernst Roets, the video is also in reaction to the South African government's "refusal to treat farm murders as a priority crime".
Heunis asks the "good people of America" to imagine being widowed and having to raise four children alone.
"These attacks do happen," she says. "It happens almost daily, and our story is one of thousands." (Thousands of South Africans from all walks of life are affected by crime in the country, as evidenced by the latest South African crime statistics which reveal 57 South Africans are murdered on a daily basis. However most of these victims are not farmers. In the entire year between April 2016 and March 2017 there were 62 farm murders, of which 52 were the owners or occupiers of farms.)
Heunis says: "These attacks happen. And it happens to good and normal people. What would you do if this happened to you? What would you do if your government denies that it happens? Would you keep quiet?"
Roets and Heunis have appealed to the public to share the video.
WATCH Farm Murders: Widow's Message to America
The leader of the ACDP (African Christian Democratic Party), Kenneth Meshoe, has also called on President Ramaphosa to apologise to the SA farming community for his "no killings" statement made whilst attending the United Nations General Assembly in New York last week.
Ramaphosa supporters have pointed out that his statement needs to be understood in context. The SA President was responding to a tweet by US President Donald Trump that claimed there was "large scale killing of farmers" as if there were a massive genocide.
If your device cannot view the above video, try below: