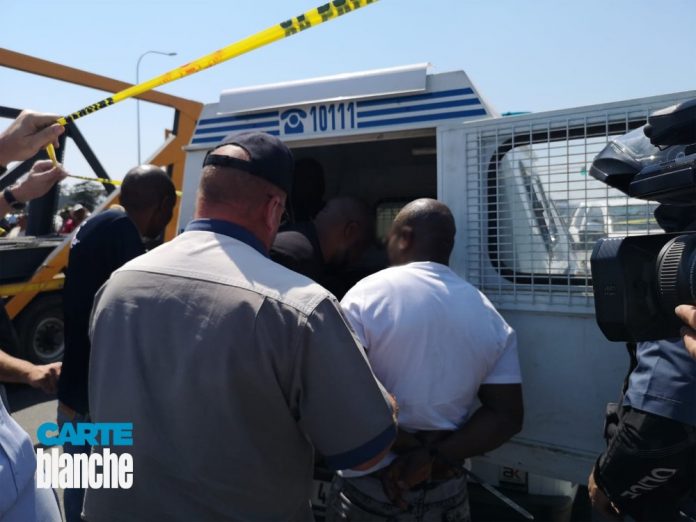 The South African Police Service (SAPS) has published a statement about the arrest of a major criminal gang which preyed on and kidnapped several OLX advertisers in SA. OLX has also issued a response to Sunday night's Carte Blanche show, in which the current affairs team helped unmask the criminals, in a risky undercover sting operation with a special police unit.
OLX said: "We are deeply concerned about the elaborate criminal activity the programme has uncovered and will do everything in our power to help remove such activity." (As with all episodes of Carte Blanche, the programme is now available to watch for South Africans living abroad from Tuesday on Showmax.)
SAPS said: "During a takedown operation on Thursday in Vereeniging, the Gauteng Specific Crimes Investigation Unit and the National Crime Intelligence unit intercepted a group of five suspects believed to be part of a syndicate targeting people who advertise goods on OLX.
"They were arrested and police seized fake diamonds, fake drugs and counterfeit money. The suspects were arrested following several complaints of kidnapping, assault and armed robbery by several victims whom they target pretending to buy their advertised goods."
SAPS explained that the suspects worked by making an appointment with victims to purchase their goods.
Once they meet the victim, they would then kidnap and entrap them by using fake diamonds and fake drugs.
"Then other suspects, posing as police officers, will confront the victims about the diamonds and drugs and demand large sums of money as a guarantee that they will not be arrested or detained.
"Victims who do not cooperate will then be assaulted and kept hostage. All the suspects who are Namibian nationals were detained and are due to appear at the Vanderbiljpark Magistrate court tomorrow [Monday]."
According to SAPS, its Buya Mthetho operations have also resulted in over 400 suspects being arrested for various crimes, and the seizure of hijacked cars, ivory and 15 firearms, amongst others.
In response to tonight's Carte Blanche episode, OLX said it helps thousands of buyers and sellers successfully.
OLX said: "The safety of our customers is extremely important to us and we do everything we can to protect our users from people who would use online listing sites like ours for criminal activity. We invest heavily in technology to detect fraudulent users and cooperate with SAPS to bring perpetrators to book. We provide our users with a fraud prevention helpline (+27 021 406-3900) to report any suspicious activity and an online chat function to help our customers buy and sell safely. We are deeply concerned about the elaborate criminal activity the programme has uncovered and will do everything in our power to help remove such activity."
Up next on #CarteBlanche: In a risky undercover sting operation, we joined forces with a specialised police unit to unmask and arrest a major syndicate. @macmoleli pic.twitter.com/KPQrUuP0mB

— Carte Blanche (@carteblanchetv) October 14, 2018