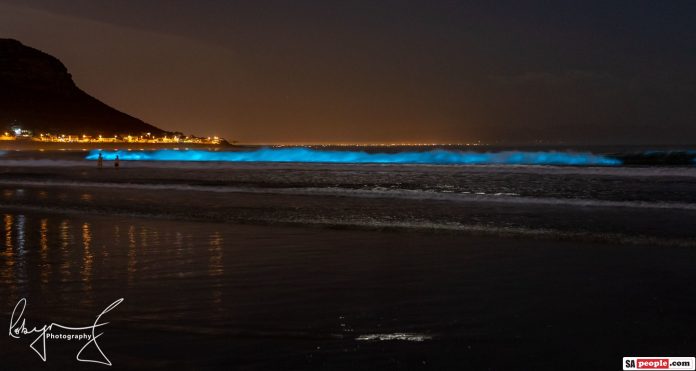 Fish Hoek Beach in South Africa looked more like a scene out of hit movie Avatar on Tuesday night… as a result of 'red tide' which transforms in the evening into a spectacular blue magic known as Bioluminescence. Photographer Robyn Gwilt was there to capture these beautiful pictures of the rare and natural phenomenon.

"This is what happens when 'red tide' moves into False Bay," says Robyn, of the bioluminescent plankton.

"You need movement in the water, like waves crashing or people splashing around, in order to activate it."

She says that Tuesday night was like watching Avatar on Fish Hoek Beach.
"I expected mythical, magical creatures to float out of those waves, swirl around and dive back in…. who knows, maybe they did, and I blinked!?"

Robyn had noticed the red tide (which can contain toxic algae) in the bay earlier in the afternoon and made sure she was ready to capture the evening beauty.



"It's difficult as the water is so dark, so you have nowhere to focus," Robyn told SAPeople. "Fortunately there was an almost full moon, and a bit of guess work. High ISO, slow shutter. It is amazing though, how bright that light is when then waves crash. Incredibly pretty!"
View more of Robyn Gwilt's photography on Facebook here. Her images are available to purchase.
P.S. If you live in the UK or Ireland and would love to visit South Africa – enter our competition to win 2 return tickets to SA from Heathrow on SAA's new Airbus A330-300.