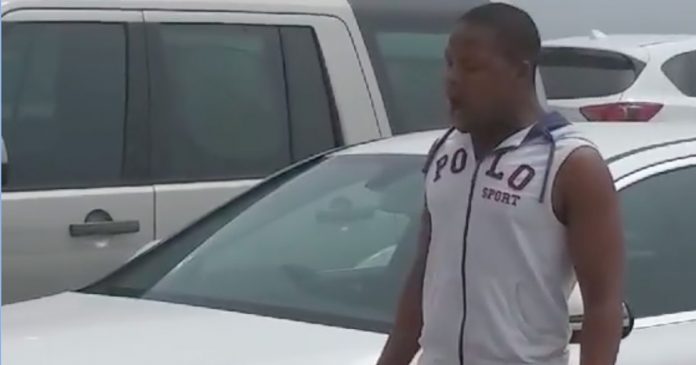 South Africans have been sharing a beautiful video showing an incredibly talented Capetonian singing opera, while restaurant diners watch and video him. It was posted on Facebook by Nicolene Smith on Thursday, after lunching with her parents at Ons Huisie in Bloubergstrand.
Nicolene said she felt it her "duty" to record and share. "What a voice, humble and appreciative personality. Let's get Mapoyi Mthetho on a stage!! I won't just put a tip into his hat next time, I'll pay for a proper front row seat!"
It turns out that that has been Mthetho's (sometimes spelt Mteto's) dream for years.
In 2011 the talented youngster, from a small Xhosa township outside Hermanus, was featured in a documentary 'The Creators: South Africa through the eyes of its artists'… and later flown to New York where he delivered a very powerful TedX talk (see below).
In 2012 he was interviewed by BBC World News, with footage showing how he taught his friends to sing just like him. And with the help of kind strangers like pianist Derk Blaise, Mthetho performed at some Cape Town venues, and was selected – out of 100 applicants – by the Voice Academy. He went to train in classical music at SA's prestigious Black Tie Ensemble at the State Theatre in Pretoria.
Mthetho's incredible opera talent comes from a sad story of loss. His father abandoned the family when Mthetho was just four… and all he left behind was one CD: Pavarotti.
"I couldn't understand a word from that language but it made me feel like singing this music, because it was my father's CD. I always wanted to be around him, I always wanted to learn from him, to grow up in front of him," said Mthetho in one of his previous interviews.
Sadly he only saw his father one more time before he died.
Mthetho taught himself to sing like Pavarotti, by listening to the CD over and over again. And then he taught his friends and they formed a group called The Six Tenors… performing for tourists to earn money for their families, and to go to school.
But the security guards told them to move… which he says affected them all. Some of his friends are now living on the streets, others in jail.
Mthetho decided not to give up and moved to Cape Town to carry on performing on the Waterfront and send money to his mother.
"I was three hours away from my mother. I wasn't with her when she died of HIV Aids," he said.
"Everything in my life fell apart. My uncle was stabbed to death. My little sister died. My aunt died. My grandmother died when I was sitting in her lap. I dropped out of high school. I joined a gang… it was very hard…"
But then he began to think about everything that he wanted. A kind gentleman offered to help him make a recording before he returned to Hermanus, but on the night before, he tried to stop a fight… and was stabbed in the face with a broken bottle. It cut his throat… leaving him with no voice, and a permanent scar on his face.
At that moment he decided if ever he got his voice back he would make better use of his talent, and he put gang life behind him.
He said when he and his friends were singing in the township, "violence continued all around us" but "we focused on the power of music".
Talking to BBC World News in 2013, Mthetho said: "My dream is to become an opera singer, to perform in theatres, to be in the spotlight. One day I will impress this town – because it's my hometown. Maybe one day I will see myself making my own show here, invite those who didn't want me to come sing (for the tourists) – I hope they will come, because music is actually a joy. You don't buy a voice. It's something that God gives you… to use it."
SAPeople has contacted Mthetho for an update on his current life and dreams, and will update here as soon as we hear back.
Mthetho is featured as a speaker on Keynotes.org:
www.keynotes.org/speaker/MtetoMaphoyi
UPDATE from Nicolene Smith: "We are on 74 951 views!!! How amazing!! To think the goal was 10 000 now we are almost on 100 000. I have no words!! I'm trying to send a personal thank you message to everyone but the video is now everywhere and it's impossible, so thank to everyone for the shares, tags and comments!! With your help we'll reach the 100 000 mark today still. Let's go go go ❤️"
UPDATE 2 from Nicolene Smith: "Holy freaking Moly!! We are on 101 363 views!! The power of good when it unites and conquer!! I am at a loss for words. Thank you everyone, I am certain we have all opened a HUGE door into a bright future for this young man. You guys freaking rock my world!! Thank you for the shares, comments, tags and likes. I am still trying to thank everyone individually but if I miss you, please take no offense. I feel so much love for our nation right now!! #proudlysouthafrican"
WATCH Mapoyi Mthetho perform in Bloubergstrand, Thursday 25 October 2018
TedX Talk – 2012