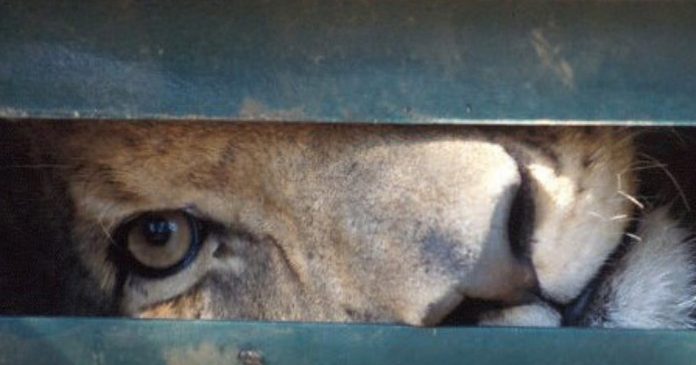 Hope abounds for South Africa's lions as a new Parliamentary report has called for an end to captive lion breeding in South Africa!
The news has been welcomed by local and international conservationists and NGOs, and the Chairperson of the Portfolio Committee on Environment, Phillemon Mapulane, has been praised for his part in getting the ball rolling.
Blood Lions Official said it "commends the Hon. Mr. Mapulane" and members of the Committee  on the findings and resolutions of the comprehensive 24-page report.
Captured in Africa's (CIA's) Drew Abrahamson said she and others had attended the two-day Colloquium ("Captive Lion Breeding for Hunting in South Africa: Harming or Promoting the Conservation Image of the Country") in Cape Town in August, and been sitting on "tender hooks" waiting for the report to come out.
She welcomed it as proof that "our voices matter" and urged everyone to mail and congratulate the Portfolio Committee "on considering a total ban" on captive breeding of lion in SA.
"Captured In Africa Foundation wish to congratulate Mr Mapulane for having the courage to start the process of change!!!" she said.
Derek Hanekom – Tourism Minister and Acting Minister of Environmental Affairs – added to the good news by tweeting yesterday: "Also breaking news: I intend appointing a high level panel to review policies and legislation on a number of matters related to animal breeding, hunting and handling. The department is currently preparing the terms of reference. Will communicate more about this soon."
Blood Lions responded by congratulating the Minister on his intention to review South Africa's controversial wildlife breeding and "canned hunting" industries.
"The Minister and his department has the full support of the Blood Lions Team," said Blood Lions.
In its statement yesterday, the Portfolio Committee on Environmental Affairs said the practice of captive lion breeding – both for hunting and lion bone trade – has caused much local and international uproar, and the International Union for Conservation of Nature (IUCN) had also raised concerns, calling on the South African Government to terminate this practice.
Blood Lions said in a statement  today:
This is an important day for Blood Lions and all those who have been fighting against the captive lion breeding industry in South Africa. After some years in production, Blood Lions launched the feature documentary film and global campaign to end all exploitative predator practices in 2015. Since then, and together with a number of our partners in South Africa and around the world, we have fought hard to expose the horrors that comprise the commercial exploitation of Africa's most iconic species.
Some of the findings in the report include:
"The conservation value of predator breeding is zero; the economic value is minimal and undermines South Africa's tourism brand value…"
"South Africa's captive lion breeding industry for hunting is an international pariah, and hence the Government should rethink this policy stance. The announcement by DEA that the lion bone quota determined for 2018 is doubled from 800 in 2017 to 1500 for 2018 is highly concerning."
"South Africa is the largest legal exporter of lion bones and skeletons … Ninety-eight percent of these were destined for Laos and Vietnam, which are known hubs for illegal wildlife trafficking…."
Blood Lions' full statement, together with a summary of the report's findings, and suggestions on the best ways for the Department of Environmental Affairs to move forward and bring an urgent end to lion breeding, can be found here.
WATCH Drew Abrahamson, Captured in Africa: Our Voices Mattter
OUR VOICES HAVE FINALLY BEEN HEARD!!!Carl & I, as well as the other International & local NGO's who attended the Colloquium down in Cape Town have been sitting on tender hooks waiting for the report to come out!! Please find a snippet below & we urge you to mail & congratulate them on considering a total ban on #CaptiveBreeding of #Lion in SA. Captured In Africa Foundation wish to congratulate Mr Mapulane for having the courage to start the process of change!!!STATEMENT:Parliament, Monday, 12 November 2018 – The Portfolio Committee on Environmental Affairs adopted the Report of a two-day colloquium it held on Captive Breeding of Lions for Hunting and Lion Bone Trade, from 21 – 22 August 2018. The practice of captive lion breeding both for hunting and lion bone trade has caused much local and international uproar against South Africa's Captive Lion Breeding Industry, leading to the expulsion of certain members of the Industry by international pro-hunting organisations, such as the SAFARI International, the Dallas Safari Club and the European International Council for Game and Wildlife Conservation (CIC). The International Union for Conservation of Nature (IUCN) had also raised concerns about captive lion breeding for hunting, calling on the South African Government to terminate this practice.The Report contains voices of representatives of local pro-hunting and conservation organisations as well as international organisations who spoke against the industry, raising issues of critical policy importance that the committee undertakes to see through. It is in this respect that the committee resolved, among other things, that the Department of Environmental Affairs should as a matter of urgency initiate a policy and legislative review of Captive Breeding of Lions for hunting and Lion bone trade with a view of putting an end to this practice and that the Minister of Environmental Affairs should submit quarterly reports to the committee on the progress of this policy and legislative review. Similarly, the committee would like the Department to reconsider the decision to increase the lion bone trade quota from 800 to 1 500 lion skeletons, a decision it emerged during the Colloquium; was informed by commercial considerations, as opposed to science. This reconsideration is necessary given the huge public sentiment expressed against the increase in lion bone trade quota. The committee's position is to protect South Africa's esteemed conservation image, but more fundamentally the Brand South Africa. The Report is ready for publication online today.ISSUED BY THE PARLIAMENTARY COMMUNICATION SERVICES ON BEHALF OF THE CHAIRPERSON OF THE PORTFOLIO COMMITTEE ON ENVIRONMENTAL AFFAIRS, MR PHILLEMON MAPULANE.For media enquiries or interviews with the Chairperson, please contact the Committee's Media Officer:Name: Faith Ndenze (Ms)Parliamentary Communication ServicesTel: (021) 403 8062Cell: 081 377 0686Email: fndenze@parliament.gov.zaPit-Track Emerald City Pet Rescue Activism Emerald City Pet Rescue SAPeople Tasty Recipes People BBC News BBC Earth BBCAfrica#LionStrong #committedtoconservation #wildandfree #bancannedhunting #bancubpetting #banbreeding #notrade #mapulaneforpresident

Posted by Captured In Africa Foundation on Wednesday, November 14, 2018
Blood Lions – showing in Edinburgh on 28 November:
Attention all Edinburgh followers, don't miss the screening of #BLOODLIONS on the 28th November. Find out more: https://t.co/nWRL5Nllwm @ScotlandRoars @GreenpeaceEd pic.twitter.com/gMjeYeGfjl

— Blood Lions Official (@Blood_Lions) November 9, 2018