President Cyril Ramaphosa has held discussions with the President of the European Parliament, Antonio Tajani, in Strasbourg, France; and thanked Europe for its role in South Africa's development.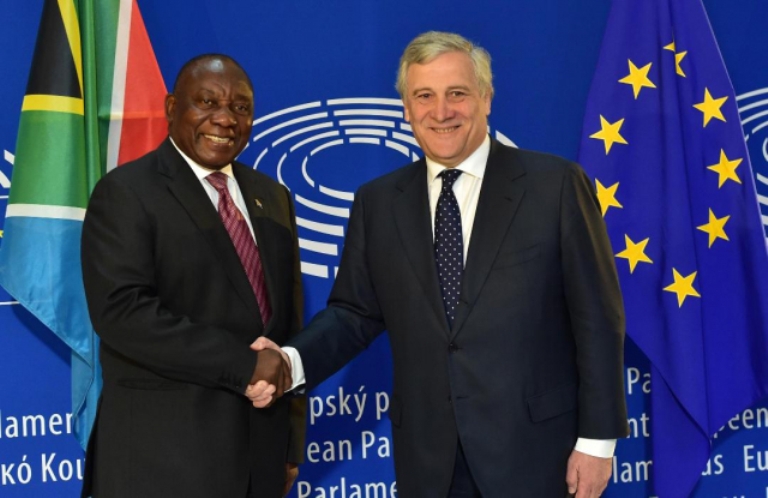 The two leaders discussed strengthening cooperation between Africa and Europe, increased youth employment and the opportunities – and challenges – of immigration into Europe.
President Ramaphosa said: "We are renewing our bonds and strengthening our historical ties. Now is the time to chart a new path of prosperity defined by increased investment and trade between our two continents."
He expressed his support for Tajani's intention to develop an investment-led Marshall Plan for Africa, identifying minerals and minerals beneficiation, cooperation in areas of digital infrastructure, tourism and climate change as areas of cooperation.
The President further welcomed the European Parliament's commitment to economic diplomacy.
"Ours is an association of equals and friends who want to work together in partnership," the President said.
In an address on Wednesday, Ramaphosa said Africa can learn from the EU (European Union).
The President said the EU was born out of the need to end the historic divisions in Europe, and create a firm base to build a new Europe rooted in solidarity and cooperation, and to contribute to global peace, security and development.
The President said African countries have similarly embarked upon a new path of peace, development and transformation.
"The African Union's Agenda 2063 provides a programme for integration and prosperity on a continent that has been racked by division, exploitation and strife," he said.
President Ramaphosa thanked the EU and its Parliament for the role they played in South Africa's development, and welcomed several EU investment and partnership initiatives in Africa.
Ramaphosa also underscored the importance of European and African countries to work together to develop sustainable and humane responses to the challenge of irregular migration.
"This is a challenge that Europe has had to deal with in recent years. So too has South Africa and several other African countries.
"We need to work together to address the root causes of irregular migration, which include poverty, inequality, unemployment, economic exclusion and competition for scarce resources."
Source: SAnews.gov.za