While the rest of South Africa is talking about land reform, billionaire businessman Johann Rupert is getting on with actually doing it.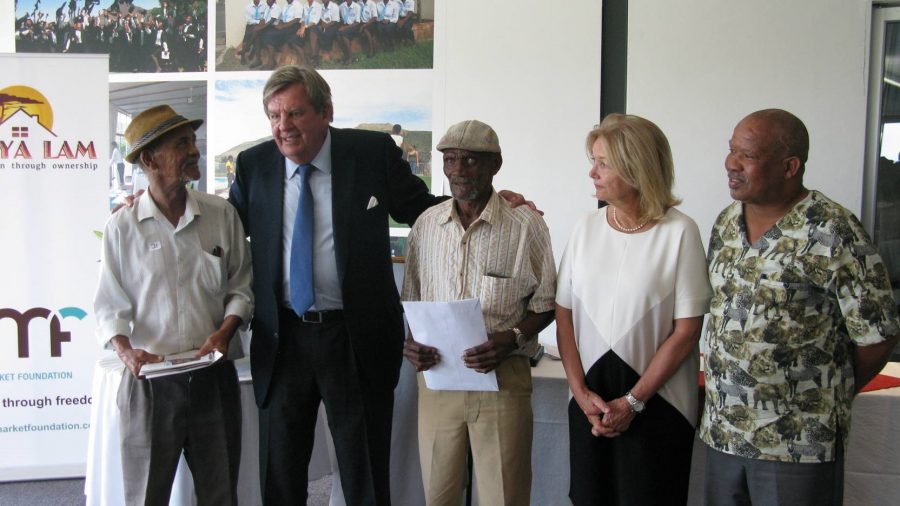 On 3 December, in Stellenbosch, Rupert and and his wife Gaynor will present more than 326 title deeds that they have sponsored to the 'new' home owners, according to a media release from Free Market Foundation (FMF), and last week he handed over 70 titles in the Karoo.
FMF said titling in South Africa is a complicated "painstaking process" that requires sponsors like the Ruperts who are willing to fund the process.
Titling is particularly complicated in the Aberdeen and Graaff Reinet areas where the Ruperts last week personally presented 70 previous tenants with full freehold titles.
FMF explained that the 1913 Natives Land Act prohibited black South Africans from owning land in so-called 'white areas' so that black people had to live as tenants in what is now known as townships.
"Not much has changed and as many as 5 million families still live as tenants or without ownership rights across SA. Khaya Lam offers hope to these citizens 20 years after the end of apartheid," said FMF.
Khaya Lam (which means 'my home') is the FMF's land reform project, of which Johann and Gaynor Rupert are significant sponsors.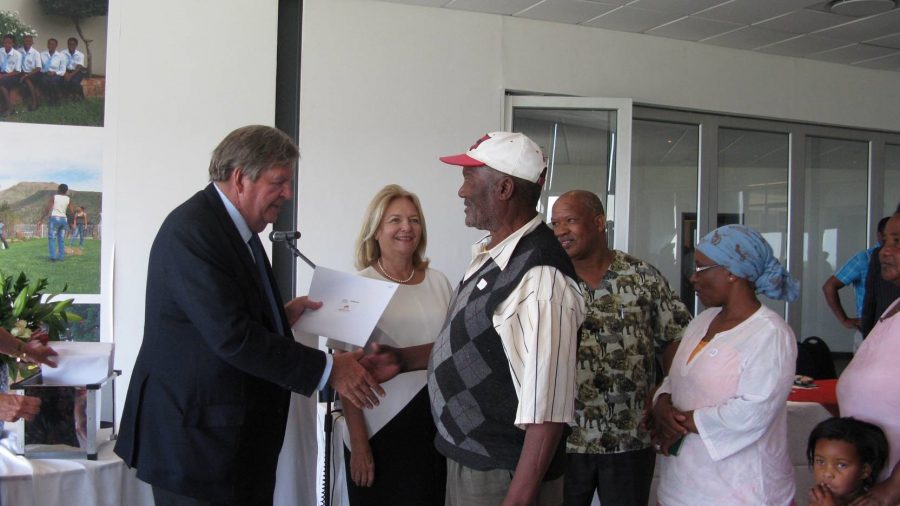 In the presentation to Aberdeen residents on 16 November, Rupert said the people of the Karoo were a "special breed" and spoke about how poor both his mother and father were as "children of the Depression", and that they had never let him forget his origins.
Rupert – who is the chairman of the Swiss-based luxury-goods company Richemont as well as of the South Africa-based company Remgro – said his father (business tycoon Anton Rupert) used to remind him that this region produced the Rev Beyers Naude, Robert Sobukwe and the Cradock 4.
The event took place in Rupert's birth town of Graaff Reinet at the South African College of Tourism (SACT) which was founded and is funded by Gaynor Rupert.
Rupert says the couple has  a special bond with Aberdeen because it was Gaynor's home town. Her father was a master-builder and built the magnificent church in the centre of Aberdeen.
When introducing Rupert, Council Speaker Tembisa Nonnies revealed the true care and concern to "give back to the people" shown by the Ruperts.
"Ek het evidence! 24 schools in the area have computers and internet. Nobody goes to school hungry. The pupils might arrive hungry but they get a nourishing porridge every morning. (At) 7 o'clock every morning there are ladies who start cooking the porridge, thanks to the Ruperts," she said.
FMF executive director Leon Louw said, "It was an extraordinary event. The Ruperts were returning to their roots, the town where the founder of the global family business, Anton Rupert, was born. They are sponsoring the most profound reversal of apartheid possible, title deeds for black victims of the apartheid land dispossession legacy.
"A generation after apartheid, most black people do not yet own their land. The Ruperts have risen to the challenge. They are personally committed to the reversal of racist land dispossession."