Trevor Noah is joining the #GivingTuesdaySA initiative by pledging up to R2-million to assist schools across South Africa through his Trevor Noah Foundation (TNF), which he founded last year.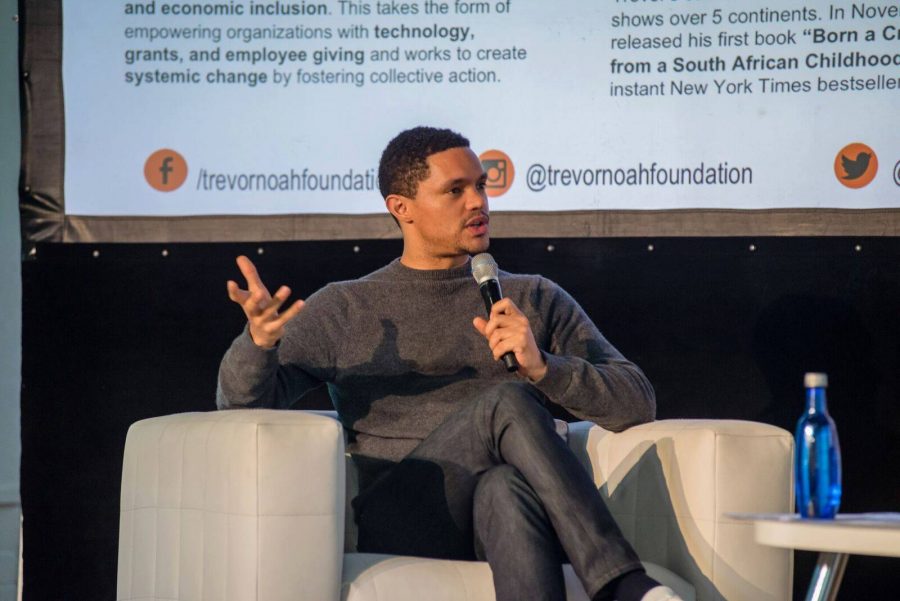 In a Facebook message to South Africa, Trevor said:
Hey South Africa, In the spirit of #GivingTuesdaySA I will be matching all donations to The Trevor Noah Foundation up to 2 million Rand. You can donate here: https://www.backabuddy.co.za/trevors-challenge
Trevor believes educating South Africa's youth is the key to advancing South Africa, and his foundation aims to achieve 100% transition rate from matric students into continued education.
Trevor says: "For me, I've come to realize the secret is great teachers. In my life and the lives of many other kids, one great teacher has made all the difference.
"To this day, business economics and history are my favorite subjects thanks to teachers like Mr. Darby and Mrs. Gold. My favorite teachers were those who engaged me in a way that made me feel like they loved the subjects as much as they wanted me to love it."
The TNF pilot program has been working with orphaned and vulnerable learners in Grades 9 – 12 at a school in Vrededorp, and wants to reach more schools across South Africa.
Trevor says: "Our end goal is to get as many children who do not have access to education, educated. We want to get teachers the support they need because teachers are underpaid, and we want to make sure the people who educate those children are able to sustain themselves."
Until now, Trevor has been TNF's primary investor. He's now asking the public to support his vision and help scale TNF's impact and ensure no child gets left behind.
With his crowdfunding campaign launched on local donations based crowdfunding platform, BackaBuddy, Trevor hopes to raise R2 Million, from Giving Tuesday (27th of November) until the 31st of December 2018.
Funds raised by the crowdfunding campaign, will be matched 1:1 by Trevor himself up to R2 million.
The funds will be carefully managed by the Trevor Noah Foundation to assist various schools across South Africa and eliminate obstacles that stand in the way of students and teachers reaching their full potential.
South Africans around the world have risen to the challenge. Donations and gratitude has begun pouring in. One said: "Thank you Trevor for believing in the potential of SA and enabling people to live up to their potential…"
To support Trevor's #GivingTuesdaySA Challenge on BackaBuddy: click here
WATCH Trevor Noah #GivingTuesdaySA Challenge
Trevor says: "On this giving Tuesday I'm excited to be donating more money into the Trevor Noah Foundation which supports schools and teachers around South Africa. I want to challenge you to do the same thing. If you donate, I'll be donating whatever you do and matching it up to R2 million! Let's make this happen!"
BackaBuddy, CEO, Patrick Schofield says: "When the powerful and the many work together, massive change is possible. Trevors matching, Rand-4-Rand every donation made by people across the world up to R2million!  That's an incredible commitment to being part of the change we need in SA and in a way that recognises that this is something we can do together."
As a special thank you, donors will be randomly selected to receive the following:
5 donors will receive a pair of VIP Tickets to the Global Citizen Festival on 2 December 2018 (#GivingTuesdaySA special! Only donations received by 27 November will qualify.)

20 donors will receive a signed copy of Trevor's memoir, "Born a Crime".

1 Person will get a personal thank you tweet from Trevor

1 donor will receive a pair of tickets to Trevor's next comedy show in South Africa (dates TBA)
To support Trevor's #GivingTuesdaySA Challenge: click here