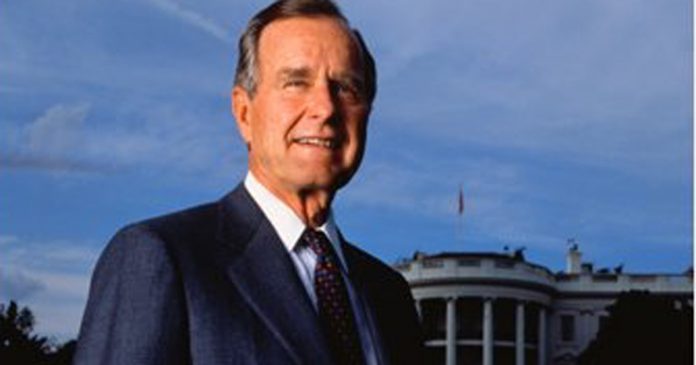 Former US President, George HW Bush, passed away on Friday night (22h10) at the age of 94, just seven months after his wife Barbara died.
The news was announced by his son, former President George W Bush, in a statement saying:
Jeb, Neil, Marvin, Doro, and I are saddened to announce that after 94 remarkable years, our dear Dad has died. George HW Bush was a man of the highest character and the best dad a son or daughter could ask for. The entire Bush family is deeply grateful for 41's life and love, for the compassion of those who have cared and prayed for Dad, and for the condolences from friends and fellow citizens.
Bush was America's 41st president, serving between 1989 and 1993 during which the first Iraq War against Saddam Hussein was fought, and the Cold War was ended.
According to the BBC his health had been failing in recent years and he was admitted to hospital in April with a blood infection, but had since been discharged.
Some of his famous quotes included: "Read my lips. No new taxes", "The quest for freedom is stronger than steel, more permanent than concrete" and "I do not like broccoli, and I haven't liked it since I was a little kid and my mother made me eat it. And I'm president of the United States, and I'm not going to eat any more broccoli."
Former President Bill Clinton said: "I am profoundly grateful for every minute I spent with President Bush and will always hold our friendship as one of my life's greatest gifts."
Clinton and Bush, former rivals, forged a close friendship working together to help tsunami and hurricane victims.
Clinton said: "From the moment I met him as a young governor invited to his home in Kennebunkport, I was struck by the kindness he showed to Chelsea, by his innate and genuine decency, and by his devotion to Barbara, his children, and their growing brood.
"Few Americans have been—or will ever be—able to match President Bush's record of service to the United States and the joy he took every day from it…
"He never stopped serving. I saw it up close, working with him on tsunami relief in Asia and here at home after Hurricane Katrina. His remarkable leadership and great heart were always on full display."
Former President Barack Obama visited Bush just three days ago. (Listen to his statement at the bottom of this page.)
WATCH The extraordinary life of George HW Bush
My heart aches knowing George Bush 41 has passed. An authentic caring human being who never hid his truth. He will always remind us 2 exemplify that wining will never be our legacy. His love for life and family will live on RIP dear soul.

— Goldie Hawn (@goldiehawn) December 1, 2018
I will never forget George H.W. Bush and President Clinton meeting me in my old hometown of New Orleans to show support and raise money after Hurricane Katrina. I send my love to his family tonight.

— Ellen DeGeneres (@TheEllenShow) December 1, 2018
Statement from President Donald J. Trump and First Lady Melania Trump on the Passing of Former President George H.W. Bush pic.twitter.com/qxPsp4Ggs7

— Donald J. Trump (@realDonaldTrump) December 1, 2018
Statement by President George W. Bush on the death of his father, President George H.W. Bush https://t.co/wDD0vnlN8U pic.twitter.com/t7UsDYSKY8

— George W. Bush Presidential Center (@TheBushCenter) December 1, 2018
HEAR the Obamas' statement on Bush's death