Just over a month ago a tiny kitten was handed over to the Mdzananda Animal Clinic based in Khayelitsha in Cape Town, South Africa. The poor little thing had suffered from a horrible blunt force head trauma, the cause unknown.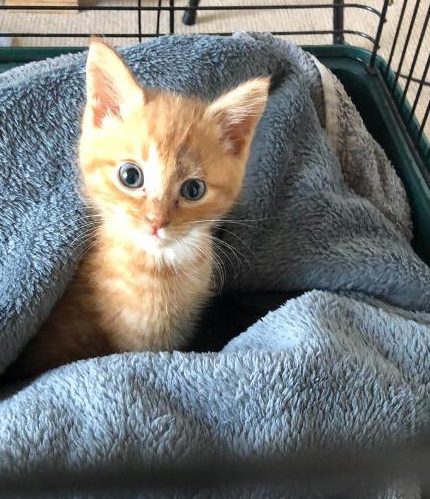 The clinic's head veterinarian, Dr Friedl le Roux, believes the kitten was either hit on the head or dropped from a height.
The nameless kitten had seizures every 20 minutes. He could barely get up and when he did, he would walk around in circles unable to control the tremors in his body and would fall over and over again.
Dr Friedl felt that his chance of survival was very slim. Each patient at Mdzananda gets individual treatment and care but this little kitten needed around the clock care and monitoring.
A dedicated volunteer, Stefanie Bergmann, was asked to take the kitten home and monitor him.
Stefanie jumped at the opportunity. "I wanted to help. I took him home and had Dr Friedl on call for emergencies. I was given strict instructions. I was ready for the challenge," she says.
"Every hour and a half I fed him, gave him medication and made sure he was warm. I set my alarm to wake me through the night. I was exhausted, but the kitten was still alive and that was all that mattered."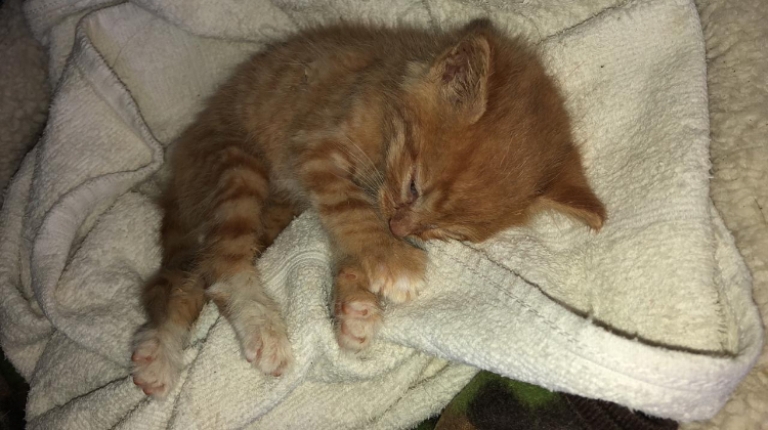 On day 4 the seizures stopped and on day 5 he was able to walk in straight lines.
At this point, Dr Friedl realised that the trauma must have damaged his visual centre as he was almost entirely blind.
"Unlike humans, animals luckily cope quite well with sudden blindness. He adapted quickly and day by day became stronger and stronger," says Dr Friedl.
"If it was not for Dr Friedl and the Mdzananda Animal Clinic I don't know what would have happened to this poor little creature," says Stefanie.
"Every time I visit Mdzananda I'm astounded at how many patients they have. They cope with the most severe injuries and illnesses with the lowest of resources. I am grateful and proud to be a part of it."
The little kitten was named "Lucky" as he was lucky to have survived.
He will soon be joining 3 other blind cats in a loving home where he will have the best life a blind cat could hope for.
He will soon be joining three other blind cats in a loving home where he will have the best life a blind cat could hope for.
This festive season the Mdzananda Animal Clinic is asking the public to please assist them to help more pets like Lucky.
If you can support the Mdzananda Animal Clinic this festive season please consider making a donation:
Mdzananda Animal Clinic, Standard Bank, Account: 075595710, Branch Code 025009, Reference: FestiveSeason + Your Name.
Christmas is a difficult time at Mdzananda as people go on holiday to the Eastern Cape and leave their pets with friends who sometimes don't know how to look after them. The Clinic receives many animals that have fallen sick or have been injured during this time, and relies totally on donations to be able to do this as the owners aren't around.
MORE
The Mdzananda Animal Clinic is an NPO animal hospital that treats up to 700 animals per month. Contact info@mdzananda.co.za / 021 367 6001 or visit www.mdzananda.co.za