A video of a crowd behaving badly, throwing food and bottles at a stage, has been going viral in South Africa over the past three days with outrageous claims about it showing an ANC dinner party where guests were not happy with the food… to it being a wedding in East London where the the ex-girlfriend and her friends gatecrashed and caused a scene.
Neither story is true. The video was not even filmed in South Africa.
If you listen to the accents, you'll notice they're not South African… and if you zoom in on the name above the stage, you can read it says: Royal Regency.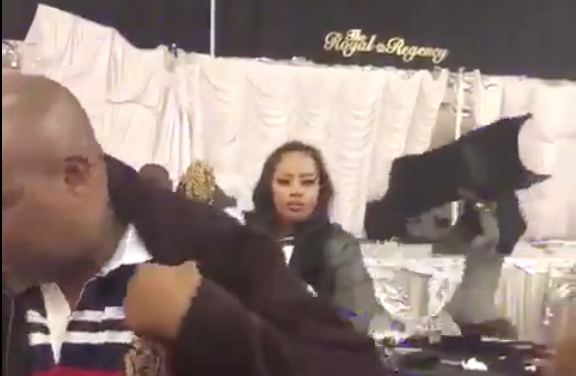 A Google search for 'royal regency east london' shows there's no such place in South Africa's East London… but there is in east London in the UK, and it looks identical to the video! (Because it is.)
A South African YouTuber posted the video under the heading "ANC Dinner Party Fail… unhappy with food", and wrote "At east London ANC DINNER PARTY GUEST WERE NOT HAPPY WITH FOOD AND LOOK WHAT THEY DID…..LOL"
Meanwhile on Twitter, the Barry Roux parody account in South Africa claimed: "Ex girlfriend with her gang attend the wedding reception of ex boyfriend in East London, even the Security were over powered."
But as somebody on Barry's timeline reported these were not South Africans but Ugandans at a music concert in London where artists (including Ugandan singer Venka) failed to show up on stage. Tickets had cost approximately £60. The video was posted two months ago. Venka issued an apology on her page on 7 October blaming the promoter's bad management.
The last time ANC members were involved in chair throwing in East London was at an Eastern Cape conference in 2017.
WATCH Concert goers unhappy when artists don't appear on stage in east London, UK
Ugandans In London ( ROYAL REGENCY ) Threw Bottles And Chairs After Artists Failed To Show Up on stage . Some pple were seen complaining after paying VIP £60 Approx $120

Posted by Diaspora Television on Sunday, October 7, 2018