Former team-mates, friends and customers of Barend Britz (63) have spoken today with shock of his horrific murder last night at his bar in Perpignan, in southern France, and spoken of a gentle giant who was popular with everyone.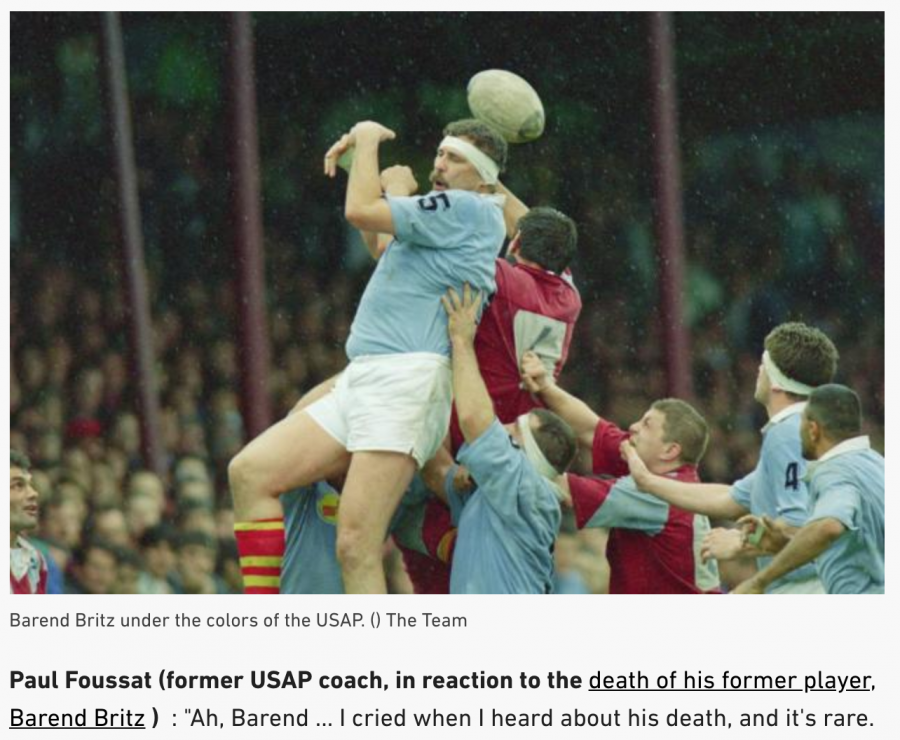 The former SA provincial rugby player – who played lock for then Transvaal and Northern Transvaal – had settled well into France and was credited for helping the Perpignan team USAP achieve success in the '80s and '90s until he retired in 1996.
His former coach in Perpignan spoke of how Britz had completely integrated into the Catalan culture and how the public "adored him".
Last night Britz was killed by a local resident who had launched a sudden attack on Britz's bar – The Bar and Britz.
According to France Bleu the man – who was accompanied by two friends who did not partake in the violence – had started vandalising the shop window and was throwing chairs. Britz tried to intervene to calm him down, but was instead attacked by the man. Tragically, Britz – who was renowned for his peaceful nature – succumbed to his injuries.
The 30-year-old suspect was arrested late Thursday night. He has previously been sentenced several times for minor crimes and drug use, French police said.
This morning flowers and candles surrounded the entrance to the bar as locals mourned the passing of the popular pub owner.
A former team-mate and friend of Britz, who saw him daily because their businesses were across the road from each other, told L'Equipe today: "It's sad knowing that he was a good man who never had a gesture of aggression."
Britz's former coach Paul Foussat told French newspapers that he met Britz when the South African was 35 and they became friends for life. "He always called me "coach Paul", but I did not teach him anything! He knew everything," said Foussat.
Former Irish rugby star and South African radio presenter John Robbie tweeted: "Sad news. Just read of the death of Wynand Mans. Together we reffed a good number of Currie Cup games!! He was a gent. Then learnt of the violent death in France of my old teammate Barend Britz. He was a gentle giant. It seems senseless violence is not confined to SA. RIP."
Wynand Mans, who was suffering from motor neuron disease, passed away yesterday.
The French Rugby's National League expressed sadness over Britz's death. The NL president, Paul Goze, said: "It is very sad that his story ends in this way. He was one of the great figures of rugby in the Catalan region."
WATCH Bar and Britz Tribute
This video of Bar and Britz was made in 2015, as a tribute to Barend Britz who had created a bar, with his wife, that had such a wonderful ambiance… it reminded customers of the saying: "The counter of a café is the parliament of the people."