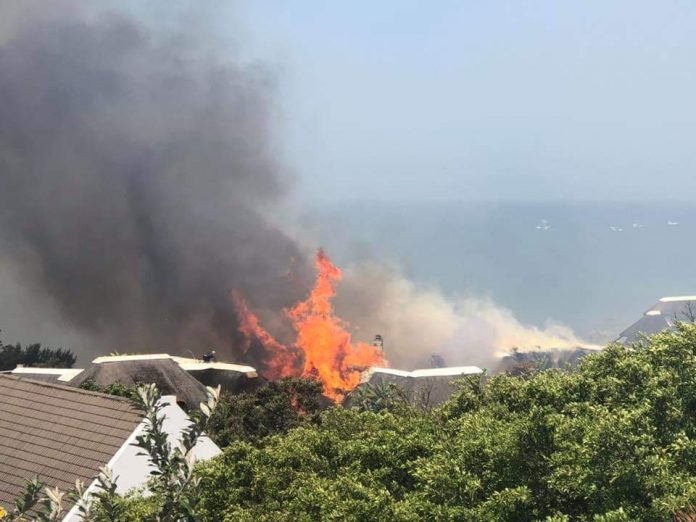 Fire fighters have been battling a runaway fire that has destroyed approximately 15 houses in the seaside resort of St Francis Bay, near Port Elizabeth in the Eastern Cape of South Africa.
Strong gale force winds of at least 60kmh were hampering efforts, but in the past hour the Kouga Municipality has reported that the fire is currently contained, BUT it is wind dependent.
Earlier at lunch time, an urgent evacuation was ordered as the runaway fire – believed to have started as a veld fire – was burning among houses at Harbour Road in the popular holiday town.
The Municipality ordered the evacuation of all residents and holiday-makers in the area.
In the latest update, Kouga said the fire is burning between Harbour Road and Assissi Drive.
While the fire has now been contained, fire-fighters are focusing on extinguishing those properties already burning.
Kouga confirmed that about 15 properties have so far been affected "although we cannot yet confirm how many structures have actually burnt down completely".
The Kouga Fire Department is on site. Nelson Mandela Bay has also sent two vehicles and firefighters to assist. Back-up has also been requested from the Sarah Baartman district and the department is trying to arrange air support.
"We ask that people stay away from the affected area. If you live in the area and are concerned about your safety, please go to the municipal office where an evacuation centre has been set up," said the Kouga Municipality.
KOUGA MUNICIPALITY UPDATE (Wed 19 Dec): "After further assessment, we can now confirm that 13 houses were destroyed and 2 partially destroyed. The assessment is ongoing, thus this figure may still change."
A number of residents have been evacuated at St Francis Bay outside Port Elizabeth due to runaway fires. Close to 15 houses with thatched roofs have caught fire. Pics: @JayedLeigh pic.twitter.com/nU3RSYzKzg

— SABC News Online (@SABCNewsOnline) December 18, 2018
FOOTAGE FROM THE ST FRANCIS FIRE

Posted by Kouga Municipality on Tuesday, December 18, 2018
#sabcnews : About 10 houses on fire in the holiday village of #stfrancisbay in the Eastern Cape.We will be crossing to @JayedLeigh shortly for more on the St Francis Bay blaze #fire #holidayvillage #jayedleighpaulse @AfricanPerspec1 @TrendsSthAfrica @SABCNewsOnline @SABCiindaba pic.twitter.com/G6Q3YMzGEw

— NJANJI CHAUKE (@njanjichauke) December 18, 2018
15 houses have been reported to be on fire in the holiday village of St Francis Bay in the Eastern Cape. Strong winds are fanning the flames.Evacuations are underway. #Sabcnews
[pictures supplied] pic.twitter.com/fkGJfDcRZc

— Jayed- Leigh Paulse (@JayedLeigh) December 18, 2018
Several properties have been gutted by a runaway fire in St Francis Bay. Firefighters are battling "very, very strong" winds.
? @Nazi_Buso pic.twitter.com/MbmJGE7DW1

— HeraldLIVE (@HeraldPE) December 18, 2018