A few months ago Mthetho Mapoyi was an unemployed young man serenading patrons at Cape Town's beachfront restaurants with the opera songs he used to imitate as a child, learnt from the only thing his father left behind when he deserted the family – an old Pavarotti CD. But his life has changed! SAPeople caught up with Nicolene Smith, the Capetonian whose video showcasing Mthetho's talent went viral… and on Sunday, Mthetho joins Carte Blanche in the beautiful Soweto Theatre to serenade South Africa!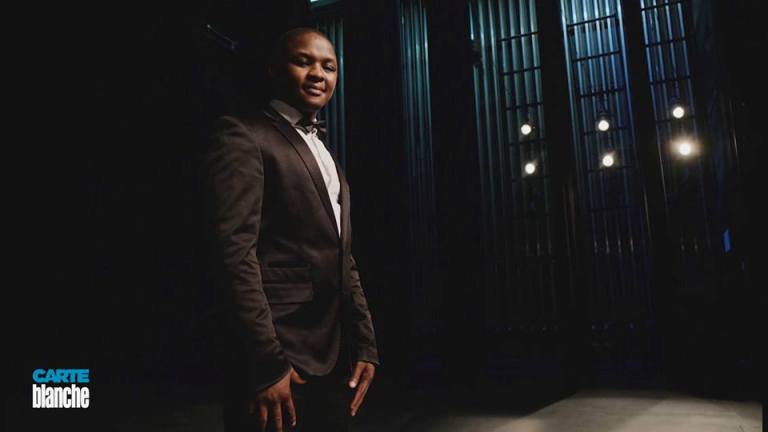 Mthetho became an overnight sensation in SA after Nicolene uploaded the video she had filmed of Mapoyi in the parking lot in October, while she was lunching at Ons Huisie in Bloubergstrand.
Almost half a million people have now watched that impromptu video (watch below)!
At the time Nicolene said she felt it her "duty" to record and share. "What a voice, humble and appreciative personality. Let's get Mapoyi Mthetho on a stage!!"
Here, just two months later, is an update from Nicolene who has stayed in touch with Mthetho:
After my video went viral on 25 October, Mthetho was invited to Dubai by Bruce Wienand where he had a radio interview on Virgin Radio with Kris Fade. He also had the pleasure of singing with some of the local school choirs during their practice sessions and even taught the children pieces of the music he sings. He is a great teacher with a lot of patience.

Back in S.A., he had a telephonic interview, while in a taxi 😂, with Bok Radio and then Bruce Wienand flew him to JHB where he had an interview with Carte Blanche and Jacaranda FM.

We received confirmation today that his Carte Blanche interview will air on Sunday 23 December 2018. (Available to expats to stream from Christmas Day.)

We're hoping that his Carte Blanche interview will be seen by someone who can offer him a career and/or much needed guidance.

On 14 November his interview on the Afternoon Expresso show aired. He was super excited about this interview. A lady by the name Lauren Naidoo saw my post and invited him to the show.

He was then invited by the Hellenic Ladies Association Cape Town, to perform at their End of Year Christmas High Tea on 22 November and at that event he was requested to sing at another event of theirs, which was held on 24 November where he sang 2 or 3 songs and fully enjoyed it. I didn't attend any of these events but from the videos it seems like the audience loved him.

Lizette du Toit Pretorius, a local music teacher here in Table View, Cape Town, who also plays the church organ at the Dutch Reformed Church in Melkbosstrand, invited him to sing at their Christmas service on 3 December.

She spent a lot of hours practicing with him as most of his songs were in English and not Italian which he is comfortable singing. He even sang Stille Nag, in Afrikaans, with the church choir!! I attended this event and can with confidence say that the crowd LOVED him!! (Watch video below.)

Lizette also invited him to sing at a Carols by Candle Light event for a local school in that same week. I didn't attend this one but from the videos I saw, he was a huge hit!

A friend of his wrote an article in the local newspaper, Table Talk, which was published on 12 December and just last week I met up with him to make a short video of him singing which we submitted for the talent competition "Maak my Famous" which Emo Adams announced.

Mthetho had a great start to a career years ago but had a lot of hardships which caused him to lose sight of his goals. He is back on track now and ready to face the world. I haven't met such a humble and appreciative human being in a very long time!!

This is the last two and a half months in a nut shell 😂

He needs help to get his talent exposed to as many people as possible. He wants to finish his matric and learn the history of music. He naturally also needs to make a living and needs to perform, to earn a salary, to pay the bills.

The more exposure he gets the better. He is such an amazing guy and he doesn't expect anything from anyone. He is willing to work hard to make everyone proud who has been following and supporting him this far. He genuinely is just simply an amazing human ❤️…
The future sure looks bright for Mthetho… thanks to his talent, the care and interest that Nicolene has shown and to South Africans for sharing!
Mthetho told Jacaranda FM: "I want to be an opera singer. I want to sing for my people. My mother listened to Opera music and I got the inspiration from her."
Watch Mthetho on Carte Blanche this Sunday night in South Africa, and from Tues 25 Dec if you live abroad, and help make his dreams come true – Stream Carte Blanche on Showmax (14-day free trial!).
WATCH Mthetho Mapoyi in the video that went viral, Oct 2018 
So I had lunch with my parentals at Ons Huisie in Bloubergstrand this afternoon and then this happened!! Having been so privileged to have grown up in a house where all genres of music are appreciated, I feel it my duty to record and share. What a voice, humble and appreciative personality. Let's get Mapoyi Mthetho on a stage!! I won't just put a tip into his hat next time, I'll pay for a proper front row seat! His number is 0027 71 378 7333.

Posted by Nicolene Smith on Thursday, October 25, 2018
WATCH Mthetho Mapoyi performing at the NG Kerk Melkbosstrand during their Christmas service on 3 Dec 2018:
Good Evening Everyone.Remember Mapoyi Mthetho, the Opera singer who performed for us at Ons Huisie in October? Well here he is performing at the NG Kerk Melkbosstrand during their Christmas service on 3 December 2018.He was so nervous as singing in English and with an instrument guiding him is completely out of his comfort zone. A local music teacher, Lizette Du Toit Pretorius, who also plays the church organ, practised with him and he did so well!!Mthetho is determined to try out other genres of music. He loves Italian, but he is hungry for more!! More knowledge about the history of music, more insight into different genres, more songs, more music… Just more of doing what he loves… Singing and making people happy!! I have been thinking of words to describe Mthetho and I came up with "Humble", "Appreciative" and "Extraordinary".He is not scared to work hard and deserves a second chance!! He deserves to be recognized and he deserves to be on a big stage. He'll do whatever it takes!!Let's share his voice and hope that someone who can offer him a career sees the post.Thank you Lizette and Harriet Van Wyk for playing a role in keeping his voice alive!!If you'd like to reach out to Mthetho, you can contact him on 0027 (0) 71 378 7333.#sharingiscaring#proudlysouthafrican

Posted by Nicolene Smith on Monday, December 10, 2018
If you're overseas: you can watch #CarteBlanche and thousands of other popular local South African shows & movies by subscribing to Showmax International now. You can try it FREE for 14 days.