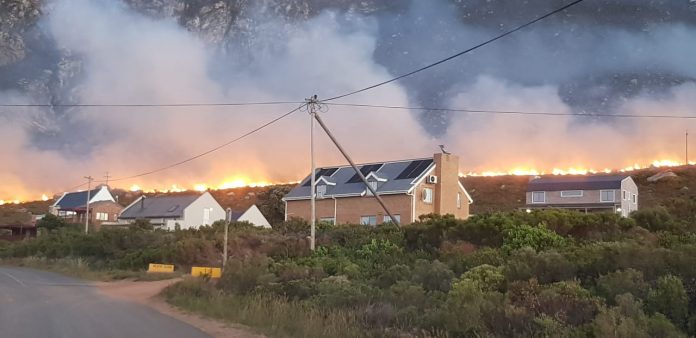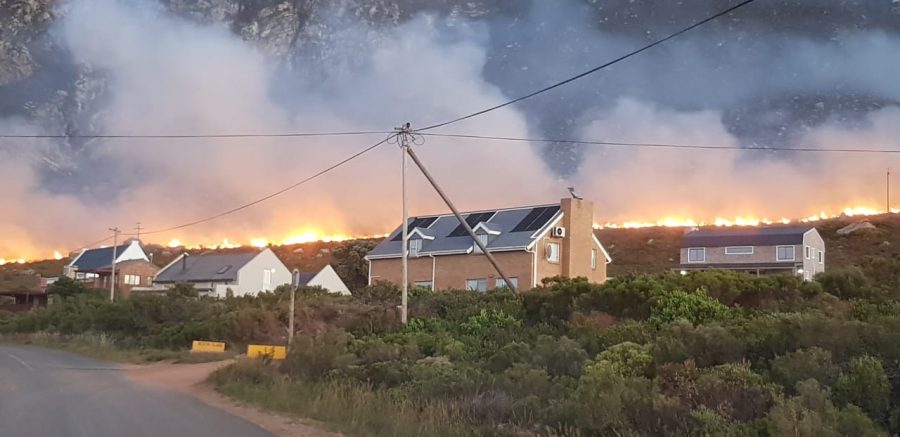 One person – a 59-year-old woman – has died and two have been seriously injured in what has been described as a "traumatic night full of uncertainty" as the #BettysBayFire raged in the Overstrand last night.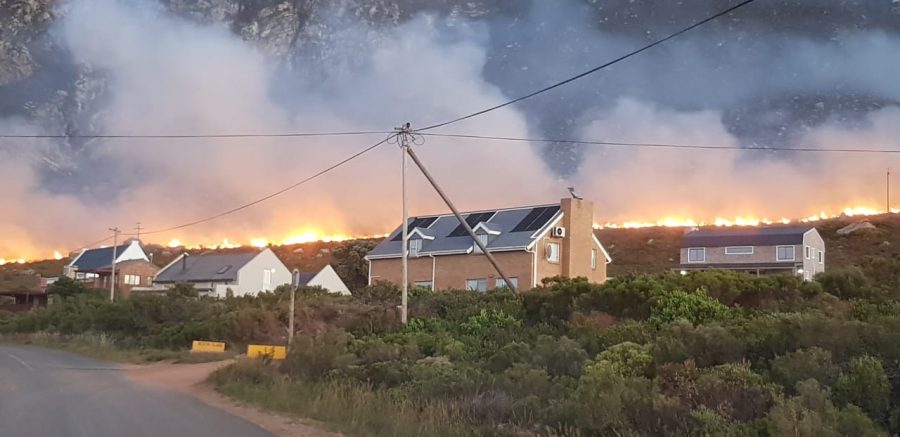 Another person – believed to be an 18-month-old baby – also suffered minor injuries.
The fire began on New Year's Eve, apparently sparked by a flare set off in Betty's Bay which caused a fire in the mountains. A R5,000 reward was offered for information leading to the arrest of whoever caused the fire.
According to the South African Police Service (SAPS) a man, aged 34, from the Mooiuitsig community near Betty's Bay has been arrested for contravening the Nature Conservation Act (which is more serious than an arson charge).
A SAPS officer told News24 the suspect is currently being held at Kleinmond Police Station, and that they have witnesses to the incident.
Strong winds unfortunately hampered efforts to put out the blaze which raged uncontrollably last night, leading to urgent evacuations in the middle of the night. Pringle Bay residents – and those with coastal properties at Hangklip – were asked to evacuate to Pringle Bay's town centre.
The woman, who lived in Elizabeth Road in Pringle Bay, reportedly died at 01h20.
The Greater Overberg FPA (Fire Protection Association) said Thursday morning: "With huge regret we have to report the loss of a life during the early hours of this morning. Our sincere condolences to the family. Cause of the fatality is currently unknown, SAPS and forensic services investigating."
Some reports say the woman died from a heart attack brought on by the stress of the fire.
The FPA asked the public to keep the communities of Betty's Bay, Pringle Bay, Hangklip and surrounding rural area in their thoughts.
"It was a traumatic night full of uncertainty," said the Greater Overberg FPA.
This morning at 07h30 the fire was still "out of control".
The Greater Overberg FPA said:
After a full day's operations continuous addressing numerous flare-ups with no aerial support option, the wind speed increased to substantially and by evening containment was not possible and contingency plans were activated. Warnings and evacuations were done though-out the early hours of this morning whilst fire fighters brave high mountains and waves of fire.

This was anticipated however the wind conditions were so adverse that avoiding the worst case scenarios were not preventable.
Numerous resources have today been deployed including a Working on Fire chopper, spotter and a South African Air Force Orxy helicopter.
Donations for the fire fighters can be dropped off at the Crassula Hall, Betty's Bay.