A family from abroad is seeking the help of South Africans in SA to find Stanley Currie, who has been missing since 28 December 2018 when he boarded a flight from Dublin Ireland to South Africa on a one-way ticket. UPDATE: Missing Irishman Stanley Currie has been found in South Africa.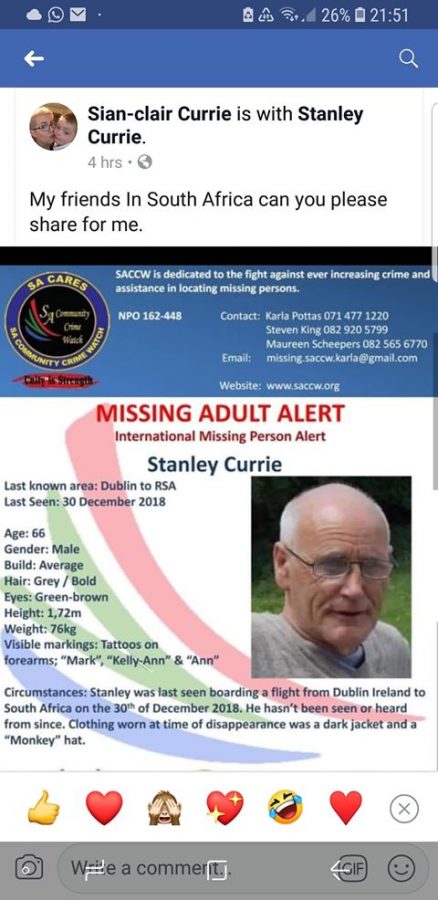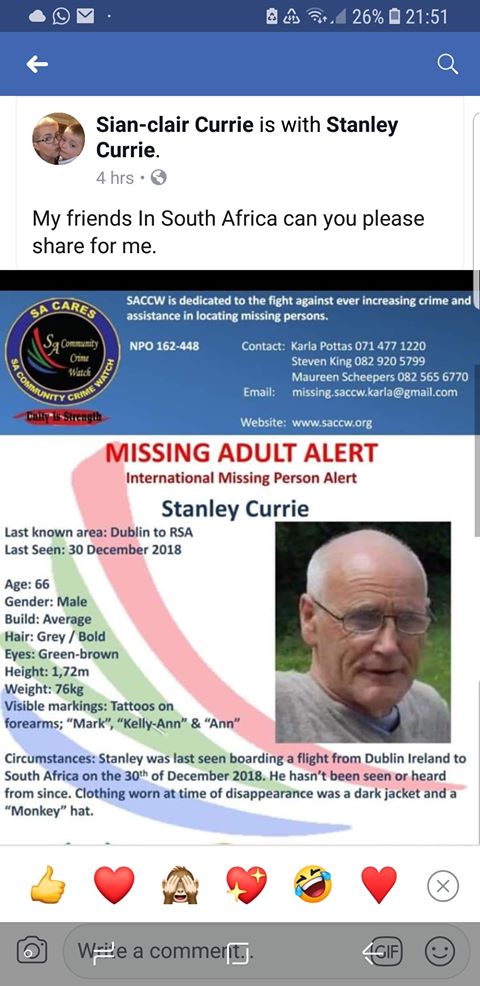 His brother, daughter-in-law and other relatives have posted messages on social media desperately asking for help in finding 66-year-old Stanley, who would usually have been in touch with them by now. (Some travellers have said that maybe Stanley hasn't been in touch because his phone isn't working in SA.)
His brother Richard posted a message on Missing Persons – South Africa's Facebook page, saying that his brother had been talking to "someone" on the internet for a couple of years and that he hadn't booked any accommodation in SA.
Richard says he was "carrying a large amount of cash" and flew to Johannesburg. It's unclear if he had an onward flight to Cape Town.
Richard wrote:
He suffers from depression and has got heart health problems. Numerous attempts have been made by myself and his family to contact him but his phone has been turned off since Sunday night just gone.
Richard said nobody in the family has any idea who the 'person' he was going to meet is. It was allegedly a woman.
We are obviously concerned that it is a scam. We are now getting very concerned about (Stanley) as already stated we've had no contact.
The family has contacted Northern Ireland police who "aren't interested".
Richard says they just want to know that he is safe and well, and ask that he contacts his family to let them know that all is well.
We can't obviously force him to come back but knowing he is alive and well is all we want to know.
Richard asked that South Africans please share his message and said the family would greatly appreciate them looking out for Stanley.