NAIROBI – Dual South African and British citizen, Luke Potter, was among the 14 people killed by Somali militants in a raid on a posh hotel complex in Nairobi, Kenya yesterday.

He died, along with an American who had survived the 9/11 attacks and two best friends from Kenya who worked to help Somalia.
Since 2015 the development professional had worked for Gatsby Africa charitable foundation as head of their forestry and tea portfolio, and was originally based in the UK but travelled often to East African countries Tanzania, Kenya and Rwanda for work assignments.
He had only recently moved to Nairobi from Britain.
On his bio page on Gatsby's website, Luke had written:
I strongly believe in the need for societies to offer as equal an opportunity as possible to all, and that, while economic competitiveness is essential to build a country, long-term stability is not achievable unless the gains are widely spread.
He described himself as loving water-sports, camping, hiking and always being keen to talk about adventures outside the city.
One South African friend said he was shocked to see the report of "the passing of an old friend of mine, Luke Potter in the attacks in Nairobi. I feel terribly for his family and particularly his daughter who has lost her father at such a young age. May God comfort his family during this difficult period and may his soul rest in eternal peace."
Survivors Against Terror said: "We are thinking of everyone affected by the attack in Nairobi and especially of the family and friends of Luke Potter."
Gatsby Africa said in a statement that Luke "devoted the past 10 years of his career to helping some of the poorest and most vulnerable people in the world".
They said:
Luke was respected by all he worked with, bringing huge drive, determination, a relentless work ethic, and a thirst for new ideas to every project. He brought a calm head and his unique sense of humour to every situation.
The foundation also said Luke was instrumental in establishing its forestry programme in Kenya and provided "crucial leadership, guidance and support" to other programmes in Tanzania and Rwanda.
He leaves his partner and daughter.
Others who died alongside him included:
JASON SPINDLER
His brother Jonathan posted on Facebook: "It is with a heavy heart that I have to report that my brother Jason Spindler passed away this morning during a terror attack in Nairobi, Kenya. Jason was a survivor of 9-11 and a fighter. I am sure he gave them hell!"
Jason was CEO of investment firm I-Dev International.
ABDALLA DAHIR AND FEISAL AHMED
Kenyan development professionals Abdalla Dahir and Feisal Ahmed, from consulting firm Adam Smith International (ASI), were having lunch together at the Secret Garden restaurant in the grounds of the hotel when the suicide bomber struck, according to Reuters.
Friends and relatives described Ahmed, whose widow is seven months pregnant, and Dahir as inseparable.
Both worked on economic programmes trying to improve life in Somalia, home to the militant group that claimed responsibility for the attack.
"They were close buddies," said Ahmed's brother-in-law Abdullahi Keinan. "They were so close, people said they would die together."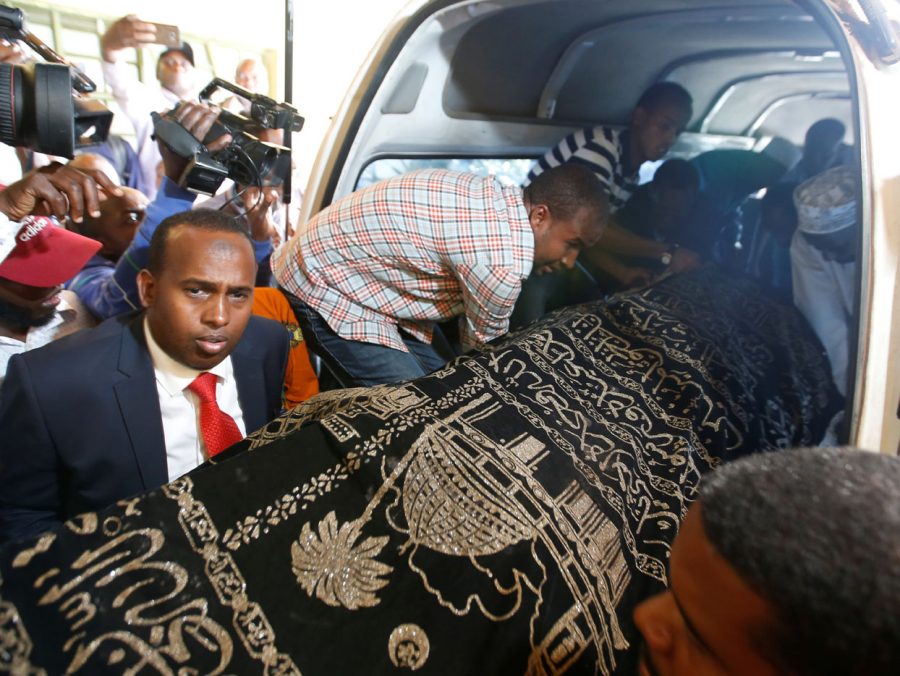 On Wednesday, their bodies left the mortuary together for a joint funeral.
(Reporting by Katharine Houreld, Jenni Baxter and Hereward Holland; Editing by Andrew Cawthorne and Jenni Baxter)