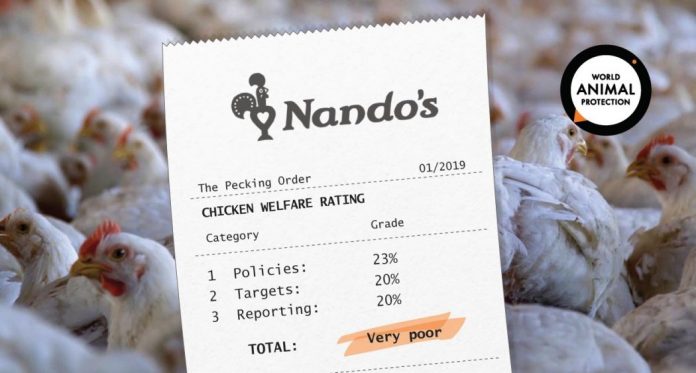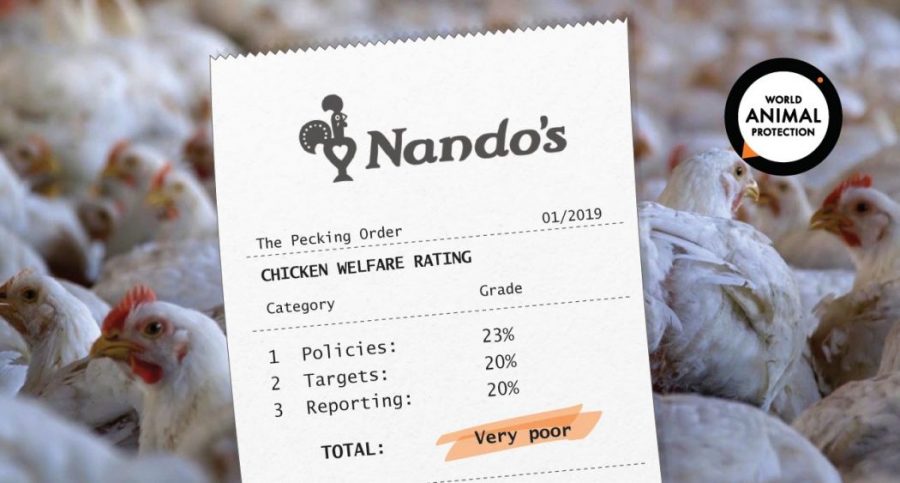 South Africa's popular peri-peri chicken restaurant Nando's may create fantastic adverts, but according to a global study by World Animal Protection (WAP), they are performing "very poorly" when it comes to taking care of their chickens. In fact, out of nine companies that were assessed, Nando's came third to last, behind other iconic brands such as KFC, Starbucks and McDonalds.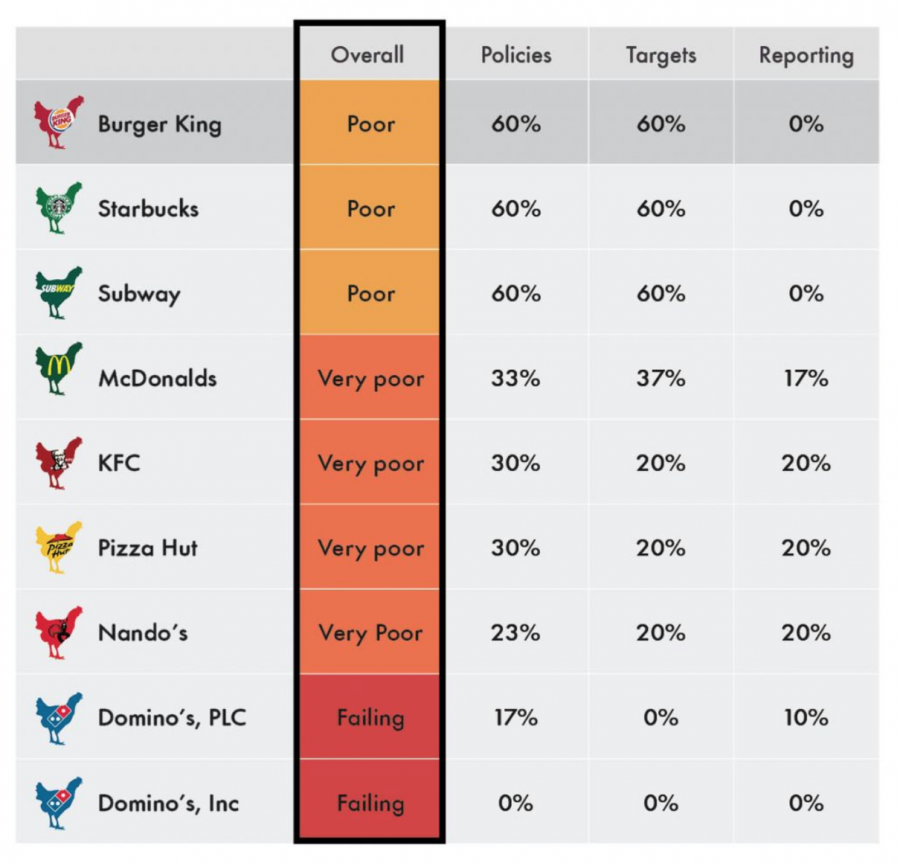 WAP claimed that despite making "billions of dollars from chickens, these huge companies are doing very little to give them better lives"… and that fast food isn't worth the needless suffering of billions of chickens.
"Our comprehensive report has revealed the shocking lack of commitment or care by these billion-dollar fast food companies. The ruthless exploitation of chickens for profit is unacceptable," said WAP.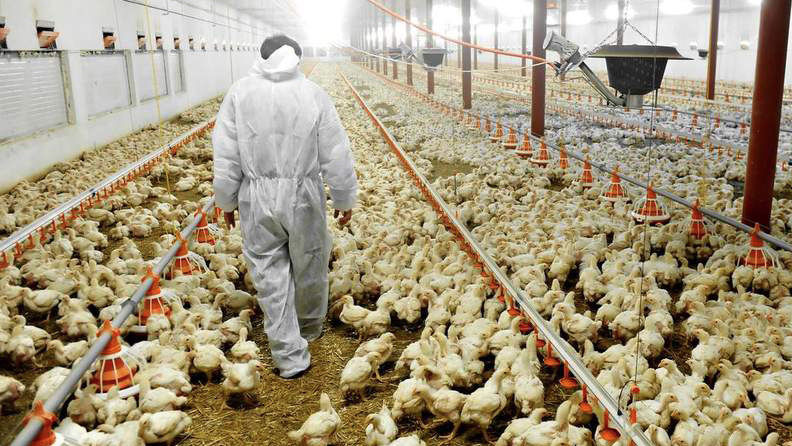 It identifies six common problems: being bred to grow too quickly; overcrowding; cages that severely restrict movement; alien, unhealthy environments; unnatural lighting, and often "squalid" conditions.
It's revealed in the report that "modern meat chicken has been developed through extreme genetic selection. Each chicken is expected to reach its slaughter weight in around 40 days – a weight it would naturally take around three months for chickens to reach.
"This rapid growth can cause severe health problems including painful lameness, because the chickens' legs cannot support their rapidly growing bodies, and heart and lung strain. These health problems mean the animals often spend much of their lives sitting down and are in constant pain from their lameness."
According to WAP:
40 billion chickens are subjected to overcrowded factory farms every year
Many of these chickens have a space smaller than a piece of paper to live in, in barns crammed with up to 10,000 chickens
They will spend most of their lives sitting or lying in their own waste
The Rating Criteria:
The fast food giants – which also included Burger King, Subway, Pizza Hut and Domino's (in Europe and the US) – were rated according to three criteria:
Their policies regarding the protection of chicken welfare.
Their targets to complete action to improve chickens' lives.
How well the company is reporting on its progress to improve chicken welfare.
Each company was then given a grade from 'failing' to 'very good', depending on their scores. Unfortunately none achieved a 'very good' status, with Nando's being rated overall as 'Very Poor' after its performance in all three categories was graded as 'Very Poor'.
According to WAP, "Nando's has not made robust commitments to improve chicken welfare", only has some very limited country-specific targets and publishes "very limited data on its progress towards better chicken welfare."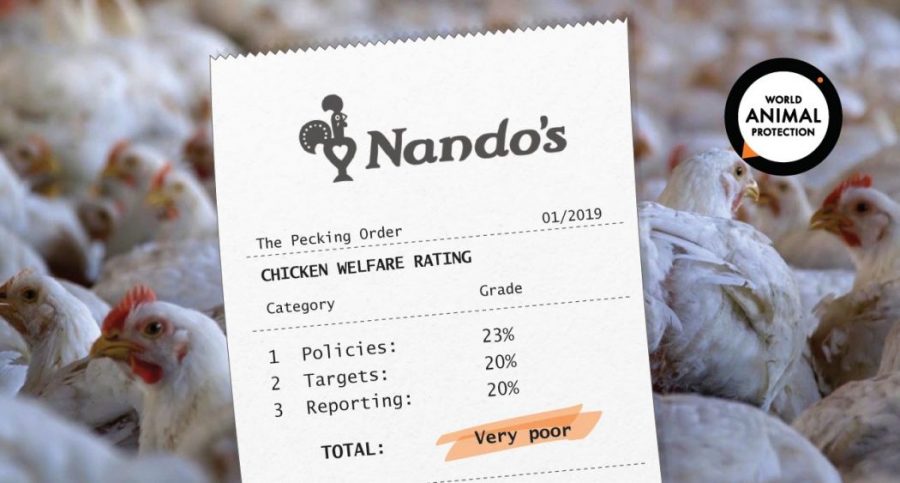 On WAP's website, those who care about the chickens are asked to "tell nando's it must do better" with a call to action to "take cruelty off the menu". Readers are asked to click a button which sends a tweet to Nando's letting them know their score. (If you'd like to send a tweet, find out more here.)
A Nando's spokesperson told The Independent newspaper in the UK:
Nando's never uses caged chickens anywhere in its global supply chain. All our chickens are reared in deep-littered, well-ventilated barns.

In the UK, all our chickens are barn-reared to Red Tractor standards. Our internal technical teams undertake regular visits to all our suppliers across the world.
WAP says these nine companies were chosen for their report (titled The Pecking Order 2018) "because they're the big players in the industry and have the power, and the responsibility, to improve the lives of millions of chickens every year".
WAP suggests that the brands do the following for chickens:
Give chickens the freedom to move, and stop using cages
Use breeds which grow at a healthier, more natural rate
Create meaningful environments with the opportunity for chickens to behave naturally
There was some good news.
Seven of the nine companies – including Nando's – do use third party auditors in certain locations to check compliance with their company chicken welfare standards, and WAP says "thankfully industry is beginning to embrace these solutions".
Nearly 100 companies have already committed to improving the lives of chickens within the next few years.
WAP warns that "in the current climate where consumers are calling for change for chickens, companies that do nothing are taking a significant business risk", and says "our intention is for companies to use 'The Pecking Order 2018' to help identify and implement solutions that will grow their businesses."