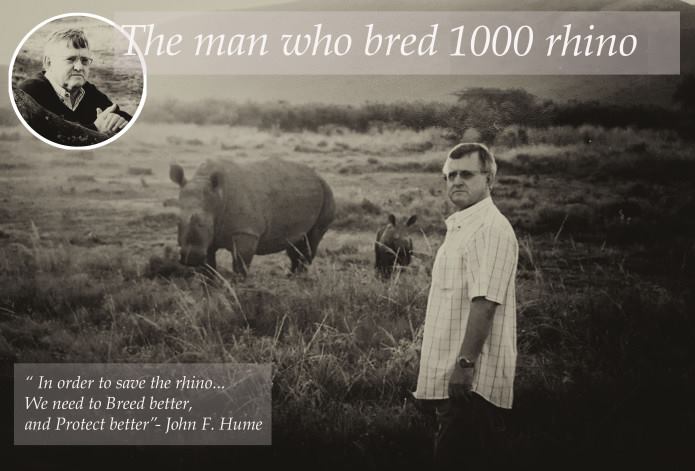 The world's largest private rhino owner, John Hume has issued an urgent appeal through the Rhinos of Buffalo Dream Ranch facebook page for help, as his rhino – which make up 10% of the world's remaining white rhinos! – face starvation due to the drought that has gripped the North West province in South Africa. Hume says funds for supplementary feed have now reached 'Day Zero'.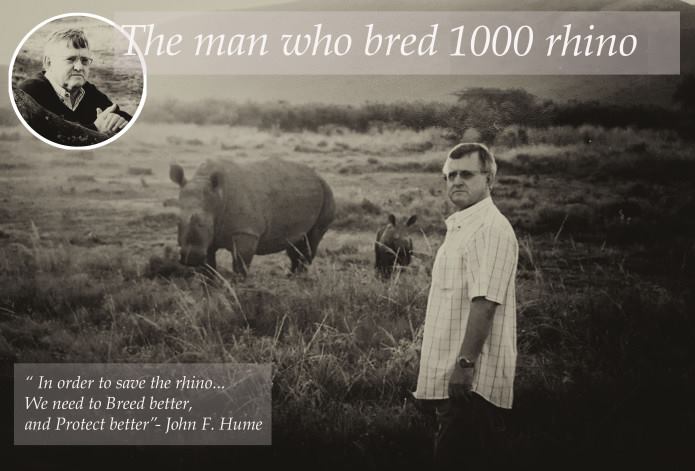 The 77-year-old rhino breeder is renowned for campaigning for the legal trade of rhino horn which he believes would curtail rhino poaching and save the lives of many rhino. However his attempts to auction rhino horn in 2017 were not as successful as he hoped.
On Wednesday evening, the Buffalo Ranch Facebook page said the situation is now "really dire" and asked for those who can help to please contact them.
The message from Hume read:
My name is John Hume and I own and operate a White Rhino Captive Breeding Operation in the North West Province of South Africa.

It has been no secret since April last year that I have been running out of the vital financial resources necessary to continue operations at Buffalo Dream Ranch. At the time my financial predicament became public knowledge, we only had reserves to carry us through to August of last year.

Through the very timeous and fortunate sale of some of our rhinos to Swaziland, we managed to extend our 'Day 0', and have kept our rhinos safe, fed and properly protected, until now.

However, the North West Province has been suffering a most severe drought, with little to no rain, and this has had a terrible impact on the natural feed available in our camps.

This has forced us to buy in supplementary feed way beyond normal volumes to keep our rhinos properly fed and healthy which has exhausted the lifeline received from the Swaziland sale much faster than we anticipated. We have now reached the inevitable Day 0 on our finances and we quite simply have no financial resources left to continue caring for our herd.

We have 1642 Southern White Rhino, of which 300 are currently pregnant and due to birth over the next 16 months.

This equates to nearly 10% of the world's remaining white rhinos.

No more money means no more feed deliveries from suppliers, and pressure on salaries for our nearly 100 staff, so vital for the care and protection of our rhinos.

The catastrophic impact of this scenario will be slow, but sadly steady starvation of these beautiful African animals, and them all being left at the mercy of poachers.

So, this is an URGENT APPEAL FOR HELP. We are heartbroken at the situation, and desperate to save our rhinos.

I am now 77 years of age and need to start thinking about handing over this vital heritage project to the next generation of great rhino custodians and I am thus totally open to any suggestions or proposals that might offer a solution to our current financial predicament.

These solutions could include a sale of the project in its entirety, sale of a share in this project, rhino ownership schemes, ownership in only the rhino population growth, funding of security only, or even just donations for feed. Whatever the solution, it needs to happen quickly to avoid the inevitable disaster described.
Hume asked any potential investors, contributors or donors interested in becoming part of the survival of this very important rhino population to contact him; and said "we welcome any and all discussions" and that he would be "eternally grateful" for any help.
He ended it, "yours, in anxious anticipation of a most urgent response". (UPDATE Sep '21: The Buffalo Dream Ranch page on Facebook has since been removed.)
WATCH Bonne de Bod Interviews John Hume, 2017
Rhinos breed fairly well in captivity and even better if they are farmed with good food, antibiotics and general good ranching management practises. This is well-known in the conservation and game management world, and while the idea of farming rhinos is abhorrent to many… even renowned conservationist Dr Ian Player stated how critical rhino farmers or breeders were to growing the world's population of rhinos. The success of Dr Player's Operation Rhino in captive facilities and zoos around the globe was attributed to these management practices. Bonné spends this episode with controversial Rhino breeder John Hume who is the world's largest rhino owner. For the first time, Bonné looks at the issue of legal trade in rhino horn and why John thinks it will save the rhinos of Africa. At the time of filming, trading in rhino horn was illegal worldwide but John Hume took the South African government to court where he won the right to trade in rhino horn within South African borders. Domestic trade in rhino horn is now legal in South Africa but remains strictly prohibited internationally.

Posted by Bonné de Bod on Monday, August 21, 2017