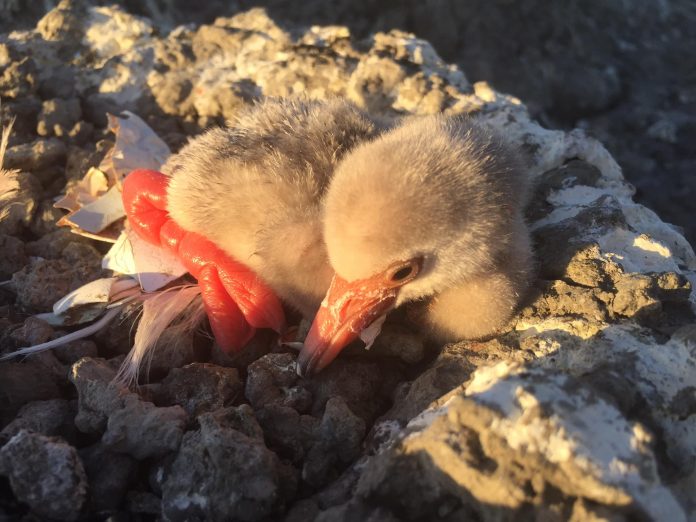 There's a team of kind humans in South Africa who are currently taking on a mammoth task to help save hundreds of dehydrated and starving baby Flamingo chicks. The newborns are being stranded… abandoned by their parents as the dam water in the once magnificent Kamfers Dam has all but dried up.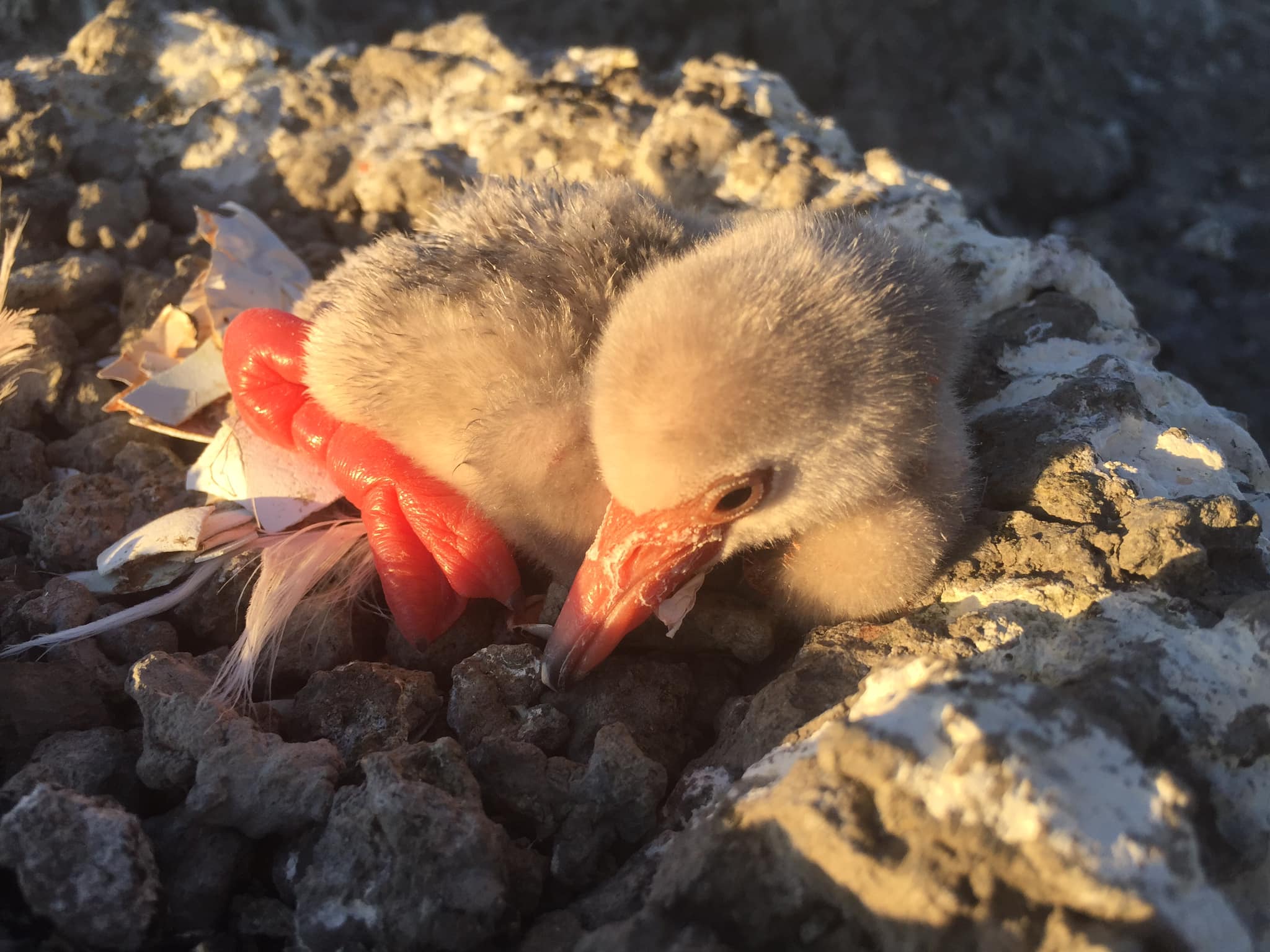 The dam, just north of the Northern Cape's capital city of Kimberley, usually covers a space of 400 hectares and is used by lesser flamingos as one of their only four breeding sites in Africa!
But sadly – due largely to failing infrastructure, there has been a lack of water pumped into the dam by the Sol Plaatjie municipality. The dam has become too shallow and moms are leaving their chicks to go to the water.
"The parents are not able to feed and protect the chicks as they normally would. It's actually a big problem as the water level is dropping everyday," says Craig van Rensburg, an administrator of community organisation Saam Staan Kimberley.
In the current heat these chicks are battling to survive without the necessary feed, some of them over 150 metres away from the water.
But thanks to Netwerk24, a hero in Pretoria, the SPCA, and Saam Staan Kimberley (plus the generosity of a mining company!) – the fate of these little chicks has taken a WONDERFUL u-turn and they are being rescued!!
Linja Allen, Chairperson of Saam Staan Kimberley, explained that the organisation (which has 6 admins and over 15,000 followers) heard about the chicks suffering through a report on Netwerk24.
"When we saw the video, we knew we had to do something," Linja told SAPeople. "So we communicated with a few experts… and they said 'it's part of nature' and that there's nothing we could do."
But the next day the Netwerk24 journalist contacted Linja and said that Mike Bolhuis in Pretoria was willing to assist.
"I phoned Mike and he explained that he has 120 flamingos on his farm, and he has a big team up there.
"Every hour there are more chicks dying… so we jumped in the car and went to the Department of Environmental Affairs. We explained that we had a solution… and the Department said they would give us back-up for this rescue mission!"
So last night, the "fantastic volunteers" (as Craig refers to them) managed to rescue over 900 chicks.
The chicks were then transported to the SPCA to spend the night being closely monitored before Ekapa Mining generously flew them up to Mike at Wonderboom airport Friday morning.
The chicks were met by highly skilled professionals (including a team of veterinarians from Onderstepoort), and are now safely with Mike's team, busy feeding and caring for them. See video here:
??FLAMINGO?? UPDATEThe baby Flamingos are at their new home and doing well!!! More Flamingos will still be rescued and relocated soon.Mike Bolhuis Kimberley SPCA / DBV

Posted by Saam Staan Kimberley on Friday, January 25, 2019
But there are LOTS more chicks that need attention.
"I've spoken with the Department again," says Linja, "and they went out to the dam and assessed the situation. They said they do understand and have granted us permission to rescue more."
In the coming week Saam Staan Kimberley will be sitting down with the Department to discuss how to send the chicks to different flamingo rehabilitation centres all over South Africa.
"Obviously that's going to be quite a big process and needs important import and export permits," says Linja.
Meanwhile, they have rescued another 400 chicks this afternoon, and volunteers from Kimberley are busy feeding them.
Tomorrow Linja, who usually works at a security company in Kimberley, will be going out once again to save and feed more chicks.
"We're doing this for the love of the community and Kimberley," says Linja, who admits she has not been surprised by how the community has rallied together to save these chicks.
"We know that people in Kimberley will always help where they can…  but of course every time it happens, it is nice to see the community taking hands with each other."
The rescuers will be doing their utmost to keep as many of the chicks in Kimberley as possible.
"We are after all known for the flamingos!" says Linja. "But unfortunately we don't have the infrastructure to keep all 2000…"
If you would like to help the flamingo chicks in Kimberley, please:
According to a post on Facebook, the following is also needed in Pretoria:
Heating lamps, feeding tubes, food processors, containers and trays, cooling fans.
Pet food suppliers that can assist with BEEFEE, CALSUP AND PETFLEX, NESTUM BABY CERIAL no. 1
Various vitamins / medicines, F10 (cleaning material/disinfectant)
#ThankYouToAllThoseHelping #FabulousFlamingoChicks #SouthAfricaAtItsBest
‼️??Flamingo update??‼️25 January 2019 19:51Second batch chicks rescued and at the SPCA!Volunteers busy feeding the chicks!

Posted by Saam Staan Kimberley on Friday, January 25, 2019
Now the babies are being brought into the house with volunteers from Onderstepoort!We now urgently need sponsors for Darrows and Ringers Lactate drips.

Posted by Sabine Anderson on Friday, January 25, 2019