It's dawn. I'm in a reflective mood. So many thoughts & emotions to consider. I'm not a night owl, although the moon has held me captive on many occasions. It's still up there. Far away. But this is the sun's turn to rise. The light is still soft. It's bathing our garden in gentle pastel glows… writes Bulawayo mom and Zimbabwe resident Shereen Thompson.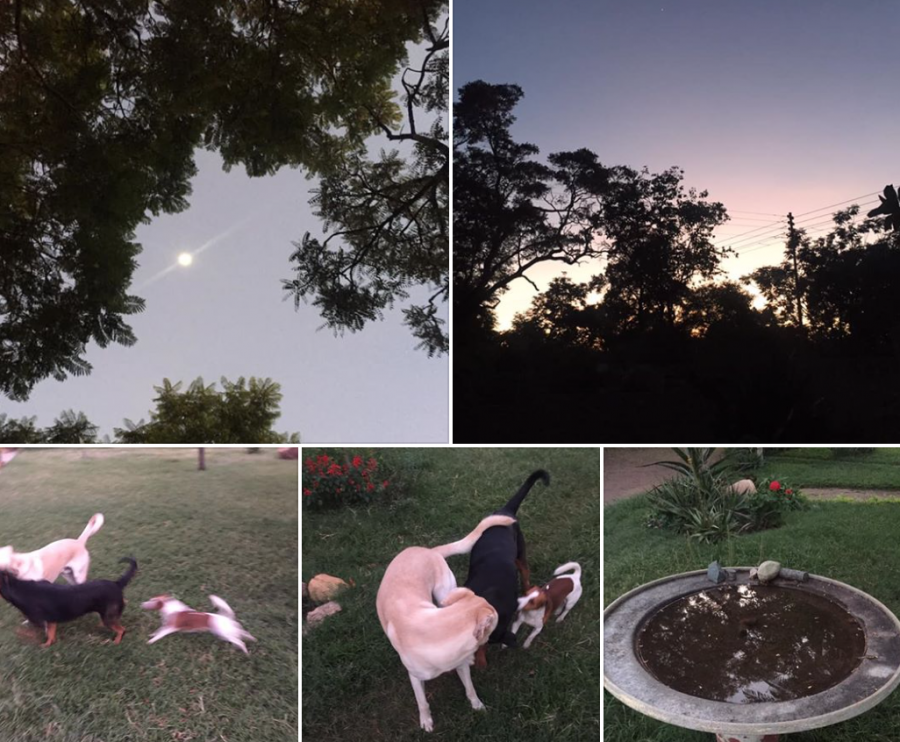 (Our dogs) Cowboy, Dakota & Lincoln are greeting each other. They tear around the yard with bursts of energy that I can only dream of!
So much has happened in Zimbabwe over the last few weeks. When we were in the capital city for (my 18-year-old daughter) Victoria's surgery we spoke to the lady who helps my folks with domestic chores.
She comes in one day a week.
Last week she was unable to come to work because of the violence. Her account of what happened in the area where she lives reduced me to tears.
I'm still teary eyed as I write this. She's an ordinary Mom who endured absolute terror as men broke into her house at night. She was beaten on her back. The men demanded to know where her children were. Accusing her all the time of hiding her kids from them.
Windows & doors were smashed. While she told her story her eyes were downcast. We listened. Our hearts pained. We asked her if there was anything we could do. She simply replied, "We must pray."
But, what really made me cry more was her concern for Victoria. You see, she prays for our daughter (who is suffering from a rare form of cancer) often. In the midst of her own suffering, she calls on God to heal our child. Such a faithful saint.
In that moment so many things became clear.
Our tiny nation in Southern Africa is broken. Insidious fear has crept into every nook & cranny. We all know what's going on. The news channels are finally showing the truth. We have asked to be heard. Still the propaganda machines are turning out rhetoric that is full of untruths. Eye witness accounts are powerful though.
The jails are full of 'political prisoners' or those accused of inciting violence. Every day loved ones wait patiently outside prisons & courts to catch a glimpse of their family members who have been detained. Some prisoners are mere children.
So what can we do? Pray? Yes, of course. That goes without saying. Try to go about our days as best we can. Reach out to those who need a hand. Always. We're Zimbabweans. That's what we do.
Will there ever be real peace? I'm not sure.
Yes, broken doors & windows can be repaired. But what about those who are injured from the beatings? Those being held behind brutal prison bars. Who comforts the man who kneels beside the grave of his dead son?
I understand that you may read this & call me dramatic. Perhaps If you'd had the opportunity to listen to J tell her story, you'd be a little more sympathetic.
How do I feel as a Zimbabwean? Sad, angry, frustrated, despondent. My folks say that we must remain hopeful. Well, I don't really have hope this morning. Nothing has changed & everything has changed. My country is still beautiful. The sun has risen into a clear, blue sky.
As I walked around the garden at dawn, my place of solace, I tried to get my mind in the right place.
It's true that God helps us to see things as He sees them. My prayers for J & her healing are uttered with a deep love & respect for her as a sister in Christ.
Her faith is far more real than mine. We think of our Pastor friend who is in jail. He's brave beyond brave. I do know that my God is not deaf. He has heard our crying.
Please don't forget Zimbabwe. 🇿🇼
BY SHEREEN THOMPSON
***
This Sunday on Carte Blanche, Derek Watts unpacks the protests in Zimbabwe and asks "what's happened to the promises made by Emmerson Mnangagwa?" If you're overseas: you can watch #CarteBlanche and thousands of other popular local South African shows & movies by subscribing to Showmax International. You can try it FREE for 14 days.