Gratitude and praise has poured in for Cape Town's firefighters who spent last night risking their own lives to protect those of local residents, as fire blazed on both sides of South Africa's iconic Lion's Head in the Western Cape.
Those who watched through their windows, and through the smoke, spoke of the firefighters' bravery as they battled the raging fire, fuelled on by insanely strong winds.
"The firefighters are total heroes 🙏🙏🙏" said one of many. "South Africa's legends," said another.
One frightening photo by Fresnaye resident and professional photographer, Katya Kim Santos-Laspatzis, captured the heroism perfectly.
Katya said: "This photo says so much… a firefighter putting his life at risk to keep us safe… 🙏🏻🔥#gratitude #firefighters #capetownfire"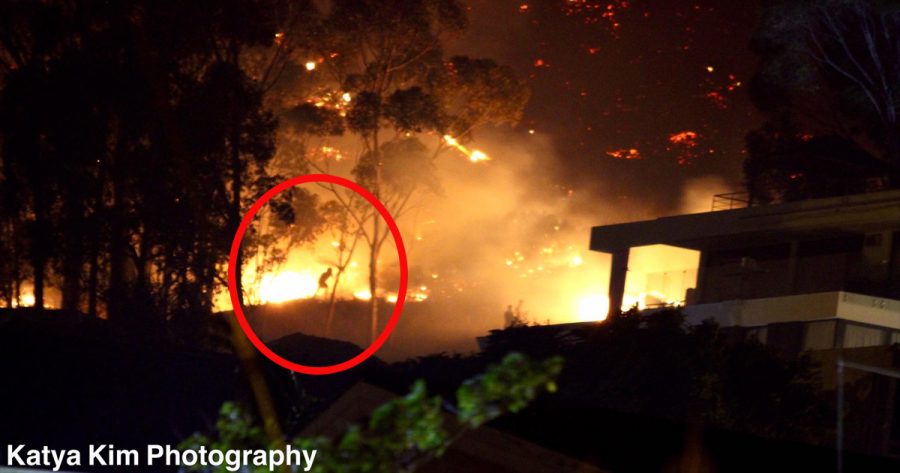 Katya had watched as the fire encroached on her home in the Cape Town suburb, and through SAPeople sent word to donate to "these phenomenal souls, our firefighters working hard into the early hours risking their lives to keep us safe 🙏🏻💙 🙏🏻#gratitude #firefighting #capetownfire #blazing"
While the firefighters' own families waited nervously at home, residents in Fresnaye were able to feel reassured watching them fight the flames.
After observing them from her home, as they took on the battle, Katya said: "These heroes are phenomenal!!!"
In the early hours of this morning the wind finally died down. Former Cape Town councillor Jacques Weber reported before dawn. He said it was the "12th hour since the fire broke out, the 12th hour since 100's of fire fighters have been at it ensuring our safety!"
To the #Heroes of CT Fire Services and all other fire services you are Legends!
The fire is under control and in the latest update, a spotter plane is conducting recon of the area, and choppers are water bombing any required areas. Fire Rescue will monitor the mountain for the remainder of the day, in case of flare-ups, said Weber.
He added:
To the #Heroes of CT Fire Services and all other fire services you are Legends! If there is one thing that we can be proud of it is the level of all Fire Services in CT! Volunteer Wildfire Services.
Weber said Signal Hill Road remains closed to traffic as 18 fire trucks are still working on these roads.
Locals and tourists are asked to please not proceed to any road near the mountain edge in an attempt to see the burn.
Sea Point Pavilion is also closed this morning as the pools are covered in ash which needs to be cleaned.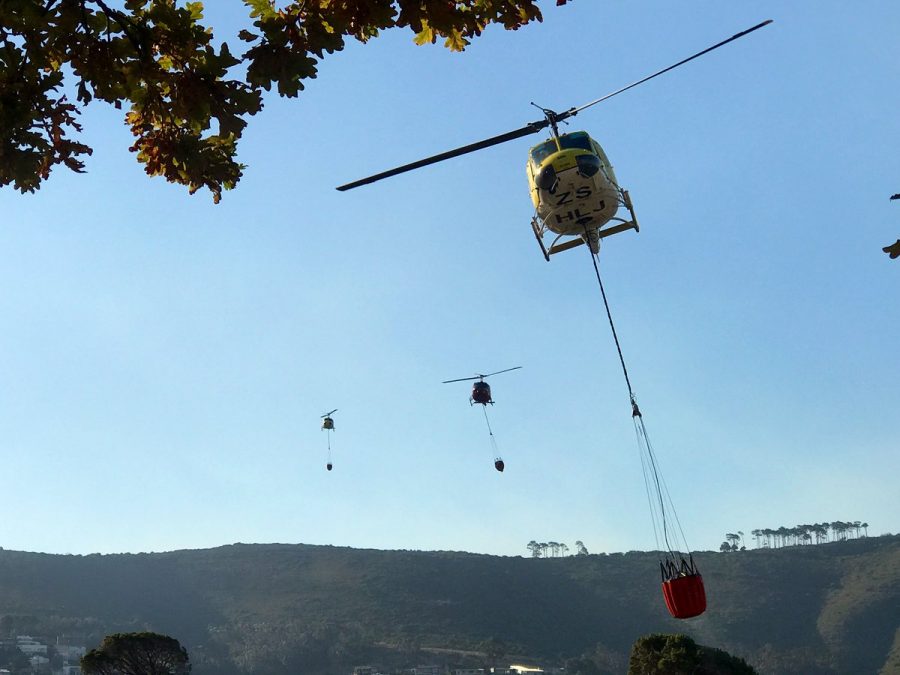 Sonja Delport, who captured stunning photos yesterday of the choppers, said:
Hats off to these amazing pilots yesterday! Huge skill managing the choppers in the Gail force winds.

Thank you for risking your lives to save people, animals and their homes! A special thank you to our public safety personnel and firefighters, who went above and beyond to keep our community safe…
Sadly there was one serious injury yesterday and the patient has been hospitalised.
Volunteer Wildfire Services are currently in need of snacks, sandwiches, ice and RTD Energades /Powerades – if you're in the area and can drop that off at their Newlands base please.
To all the brave firefighters in South Africa, in the words of Katya Kim this morning – "Thank you!!!! 🙏🏻💙"
#LionsHeadfire #SignalHillFire #SavingLives #ProtectingTheEnvironment #RestoringDignity #WOF_WC #Fire #Wildfire #WOFAviation #KloofNekFire #FireIsEveryonesFight #gratitude #firefighters #heroes #proud #capetownfire #safe #fireisout #Heros #Proud #ThankYou #Legends
This morning in Cape Town:
The frightening photo Katya Kim captured last night in Fresnaye, Cape Town:
The firefighters yesterday afternoon in Cape Town:
Hat's off to these amazing pilots today! Huge skill managing the choppers in the Gail force winds. #fire @wo_fire @vwsfires @NCCEnviron @TableMountainNP #KloofnekFire #LionsHeadFire @CapeTownEtc @lovecapetown @CityofCTAlerts @TableMountainCa @TableMntnWatch @NCCwildfires pic.twitter.com/aHscud12Kq

— Sonja Delport ❄️ (@Edelweiss_Delp) January 27, 2019
Thank you for risking your lives to save people, animals and their homes! @vwsfires @wo_fire @TableMountainNP @TableMountainCa @sapeople @CapeTownEtc @TableMntnWatch #firefighters #fire #KloofNekFire #LionsHeadFire pic.twitter.com/xbWlO4EXnE

— Sonja Delport ❄️ (@Edelweiss_Delp) January 27, 2019
Another helicopter has joined the que. @vwsfires @wo_fire @TableMountainNP #kloofnekfire #CapeTown @lovecapetown pic.twitter.com/O0bYypED7n

— Sonja Delport ❄️ (@Edelweiss_Delp) January 27, 2019
We're currently in need of the following:
• snacks
• sandwiches
• ice
• RTD Energades/Powerades

These can be dropped off at our Newlands base for distribution to all crews on the fire lines.

Thank you!#KloofNekFire #FireIsEveryonesFight https://t.co/6Q9xsegQYA

— VWS Wildfires (@vwsfires) January 28, 2019