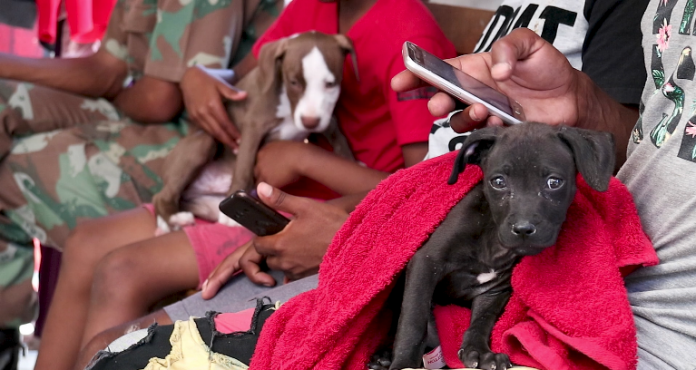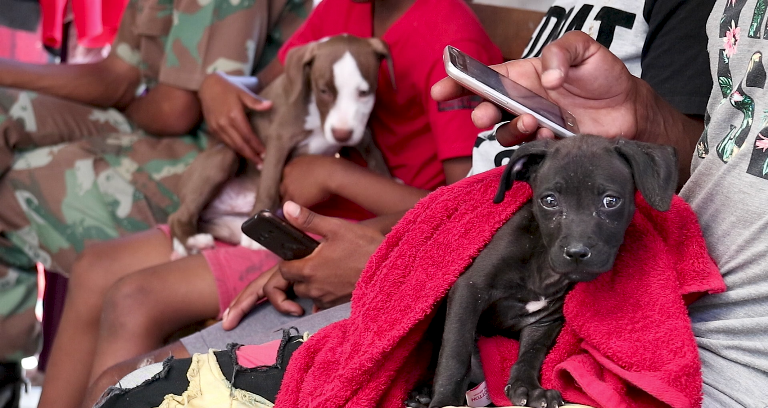 She's your moon and your stars, and the only one who really listens to you. He's your BFF who can put a smile on your dial even on the bluest Monday. Gone are the days when Valentine's Day was exclusively for couples who want to smooch – why not spend the day getting cheesy with your pooch? Tanya van Tonder, stray animal care project coordinator of FOUR PAWS in South Africa, shares a few tips.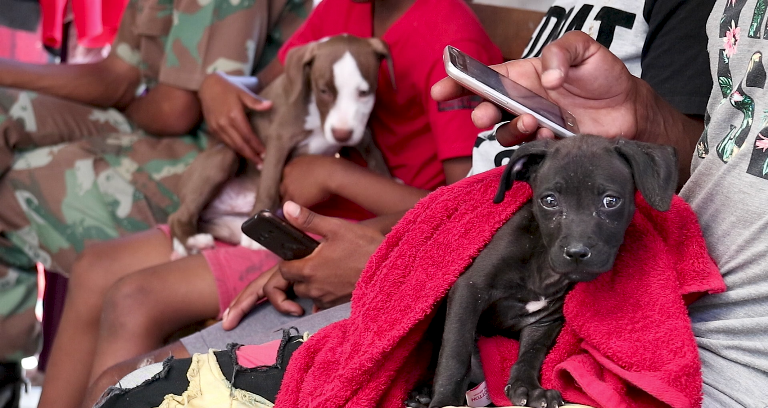 Valentine's Day is the perfect opportunity to give your pets extra love, attention, exercise and of course, delicious treats! Whether you have a dog or a cat, horse or bird, show them you care, this Valentine's Day – because if you share your life with your pet bestie, then Valentine's Day is every day!
So how can you have a dog-tastic Valentine's Day? Chocolates are obviously a no-no and roses will just go to waste… so how to show your doggy Valentine you care?
Tanya suggests cooking up a storm for your puppy love with a homemade meal that is doggy friendly. She says: "Do some research online and find healthy and easy DIY Homemade Dog Food recipes, it really is much better than feeding pellets or normal store-bought tins or pouches. Imagine you have to eat the same bag of food day in and day out? There's no way you can have a balanced and healthy diet."
If food is the way to your doggo's heart, spoil them with the perfect V-day treat by visiting a pet bakery like The Happy Pet Barkery or whip up your own batch of pupcakes, muffins, or biscuits; or try a refreshing treat like Cool Dogs Ice Cream for Dogs.
When buying treats, be mindful of what you buy and check the ingredients list as it could contain too much salt, sugar, and fat as well as unnecessary colourants. You want healthy human-grade ingredients, organic, and free-range. Basically, if you wouldn't eat it, why should your pet?
The Don'ts
Only the best is good enough for your pawsome baby and remember to never give them rawhide. Rawhide is a very popular go-to chew treat for dogs, but what is it really? It's usually the inner soft layer of cows hide, chemically preserved and cleaned with artificial flavourings to make them more appealing to dogs – and possibly toxic!
The Do's
Rather bake something yummy like these super easy Homemade Peanut Butter Dog Treats. "Just remember to make double sure your peanut butter is xylitol free, as even small amounts of xylitol can cause hypoglycaemia, seizures, liver failure or even death in dogs," cautions Tanya.
You'll need
2/3 cup pumpkin puree,
1/4 cup peanut butter,
2 large eggs or 2 ripe bananas,
and 3 cups whole wheat flour.
Mix your ingredients with an electric mixer, roll out your dough, and use cookie cutters to cut out some cute cookie shapes. Bake in a preheated oven of 180 degrees until the edges are golden brown, about 20-25 minutes, and let them cool completely before allowing your pup a taste test. Other easy and healthy treats are apples, bananas, blueberries, strawberries, carrots and sweet potato. If these aren't their thing: try mixing it with their food or add a bit of peanut butter to make it a better deal for them.
After all that eating, spoil your four-legged Valentine with an adventure and take them to the beach, on a hike in the mountain or forest, or how about a road trip to a pet-friendly accommodation or restaurant? Take them to the pet store where they can enjoy picking out a new toy for themselves.
Fiona Miles, Country Director of FOUR PAWS comments: "Valentine's Day is also a great time to make a donation to your favourite shelter or animal rescue in your pet's name – there are so many dogs and cats waiting at shelters for the day their forever family gets to celebrate Valentine's Day with them."
Celebrate Valentine's Day by donating towards a sterilisation and education project such as the one currently run by FOUR PAWS South Africa and partners African Tails in Pella, where the aim is to sterilise 600 dogs and cats from this community and educate adults and children about animal welfare and caring for their pets.
And remember, pets should never be a gift, and Valentine's Day is no different. A new pet (whether they are a puppy or a kitten, or anything else) is a huge responsibility – both financially and in terms of time. Adopting and bringing an animal into your life and home should never be done on a whim or as a gift. Whether you have an elaborate Valentine's Day planned with your dog, or a low-key Netflix and chill kind of night planned, enjoy Valentine's Day with your pawsome bestie and remember:
She might only be part of your life, but for your dog, you are her whole life.