South Africans abroad, who are registered to vote, have to submit the VEC10 form before the deadline of midnight (UTC +2:00) on Wednesday 13 March 2019… but so far tens of thousands who could vote, have not submitted the form! This is why….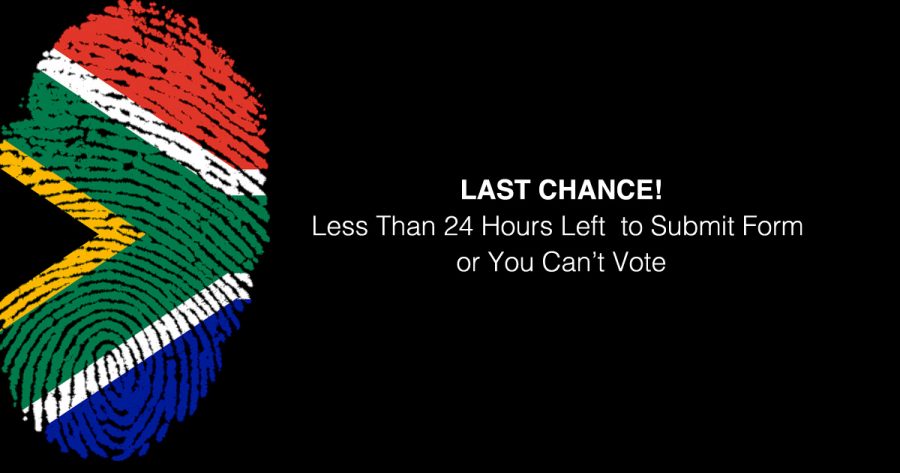 1. They don't know about the VEC 10 Form!
In order for registered South African voters to be able to vote abroad they HAVE to submit the VEC 10 form by midnight (UTC +2:00) on Wednesday (13 March). This form allows you to notify the IEC of your intention to vote abroad, and indicate at which foreign mission. If you don't fill in this form, you cannot vote abroad.
2. They think their vote won't count
In 2014, the votes from four countries (Canada, Cuba, Spain and the DRC) didn't make it to South Africa because they were held up in customs. This has made many expats despondent that all the effort is not worth it.
BUT this time around the overseas voting date – 27 April 2019 (Freedom Day!) is deliberately much earlier than in 2014 to avert that disaster. This will ensure there's enough time to get all votes back to SA in time to be counted.
The DA Abroad also aims to have Party Agents at as many of the voting stations abroad as possible to observe the voting process and ensure it is done correctly and all votes are counted.
"Please do try and make the effort to vote as it does count! Approximately 50,000 votes will get you in 1 MP in Parliament, and this could make a huge difference when they're voting to change the Constitution," says DA Abroad Leader Francine Higham.
3. They think that the IEC will share their information with SARS who will then tax them as part of the new 'expat tax'
This rumour has sadly scared a lot of South Africans abroad, but it is totally unfounded. When you fill in the VEC10 form you'll note that don't even ask for your residential address. The IEC is only concerned with which mission you wish to vote at, and has provided written assurance that the voters' roll is solely intended for Electoral Purposes, and will not be shared with SARS, and that they take the protection of your personal data very seriously.
4. Voting stations are too far away
The voting stations provided for expats are few and far between. In Australia, for instance, all SA expats from popular SA destinations like Perth and Sydney have to make their way to Canberra, where very few South Africans actually live! And despite there being many South Africans in Cyprus, they have to travel to Greece if they want to vote! It's a similar story around the world.
Many South Africans living abroad simply do not have the money for the travel and accommodation costs. The DA Abroad has lobbied the IEC and DIRCO to provide more voting stations, but unfortunately they have not relented.
If you definitely can't get to a voting station, then please still encourage as many other expats (and voters back home) to take part in the national election.
5. They don't have a valid ID or passport
If your ID is in South Africa, there's still time to have it couriered. You have until the 27 April to get it.
Also please check that your passport hasn't expired – you won't be able to vote with an expired passport. (For many expats, applying for a new passport can take over six months!)
If you are waiting on documents from Home Affairs and it has been longer then 6 months then please email the DA's Shadow Minister of Home Affairs at assistance@da.org.za and they will do what they can to assist.
6. Not near a voting station on either of the voting days
Remember you can vote at any of the voting stations around the world, not just the one in the country that you live.
If you are in SA on the 7 May, you can cast a special vote which you need to apply for around 3 weeks ahead of the elections. Details can be found on the IEC's website: http://www.elections.org.za/content/For-Voters/Special-votes/
7. Their VEC10 form has been rejected
Please check that you are definitely registered to vote: https://www.elections.org.za/IECOnline/Home
If you are still not able to complete the VEC10 form then please email the IEC directly at info@elections.org.za
Many people have reported that they DID register abroad at a foreign mission but that they're not yet reflected as such. The IEC has said that you must still submit their VEC10 before the deadline and then email them with proof of your registration – the IEC will then follow up with the foreign mission and if your registration is valid your VEC10 form will be accepted. But you must submit their VEC10 form before the deadline.
If you are having persistent technical issues and can't complete the form, then please fill in the manual version and email it to the IEC at info@elections.org.za
8. They've lost their South African citizenship
Many South Africans living abroad who have taken on a new citizenship have unwittingly lost their SA citizenship. Unfortunately, this does mean you can't vote. (The DA is challenging the constitutionality on the loss of citizenship through a court case at the Gauteng High Court.)
9. They can't vote because it is the Sabbath or they're 7th Day Adventists
This matter has been brought to the IEC's attention. Please email the IEC directly at info@elections.org.za
LAST CHANCE TO CAST YOUR VOTE FOR SOUTH AFRICA
If you're a registered voter living abroad, you must fill in the VEC 10 form by midnight (UTC +2:00) Wednesday 13 March.
So far just over 22,000 South Africans abroad have submitted their VEC 10 form, less than for the 2014 national election. Please let all your friends / family abroad know about the deadline to submit the VEC 10 form by midnight (UTC +2:00).
This is a unique opportunity to make our voices heard!
"As proud South Africans, who care deeply about the future of our country and where it is going, this election is the most important yet for our young democracy," says Higham.
#SAElection2019 – Last chance for South Africans Abroad to Vote