At least 49 people have been killed, and 20 injured following an attack on two mosques in Christchurch, New Zealand. Tributes from around the world have poured in, including one from All Blacks rugby player Sonny Bill Williams, who is Muslim: "My heart is hurting about the news coming out of Christchurch. Sending love & prayers to the effected families❤️😢" (watch video below).
Witnesses described hearing at least 20 gunshots at the Masjid al Noor mosque in Oakward Close where 41 people died, and said people were "screaming and crying" as they tried to escape over the fence.
A witness at the other scene in Linwood, where seven died, said he saw a "guy with a gun running up the road" and firing at least five shots.
Police said that one man, in his 20s, has been charged with murder and is due to appear in Christchurch court tomorrow following the attacks, the country's worst mass shooting in history. Police Commissioner Mike Bush said police and other government agencies had no prior knowledge of the suspect before the shooting.
Prime Minister Jacinda Ardern declared it a "terrorist attack" and said it marked one of the country's "darkest hours".
Australian Prime Minister Scott Morrison confirmed that an Australian-born citizen – who he described as an  "extremist rightwing violent terrorist" – had been arrested.
The New Zealand police commissioner reported that three other suspects, including a woman, were apprehended by police during "extreme acts of bravery". The three are still under investigation.
"We believe one of those persons, who was armed and was at the scene, may have had nothing to do with this incident," he said.
He confirmed that police have recovered a number of firearms from both of the scenes, including two improvised explosive devices on one of the attackers' vehicles.
Bush said it was a "very well-planned event".
The attackers used social media to spread their message. One of the suspected attackers posted a link to an 87-page manifesto that reportedly included anti-immigrant and anti-Muslim explanations for their attack.
Mosques, which were at their busiest this morning for Friday prayers, have been advised to close until further notice.
Addressing the nation on television, the police commissioner said: "I would like to reassure everyone around New Zealand that every available police and emergency resource with our other government agencies and defence force are doing everything they can to keep our communities safe."
Christchurch mayor Lianne Dalziel said:
Our city has changed forever today. It is beyond belief that something like this should happen in our city and in New Zealand.

Christchurch is a city that welcomes people from all cultures, religions and backgrounds and it breaks my heart to see this happen in our city.

It is clear that an extremist moved here with the intention of carrying out a premeditated attack. The fact so many of our residents died is just devastating.

We are all shocked and saddened by today's events and our hearts go out to the victims and their families.
Analysts who read the terrorist's manifesto reported that he said he chose New Zealand to show that this could happen in even the safest of places.
Mayor Dalziel said Christchurch had faced "more than our fair share of tragedy" and that "we will not be bowed by hatred and division".
"Now is the time for tolerance and understanding," she said in a statement.
Racists are the problem. Not immigrants or refugees. Upto 50 massacred and over 20 injured in the terrorist attack at two mosques in #Christchurch New Zealand. This is what all this fear-mongering against immigrants and Muslims creates! pic.twitter.com/fMR3or7waC

— muslim daily (@BirdsOfJannah) March 15, 2019
The Bangladesh cricket team narrowly avoids being caught in a shooting at a mosque in Christchurch, New Zealand https://t.co/HCgWBGpm2g pic.twitter.com/CuLHJh0wZQ

— Reuters Top News (@Reuters) March 15, 2019
***
Sonny Bill Williams posts tearful message following mosque shootings in New Zealand:
My heart is hurting about the news coming out of Christchurch. Sending love & prayers to the effected families❤️😢 pic.twitter.com/7PX9wc56b8

— Sonny Bill Williams (@SonnyBWilliams) March 15, 2019
Bangladesh team narrowly avoid mosque shooting, test called off
By Greg Stutchbury / Reuters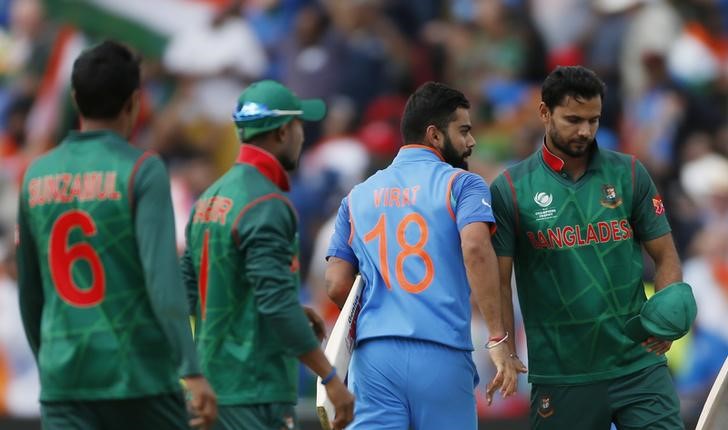 The Bangladesh cricket team narrowly avoided being caught up in the shooting. Their test match against hosts new Zealand has been cancelled.
The team were on a bus that was approaching the Al Noor mosque for Friday prayers on the eve of the third test at nearby Hagley Oval when the shooting began.
Mario Villavarayen, the team's strength and conditioning coach, said it had been a close call.
"They were on the bus, which was just pulling up to the mosque when the shooting begun," he told Reuters via Twitter.
"They are at the ground, they are shaken but good."
The team were pictured on social media walking back through Hagley Park to the cricket ground and a BCB spokesman later told Reuters the team were in lockdown at their hotel.
"All our players are now safe in their hotel which has been cordoned off," the spokesman said. "We have advised the players not to step out.
"Importantly, our players are safe."
New Zealand Mosque Shootings latest

• 40 dead and 20 seriously wounded at two mosques in Christchurch
• Three men and one woman are in custody
• New Zealand's PM Jacinda Ardern describes incidents as a "terrorist attack"

Latest updates: https://t.co/utMC9lEErV pic.twitter.com/wGe4PcTKnR

— BBC News (World) (@BBCWorld) March 15, 2019
BREAKING: One man has been charged with murder and should appear in Christchurch court tomorrow. Three others were apprehended but are still under investigation, New Zealand Police commissioner says https://t.co/j2kjRzAc5j pic.twitter.com/13AhrCHKP8

— CNN (@CNN) March 15, 2019
On behalf of the UK, my deepest condolences to the people of New Zealand after the horrifying terrorist attack in Christchurch. My thoughts are with all of those affected by this sickening act of violence.

— Theresa May (@theresa_may) March 15, 2019
"We grieve, we are shocked, we're appalled, we are outraged"

Australian PM Scott Morrison condemns New Zealand mosque shootings. 49 people died in attacks at two mosques in Christchurch

Latest updates: https://t.co/utMC9lWfjt pic.twitter.com/UyM9Ogk7ne

— BBC News (World) (@BBCWorld) March 15, 2019