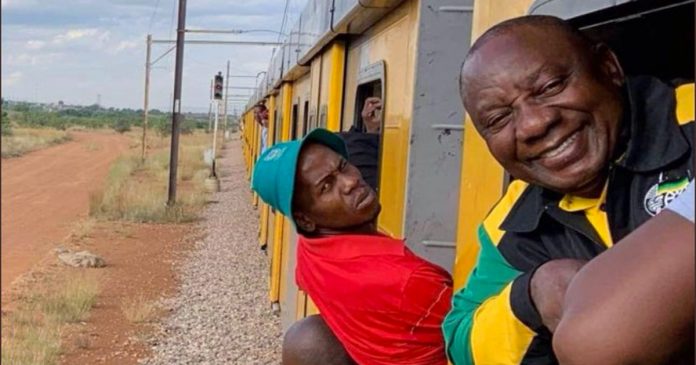 South Africans often complain that SA hardly ever makes international news, but yesterday the country featured prominently in news around the globe for three main reasons: load shedding, Ramaphosa stuck on a train, and a high profile politician arrested for killing a whistle blower.
"Chaos across South Africa as blackouts roll into third day"
This was the headline of a Financial Times (FT) article which reported that President Ramaphosa has apologised to the nation as load shedding (power cuts) hit industry, traffic (with rush-hour gridlock) and communications.
"We are very sorry to South Africans for this type of crisis . . . I am certain that we are going to be able to turn it around in the next two to three days," said Ramaphosa.
The FT said the power cuts meant many "workers had to cut short their day so that they could get home before power cuts shut down electric gates and locked them out of their properties".
The article also mentioned South Africans' humour and how locals have joked that stage five blackouts will mean Eskom coming to their home to blow out the candles.
According to the FT, the dreaded stage four could technically escalate all the way to stage eight… which would mean loadshedding of 12-hour stints!
The paper cited reasons for Eskom's current failures as being its "reliance on ageing coal plants and the legacy of misrule under Jacob Zuma", as well as Cyclone Idai in Mozambique causing a cut to hydropower to SA.
Democratic Alliance (DA) leader Mmusi Maimane was quoted pointing out that Ramaphosa "is now apologising for power blackouts despite him having a powerful seat at the decision-making table for many years" when he was Zuma's Deputy President.
Read the full FT article here.
"South Africa's President Ramaphosa gets stuck on train"
The BBC reported  on President Ramaphosa's declaration that PRASA (Passenger Rail Agency of SA) has to improve or "heads will roll"… after he got stuck on a train in Gauteng, along with fellow passengers, for "four hours on a journey that should have taken 45 minutes". The President had been out canvassing for votes ahead of the elections.
The BBC's reporter said "train delays are a daily frustration for millions of South Africa's railway users and some have lost jobs because of late arrivals at work".
Many delays are caused by attacks by thugs and this particular train was delayed because the driver of the train ahead of it had been "hit by a stone which had been thrown at him", according to a Prasa spokesperson.
Geoffrey York, an Africa correspondent for Canadian press, said of the situation: "President Ramaphosa staring out the window of a stalled train: greatest-ever metaphor for South Africa?"
Read the full BBC article here.
The metaphor. Ramaphosa in trains that break down daily, but he is all smiles. His face says don't worry about the broken ANC, vote for for me, not the ANC. Trust me even though it is beyond impossible to fix the ANC, I'm just a passenger here. New driver, same broken old train. pic.twitter.com/Szn3TQ8IX6

— Phumzile Van Damme (@zilevandamme) March 18, 2019
President Ramaphosa chatting with frustrated commuters after a train stopped half-way with no reason given for a delay. The president is on the ANC campaign trail #sabcnews pic.twitter.com/IUDExWCkzC

— Ntebo Mokobo (@MokoboNtebo) March 18, 2019
"South Africa Politician Arrested in Killing of Whistle-Blower"
Meanwhile the New York Times ran with the above headline, reporting on the arrest of Mluleki Ndobe, "one of the most influential ANC power brokers in KwaZulu-Natal Province" who was arrested Sunday for "suspected involvement in the mafia-style killing of a nationally known party leader, Sindiso Magaqa".
Magaqa – who had condemned the theft of public money in Umzimkhulu – was shot fatally in his Mercedes in 2017 by two hit men. One of the suspects was arrested in September.
The NY Times said: "The assassination — the most high-profile in a wave of political killings that have swept across South Africa since early 2016 — came to symbolize the decline of the A.N.C., whose members have increasingly targeted anticorruption whistle-blowers and turned on one another in lethal fights over political posts."
Read the full NYTimes article here.