Hugh Masekela is today being celebrated by Google who is treating users in the UK, US, South Africa and a few other countries to a special Hugh Masekela doodle on what would have been the late jazz musician's birthday. The 'Father of South African Jazz' would have turned 80 today, 4 April 2019.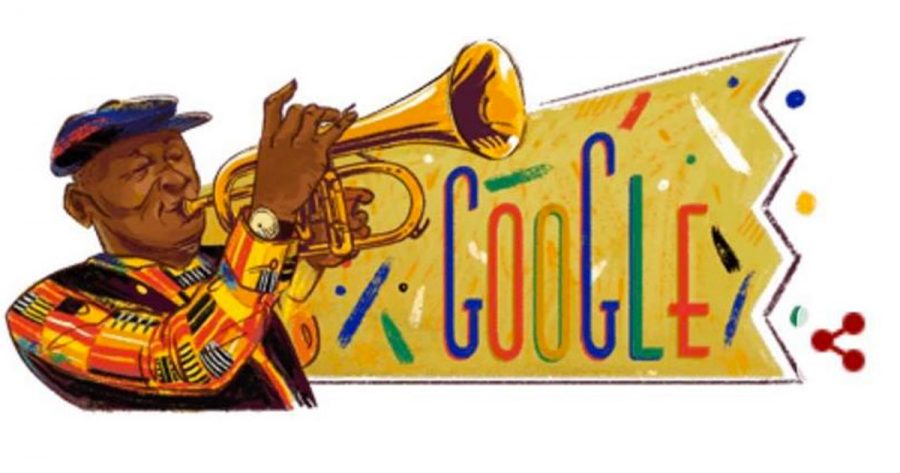 The musician passed away last year on January 23 after fighting prostate cancer.
When Masekela revealed in 2017 that he'd been suffering from the illness since 2008, he implored all men to get themselves checked regularly, saying: "Ask questions, demand answers and learn everything you can about this cancer, and tell others to do the same."
In the words of fellow music legend, Johnny Clegg, Masekela was a phenomenal SA ambassador – as both a musician and political activist – whose career spanned six decades.
"He was immensely bright and articulate and could speak on any number of subjects including culture, music, politics and art.
"Most importantly he was a road-opener for local musicians seeking to find their way to an international career. This was due to the fact he had developed his own unique trumpet playing style that drew heavily on South African jazz culture," said Clegg last year.
Masekela's biggest hit, "Grazing in the Grass" – went to number 1 for two months on the USA Music charts in 1968.
Masekela was born in Witbank and became known in SA as Bra Hugh. He got his first horn at the age of 14, and at the age of 21 left SA for New York where he spent the following 30 years in exile before returning to South Africa after the release of Nelson Mandela.
Google said: "Today's Doodle celebrates the world-renowned South African trumpeter, singer, bandleader, composer, and human rights advocate Hugh Masekela.
"Masakela would go on to collaborate with the likes of Fela Kuti, Bob Marley, Marvin Gaye, Paul Simon, and Stevie Wonder. In 1990, "Bra Hugh" returned to South Africa in time to see his song "Bring Him Back Home (Nelson Mandela)" come true. When the ANC leader was released from prison and elected South Africa's first black president, Masakela's music was the soundtrack.
"Happy 80th birthday, Hugh Masekela! #HughMasekela80th"
Today the Search Engine @Google is celebrating Hugh Masekela's 80th Birthday with Google Doodle in US, UK, South Africa and few other countries. Happy Birthday Hugh Masekela 🎺🎺🎺 😊 Visit https://t.co/eMStzSopio to share the link and celebrate with us! 🎺 #HughMasekela80th pic.twitter.com/wTkb5h8AU7

— #HughMasekela80th (@hughmasekela) April 4, 2019