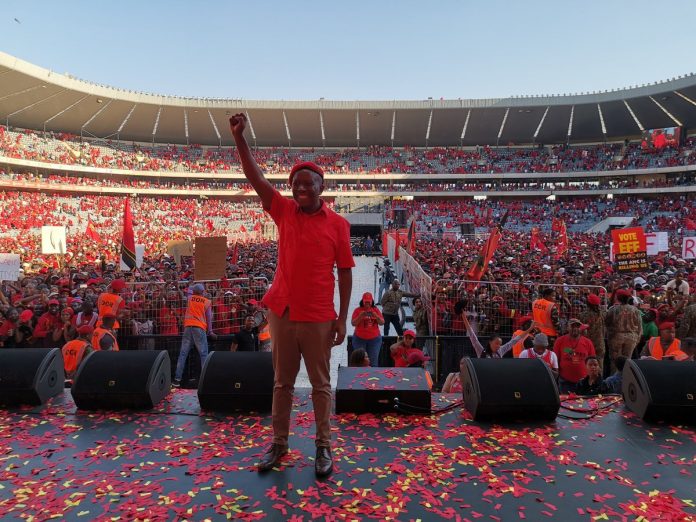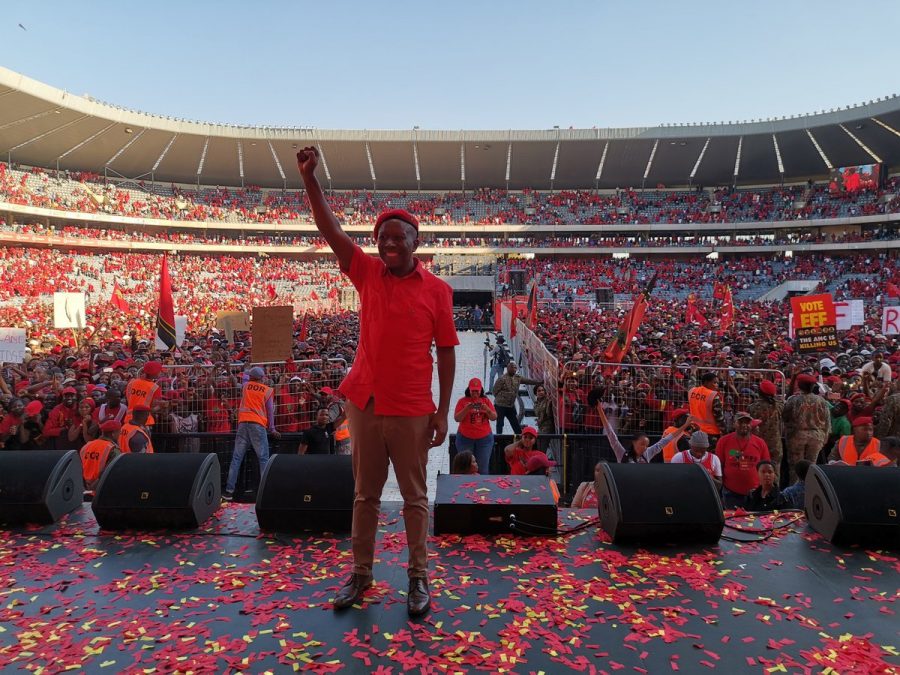 JOHANNESBURG – It's three days before elections in South Africa and the major parties have been making promises to voters this weekend.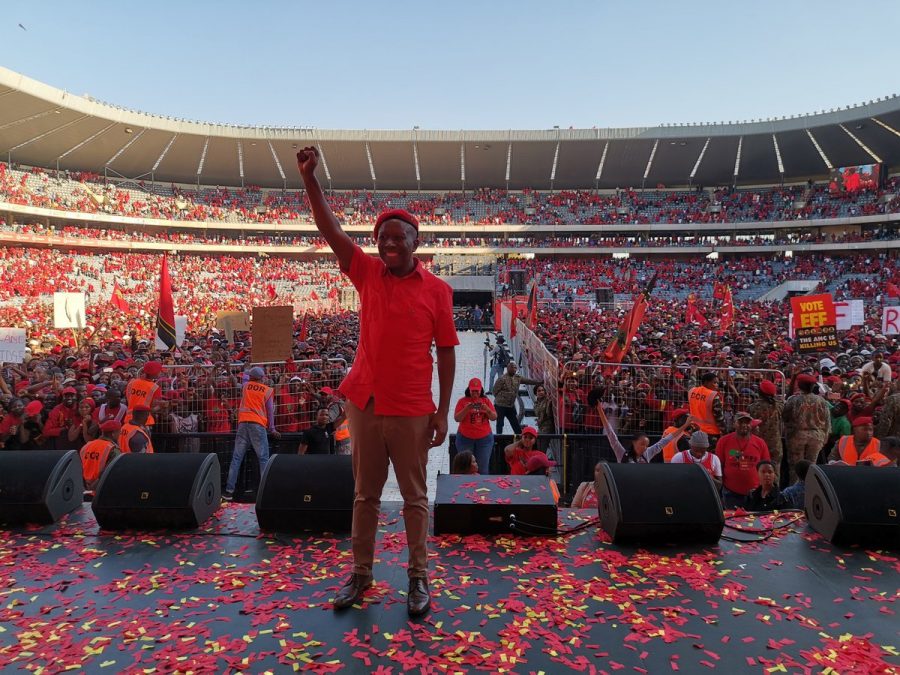 While South Africa's ruling African National Congress (ANC) vows it will kick-start the economy and deal with corruption, and the DA promises to lead coalitions in South Africa and tackle racism, the Economic Freedom Fighters (EFF) have pledged radical reforms, running with the hashtag #OurLandAndJobsNow.
The EFF, the country's second-biggest opposition party, held their rally on Sunday at the Orlando Stadium in Soweto, which was transformed into a sea of red.
EFF leader Julius Malema urged the 40,000 gathered to hear him speak that they must help fight 'economic apartheid'. He emphasised the importance of education and employment, rather than social handouts.
Less than 30km away, about 70,000 ANC supporters were packed into Johannesburg's Ellis Park Stadium on Sunday.
Malema challenged the ANC's governance record and promised a tougher stance on corruption and economic policies to target racial inequality.
Though the ANC has won each parliamentary election since the transition from apartheid in 1994, recent opinion polls predict that it will bleed support to opposition coalitions that have gained ground as the ANC has been dogged by political scandal and a flagging economy.
While Ramaphosa promised today that "the era of impunity is over. We are now entering the era of accountability", it may be too little too late for some. The torrent of allegations has hit ANC support, especially in urban areas.
The EFF, formed by former ANC youth leader Julius Malema in 2013, has built its agenda on highlighting state graft and championing radical economic reforms the ANC has avoided, such as mine nationalisation and land expropriation without compensation.
"The reign of thieves must fall, the reign of Ramaphosa must fall," Malema chanted. "The EFF doesn't have tolerance for corruption."
Three opinion polls in recent weeks show the ANC's support ranging between 51 and 61 percent, compared with the 62 percent it won in 2014.
KINGMAKER
The EFF won 10 percent of the vote in 2014 national elections. In local elections in 2016 it captured 12 percent, allowing it to play kingmaker in urban regions where neither of the top two parties managed to get past 50 percent.
Analysts said it was telling that the ANC, as well as the two largest opposition parties – the DA and EFF – held their final campaign rallies in Gauteng.
Despite being the province with the smallest land area, Gauteng generates more than a third of South Africa's gross domestic product (GDP) and is the most populous province with a population of 14.3 million.
In 2016 local polls the ANC lost control of the three largest metropolitan municipalities – economic hub Johannesburg, administrative capital Pretoria, both in Gauteng, and Nelson Mandela Bay in the eastern province.
While Ramaphosa said the ANC would revive economic growth and ease unemployment, which sits at more than 27 percent, by hitting an investment target of R1.4 trillion ($100 billion) and limiting policy uncertainty…  Malema said the EFF would grow the economy in favour of black Africans and the youth by doubling child grants, offering free university education and nationalising key industries.
"Political freedom without economic freedom is meaningless," Malema said, referring to wealth and income inequality that has remained racially skewed and the slow progress of the ANC's policies of affirmative action and macroeconomic orthodoxy.
Malema said: "We are not fighting white people. We are fighting to eat from the same dinner table.
"If we cannot eat from that dinner table, we will destroy the entire table."
Malema – whose party calls him "the incoming president of South Africa" – says that people thought the EFF was a "Mickey Mouse organisation but now they realise we are a force to be reckoned with…"
(Reporting by Mfuneko Toyana; Editing by David Goodman/Reuters and Jenni Baxter/SAPeople)
CIC Julius S. Malema addresses the EFF Tshela Thupa Rally – 05 May 2019 https://t.co/y9vtCS5shf

— Economic Freedom Fighters (@EFFSouthAfrica) May 5, 2019
[MUST WATCH]: CIC @Julius_S_Malema says we're not fighting against whites, we are fighting to sit at the dinner table and if white people refuse us, we will destroy the table. #EFFTshelaThupaRally#VoteEFF #OurLandAndJobsNow #EFFFinalPush pic.twitter.com/c5lgNzEFyc

— Economic Freedom Fighters (@EFFSouthAfrica) May 5, 2019
[MUST WATCH]: CIC @Julius_S_Malema paying tribute to his grandmother, Koko Sarah Malema at the #EFFTshelaThupaRally#RIPKokoSarahMalema #VoteEFF #OurLandAndJobsNow #EFFFinalPush pic.twitter.com/XB6cRRek2i

— Economic Freedom Fighters (@EFFSouthAfrica) May 5, 2019
[MUST WATCH]: Our Spokesperson Commissar @MbuyiseniNdlozi leading in song.

Liyabuya izwe Lethu. Solithatha ngeVoti come May 8.#EFFTshelaThupaRally #VoteEFF #OurLandAndJobsNow #EFFFinalPush pic.twitter.com/yYuHP7IPNG

— Economic Freedom Fighters (@EFFSouthAfrica) May 5, 2019
Ladies and Gentlemen…

We present to you the incoming President of South Africa. The Commander In Chief, President Julius Sello Malema.#VoteEFF #OurLandAndJobsNow #EFFFinalPush #EFFTshelaThupaRally pic.twitter.com/F0oYsrEvox

— Economic Freedom Fighters (@EFFSouthAfrica) May 5, 2019