A massive dust storm in Australia turned the town of Mildura from day to night at around 17h00 on Tuesday.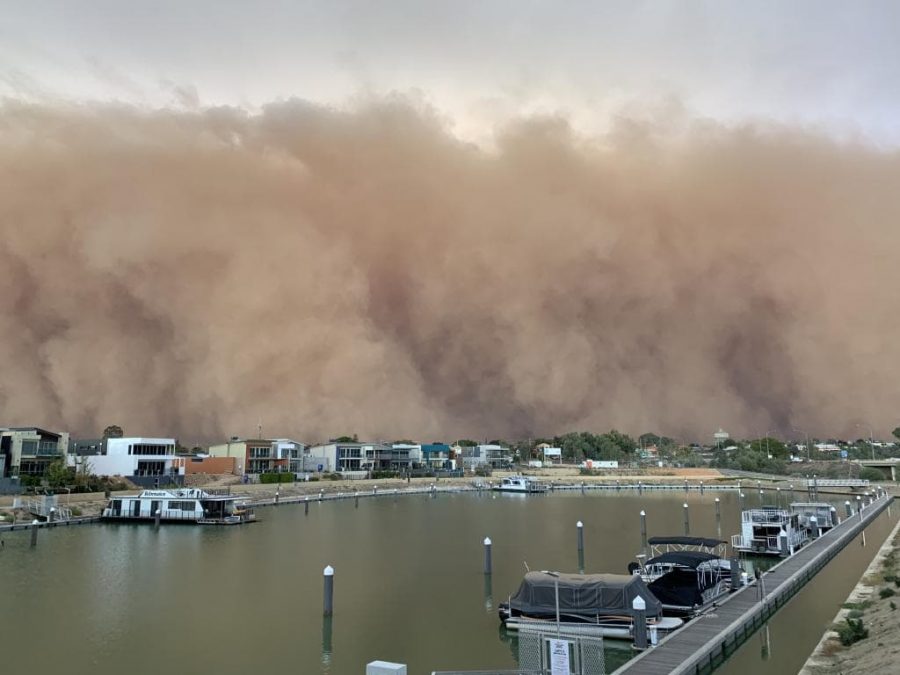 Fortunately nobody was injured, as the apocalyptic cloud of dust swept through the town.
Victoria has been suffering from very dry conditions which is why there was so much dust for the massive gusts of wind to pick up, said reporters.
Some residents of Mildura said it was ironic that the dust storm hit them on World Asthma Day.
According to the Herald Sun, vehicles were forced to pull off the road or slow to a crawl as visibility dropped to less than 50m.
Weather experts said the storm resulted from a cold front moving across the north west of Victoria.
Witnesses described the scene as being like Armageddon, with a thick wall of dust that blanketed the town in darkness for around half an hour.
One said: "The air was thick with dust, and then the rain hit and it was like it was raining mud. The air was pretty clear again by around 6.30pm."
Photos and Videos On Twitter of the Australia dust storm, Mildura:
Amazing images from #Mildura as a dust storm rolls through turning day into night #milduraduststorm https://t.co/Ke13WETU6L pic.twitter.com/PuBY7FUWOH

— ABC Melbourne (@abcmelbourne) May 7, 2019
Amazing pictures of tonight's dust storm in #Mildura. Here's one as it's about to hit. #duststorm

📷: Robert Klarich

Full gallery: https://t.co/58rKOxtvEg pic.twitter.com/AjeK8WnyUC

— Sunraysia Daily (@sunraysiadaily) May 7, 2019
Incredible pictures coming in of the dust storm rolling to #Mildura at the moment. Tune in to @9NewsMelb at 6pm and online to see stunning vision of the sky turning from day to night in an instant #VicWeather pic.twitter.com/oRhNPPU737

— Tom Kelly (@tpwkelly) May 7, 2019
A dust storm rolls in over Mildura. Picture: Glenn Milne. #heraldsun #mildura #duststorm #weather https://t.co/dgjVltTjXw pic.twitter.com/HPbSjtvFDl

— Heraldsunphoto (@heraldsunphoto) May 7, 2019
How wild is this? #Mildura has been blanketed by a dust storm which sent the town dark within minutes. #duststorm pic.twitter.com/I46z7x2UmO

— Sunraysia Daily (@sunraysiadaily) May 7, 2019
Apocalyptic scenes were captured on camera by residents of #Mildura, in Australia, as a gigantic dust storm turned day into night. pic.twitter.com/ApJWyrqgyn

— BBC Weather (@bbcweather) May 7, 2019
Here's the Dust Storm just before it hit Mildura #video pic.twitter.com/qzg6xAsmBr

— Sara J. White 🏳️‍🌈🏳️‍🌈🏳️‍🌈 (@CharlieBBucket) May 7, 2019
WATCH: Time-lapse video caught the dramatic transformation of day into night as a dust storm swept through the Australian town of Mildura. pic.twitter.com/DoPqfcrtdD

— NBC Nightly News with Lester Holt (@NBCNightlyNews) May 7, 2019
Weather warnings are in place for Melbourne after a major dust storm barrelled through Mildura, turning day to night. @TomChadwick_7 https://t.co/oeaXBvwIk0 #TheLatest #7NEWS pic.twitter.com/C70v0iGWEB

— 7NEWS Melbourne (@7NewsMelbourne) May 7, 2019