JOHANNESBURG – South Africans started voting in parliamentary and provincial elections on Wednesday, with queues seen winding from various polling stations.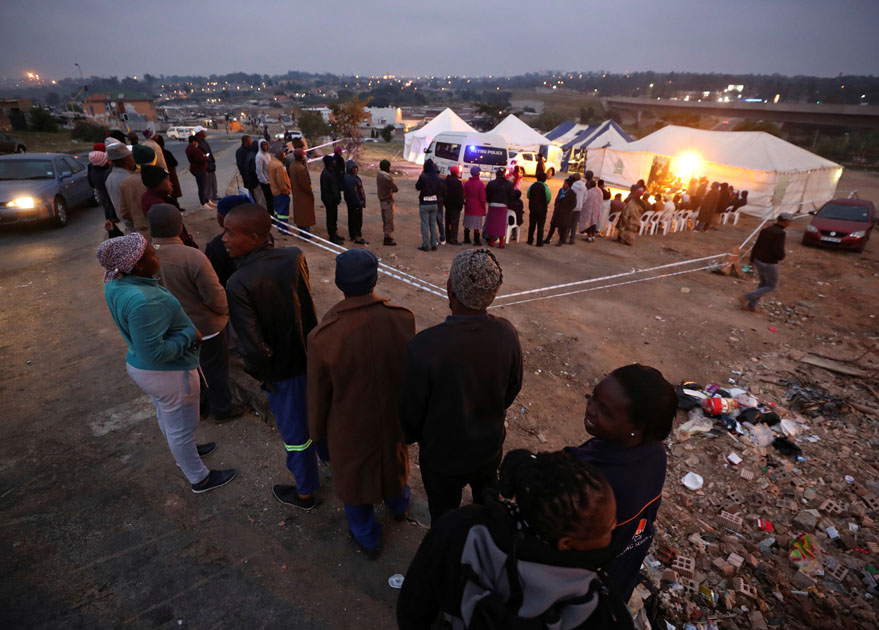 The ruling African National Congress has won every parliamentary election since the end of white minority rule in 1994, and opinion polls predict it will again win a majority of the 400 seats in the National Assembly. Analysts predict however its margin of victory will fall.
About 26.7 million registered voters across the country are expected to make their "X" at the 22 924 voting stations set up for this purpose, in South Africa's sixth General Elections.
Out of the country's 164 000 inmate population, just over 11 000 have registered to vote in the 2019 elections.
A total, 48 political parties are contesting today's elections that are being held 25 years after South Africans of all races first voted in 1994.
Today's voting day follows on two days of special voting that got underway on Monday. Among those who cast their vote on Monday were Archbishop Desmond Tutu.
Special voting afforded the country a 'test run' for today, to identify where the IEC needs to focus its attention.
First Day Incidents – Facts and Rumours
Among the incidents which marred the first day were reports of voting stations in Ginsberg, outside King William's Town, and Idutywa in the Eastern Cape where election staff and voters were prevented from conducting voting due to community unrest.
In another incident, a pack of three unused, unassembled ballot boxes was discovered on the side of a road in Tzaneen, Limpopo. The Electoral Commission has investigated the incident and found that it was lost off the back of a vehicle during transport to a voting station.
"Fortunately there is no risk to the elections as the boxes were unused and there are many safeguards to protect the integrity of the elections," the IEC said.
Other incidents reported included rumours on social media that pens did not write effectively – especially early in the morning when it was cooler and they were first used; and that voters with fake nails would be forced to remove their nails or not be allowed to vote.
"Unfortunately these are recurring themes of disinformation which have cropped up around each election. It is not true that you can't vote with fake nails. The indelible ink is effective and it is one of a number of safeguards to protect the integrity of the results."
If – like Carla Schoeman below – you have any problems with having gel nail varnish on, ask to speak to the presiding officer.
PSA: the @IECSouthAfrica wont count your vote if you have nail polish on. THIS IS NOT A DRILL. Just happened to me at my special vote. Had to BEG them to accept my vote.

Come Wednesday most chicks I know wont be able to cast their democratic right to vote because Gelish.

— Carla_with_a_Sea (@CarlaSchoeman1) May 6, 2019
Voters are urged to make sure their ballot papers are stamped. Unstamped ballots will not be counted.
The IEC said yesterday: "The stamp must be at the back of the ballot paper and should be done in the presence of the voter. We want the voters to check if there is a stamp at the back of their ballot papers."
Counting the votes
Once the voting station closes, the counting of votes begins immediately, and will be conducted by election officials and witnessed by party agents and observers.
Voting stations will be staffed by approximately 189 000 election officials who have volunteered and been trained over the past two months to conduct the elections.
Voters can check their voting station location by SMSing their ID number to 32810 (R1) and can reach the Contact Centre on 0800 11 8000 for all enquiries regarding the elections.
If you're away from home (but still in South Africa)
However, if you're outside your voting district on Election Day, you may vote at another voting station in South Africa (use the Voting Station Finder to find your correct station). If you're outside the province where you're registered, you'll only be able to vote in the national election and not the provincial election. You may be required to provide proof of registration (application sticker pasted in your ID when you applied for registration) if the zip-zip scanner is unable to verify your registration. You'll also have to complete a form (VEC 4) at the voting station.
Cast your vote
Voting stations opened at 7am and will close at 9pm tonight. However, all voters who are in the queue to vote at 9pm will be allowed to vote.
Voting Day has been declared a public holiday, with Labour Minister Mildred Oliphant appealing to employers to allow workers to exercise their democratic rights through voting.
Sources: SANews.gov.za, Reuters
(Reporting by Mfuneko Toyana; Writing by James Macharia; Editing by Stephen Coates/Reuters and Jenni Baxter/SAPeople)