Farmworkers have been left traumatised following a brutal attack this week on a farmer and his wife near Bonnievale in the Western Cape, South Africa, which left the 55-year-old farmer dead.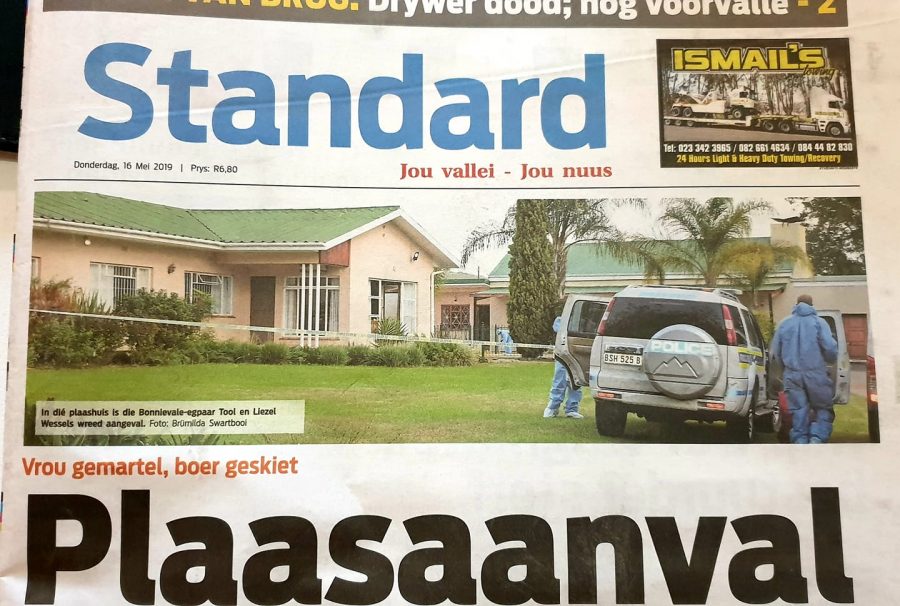 Tool Wessels and his wife Liezel were tortured at their farm Kapteinsdrif on Monday night by four men who escaped with weapons. One of the suspects has since been arrested, and a stolen .22 rifle seized by police. The suspects were reportedly seasonal workers on the farm, who hailed from Lesotho.
One of the couple's daughters – Annelie Wessels – told eNCA that the family hasn't begun to make funeral arrangements yet for their dad, as they're waiting to see whether their mom will recover in time to attend.
Democratic Alliance (DA) Provincial Minister of Finance in the Western Cape, Ivan Meyer, visited Bonnievale yesterday with fellow DA MPL Matlhodi Maseko to support the rural farming community.
Meyer said: "We have spoken to the farmers, local rural safety committee, and the local business Chamber.
"This is tragic. We must support our farmers in the rural communities."
AfriForum's Trauma Support Unit this week also visited the farm to give "emotional assistance and support to the about 15 farmworkers".
In a media release on Friday, AfriForum said it had also launched a group defusing effort.
The workers, especially the person who found Wessels' body in a pump house, and also the Wessels family's domestic worker, are badly traumatised by the events, said AfriForum.
The Trauma Unit is also going to visit the family in hospital to give emotional assistance and will try to determine if there is a need for further support among the community or the family.
"This is a very tragic incident. The fact that the workers are badly traumatised by the cold-blooded murder of Wessels and the macabre way his wife, Liezel, was tortured, will definitively have a lasting effect on these people," said Johan Kloppers, Trauma Support Officer at AfriForum.
The four assailants apparently attacked Liezel first whilst her husband had gone to drop off some farmworkers at their homes.
She was reportedly tortured with boiling water being repeatedly poured over her face and body as the kettle was boiled several times. She was also stabbed and then tied up when her husband returned.
The assailants then left her to kill her husband. At this point Liezel managed to untie herself and escape to seek help… at first not finding anyone home at the neighbouring farm, she managed to drive on to find someone to raise the alarm at the next.
Her husband was allegedly tied with his hands behind his back and his tie in his mouth, and then killed a single gunshot wound to his head, according to Netwerk24.
Kloppers said the cold-blooded attack is not the only trauma the farmworkers have to deal with.
"The possibility that they will not be able to earn any further income because of the death of their employer, is putting additional pressure on them.
"Reality is that every farmer who is killed, basically is a business that has to close its doors," says Kloppers.
The surviving Wessels family members told eNCA they weren't sure if they would ever be able to bring themselves to return to their Bonnievale home, the scene of the tragedy.
According to the SABC, a 19-year-old suspect – named as N Tlale – has been taken in for questioning concerning the murder in the Cape Winelands. He made a brief appearance in court on Thursday. Police spokesperson Andre Traut says police are still searching for three other suspects in connection with the incident. They were armed at the time of the incident.
Robbery is believed to have been the motive.
This is the second farm attack in Bonnievale in six months. In December an elderly couple were killed while they were sleeping in bed on their farm.
WATCH Annelie Wessels speaks about Bonnievale farm attack on her parents