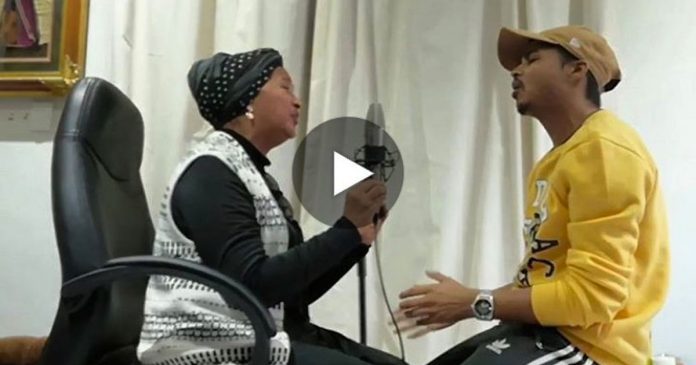 The heartwarming video of a son and mother in Cape Town, South Africa, singing 'A Whole New World' from Disney's Aladdin has now attracted over 5 million views in a phenomenon that Ashur Petersen acknowledges is bigger than just him and his mother.
Writing on Facebook, the young musician said: "A friend of mine messaged me to say: "This is HUGE for Cape Town" and then it hit me. This video is far bigger than my mom and myself.
"This is for my people. The Capetonians. For my people who never get recognized. For the artists who work their arses off with no recognition."
Ashur (26) went on to say that if only the world was more aware of the "talent that we breed in this land, we'd be unstoppable."
He said however that slowly but surely Cape Town is becoming a force to be reckoned with.
"I will go anywhere in this world, stand for my people and say "I am Proudly a Capetonian… One of the most beautiful cities in the DAMN WORLD!" ?"
The video – which features Ashur and his mother, 55-year-old Madeegha Anders – was uploaded just over a week ago, on Sunday 2 June. Within 24 hours it had gone viral – with viewers loving not just their talent, but their obvious affection for each other.
Ashur is the son of legendary SA musician Taliep Petersen, who was tragically killed at home in 2006 by his then wife Naiwa.
Ashur shot to nationwide fame himself this year as a contestant on The Voice SA. He may have recently been eliminated from The Voice, but judging by the popularity of this video, SA – and the world – has not heard the last of him yet!
WATCH Capetonian Ashur Petersen and his mom's duet: A Whole New World from Disney's Aladdin
Aladdin – A Whole New World ❤️? (Mother/Son Duet)

Posted by Ashur Petersen on Sunday, June 2, 2019
If you're in South Africa, you can watch The Voice (US) on M-Net DStv channel 101 on Sundays at 09:00 here.