Hollywood star Tom Hanks popped in to visit a very special young South African patient in a London hospital this week.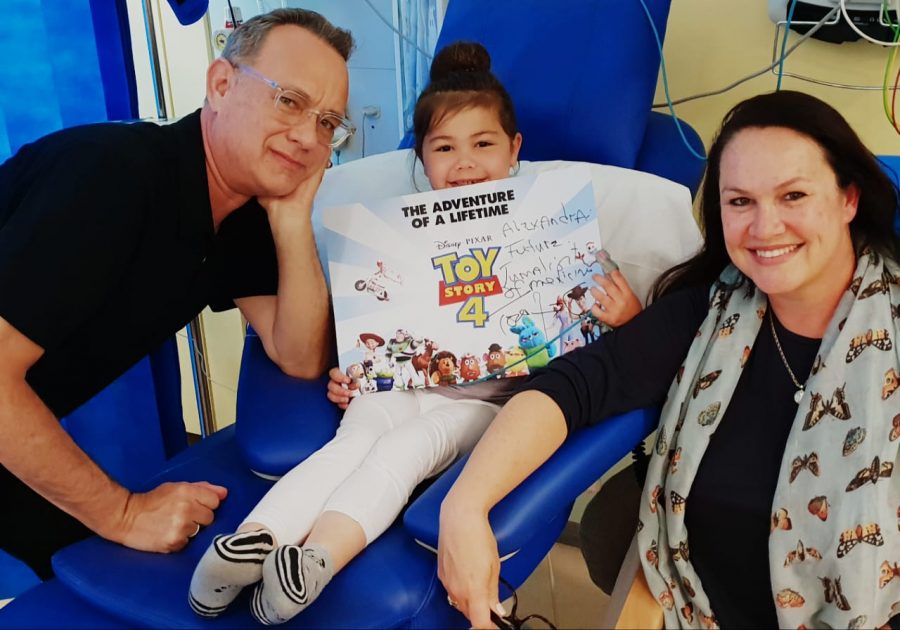 Six-year-old Alexandra Taljard, who is being treated at the Evelina Children's Hospital for a rare kidney disease, got a wonderful surprise when the 'Toy Story' star visited her bedside and not only entertained her, but also spoke to her in-depth about her condition.
Alexandra's mom Lisa MacLeod, explained to SAPeople that Alex was diagnosed with a very rare and incurable kidney condition when she was just 18 months old, called Focal Segmental Glomeruli Sclerosis (FSGS).
The condition is similar to an autoimmune disease, where a factor in the blood attacks and causes lesions on the kidney, eventually leading to end stage renal failure. This is the disease which killed the famous All Black rugby star Jonah Lomu.
Alex was born in London and was originally diagnosed and treated at the Evelina Children's Hospital, but then the family moved back to Cape Town four years ago.
In January last year (2018), Alex had a kidney transplant at Cape Town's wonderful Red Cross War Memorial Children's Hospital. Fortunately, her then 69-year-old grandmother – Jenni MacLeod – was an excellent match and generously donated a kidney to Alex.
While the transplant was very successful and the kidney is functioning perfectly, unfortunately the FSGS is still present and is affecting the kidney again, says Lisa.
Alex was invited to take part in a medical trial at the Evelina, where a new form of dialysis machine, the Liposorber apheresis machine, is being used to treat FSGS with some success.
The family flew over and did a trial beginning in July last year but sadly it wasn't successful. They returned to London for a second attempt in December last year.
Lisa, who is Head of Digital at Tiso Blackstar, and her husband Bradley have been living and working between South Africa and the UK for the past year in order to give the treatment the best chance of success.
Whilst in the UK, the young family lives with Lisa's sister Kristy and her family in Southampton.
Alex is at the Evelina for three days a week for treatment, each one lasting 4 to 6 hours; as well as an extra session in Southampton on Fridays… so it is a very difficult life for her.
And one can only imagine the joy that a visit from one of her favourite Toy Story characters – Woody – would bring.
On Tuesday, Lisa was told by the Matron of the Dialysis Unit that a special visitor was coming to meet some children, and Alex was asked to take part.
The special visitor was Tom Hanks, who has been the voice of Woody (the main character), since the first release in 1995.
"Tom came and introduced himself and sat and chatted with Alex about the movies. She asked if she could call him Woody, and he laughed!" says Lisa.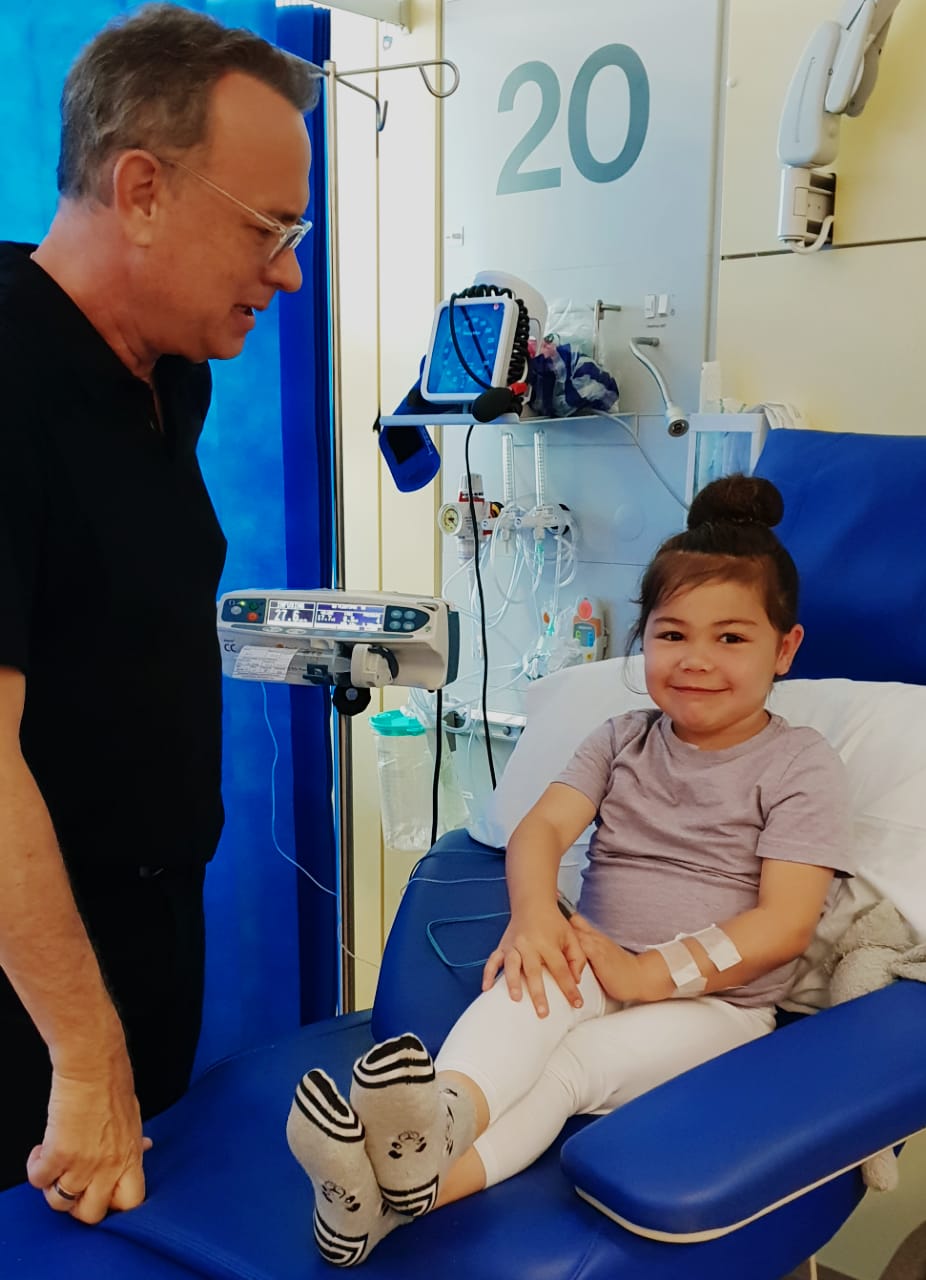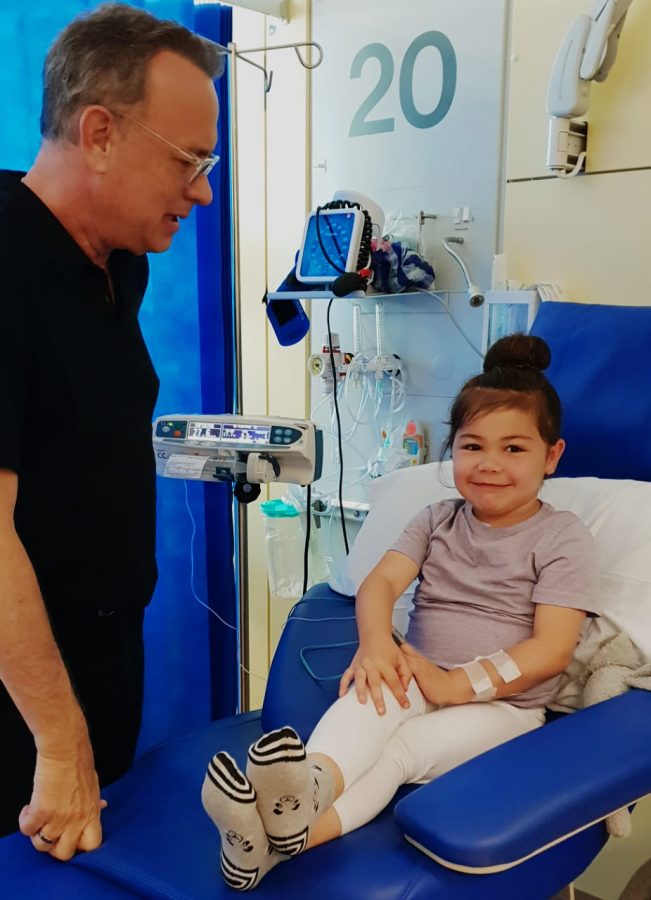 Alex's favourite film in the series is Toy Story 3 (she's watched it three times!) so Tom delighted her by saying a few lines from the movie in Woody's voice!
She asked him if he was going to make Toy Story 5, and he explained that it is a very long process to create these movies, so he wasn't sure if there would be a fifth, but he hoped so.
According to Lisa, Tom really liked Alex's question and suggested maybe she would like to be a journalist one day. The little six-year-old replied that what she'd really like to be is a doctor… to help sick children.
When Tom signed a poster for her, he wrote: "Alexandra. Future journalist of medicine."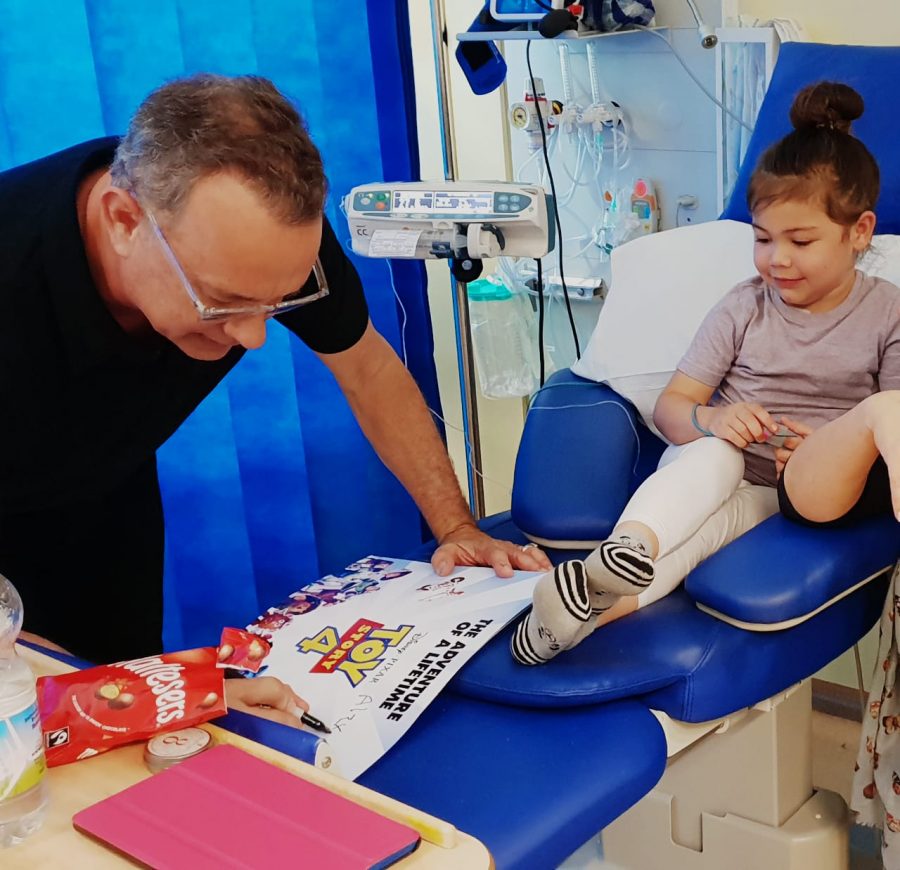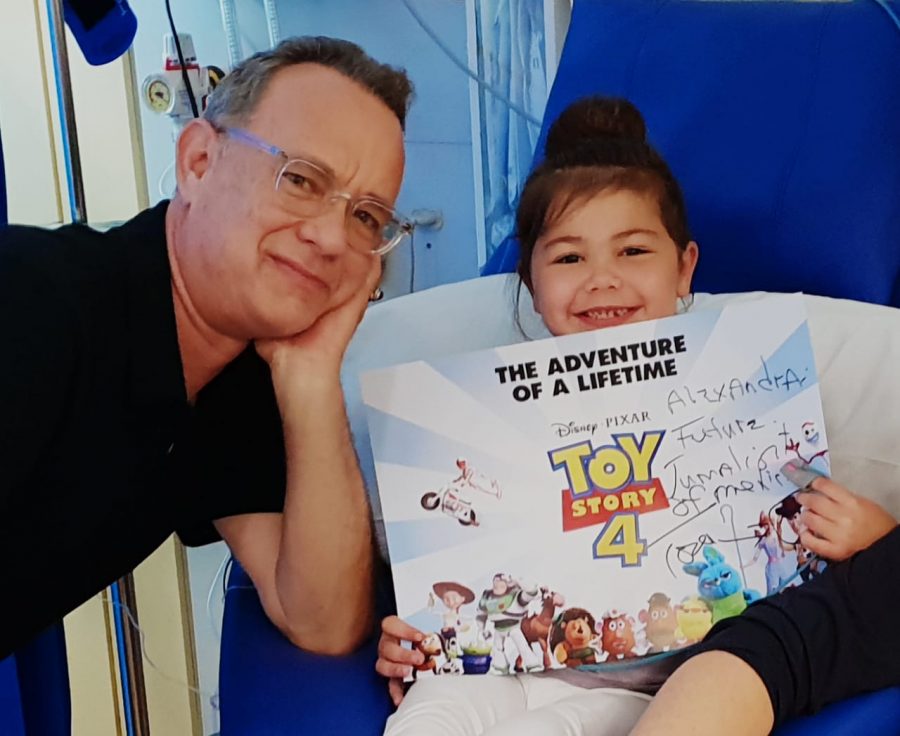 The Oscar-winning actor spoke at length about Alex's condition, and her treatment, and revealed that his own father was on dialysis for many years after losing both his kidneys (as did Alex) to kidney disease, so he had a deep and personal understanding of the extreme difficulties kidney patients face, says Lisa.
"He is a lovely, kind and funny man, and deserves his reputation for being a genuinely nice Hollywood star," she says.
Tom's team handed out Toy Story 4 goodie bags, and Tom visited three other children in the ward before opening a sneak preview screening of Toy Story 4 at the Evelina's MediCinema. (Tom was in London to promote the film which opens in UK cinemas today.)
The screening was attended by children from all wards in the hospital, including two young friends of Alex who had transplants a few days beforehand: they were wheeled in to the front row and watched from their hospital beds.
For those wondering – Alex loved the movie and highly recommends it, especially the surprise ending! (In fact she loved it so much, she'll be watching it again this weekend with her cousins Isobel and Josh.)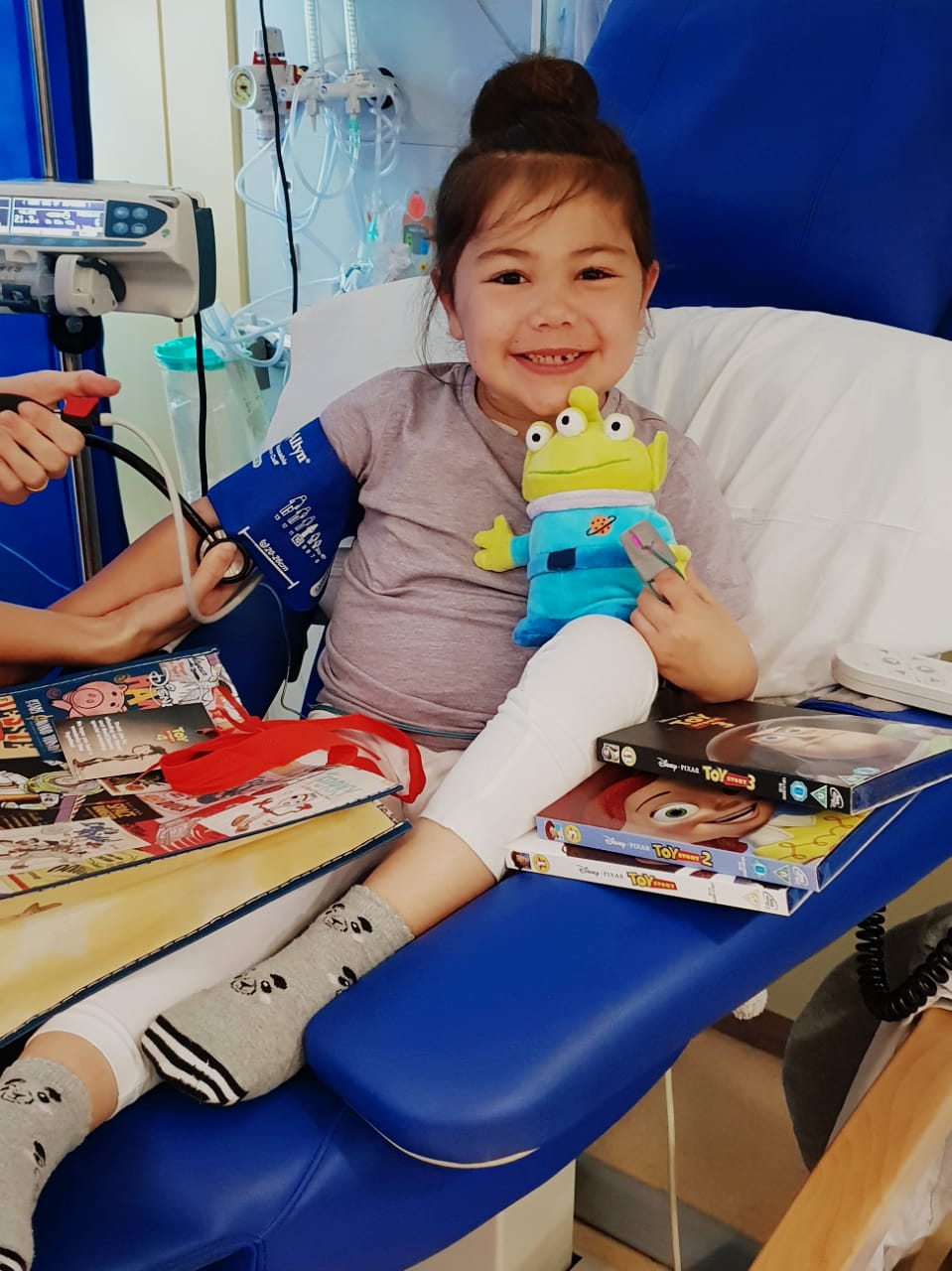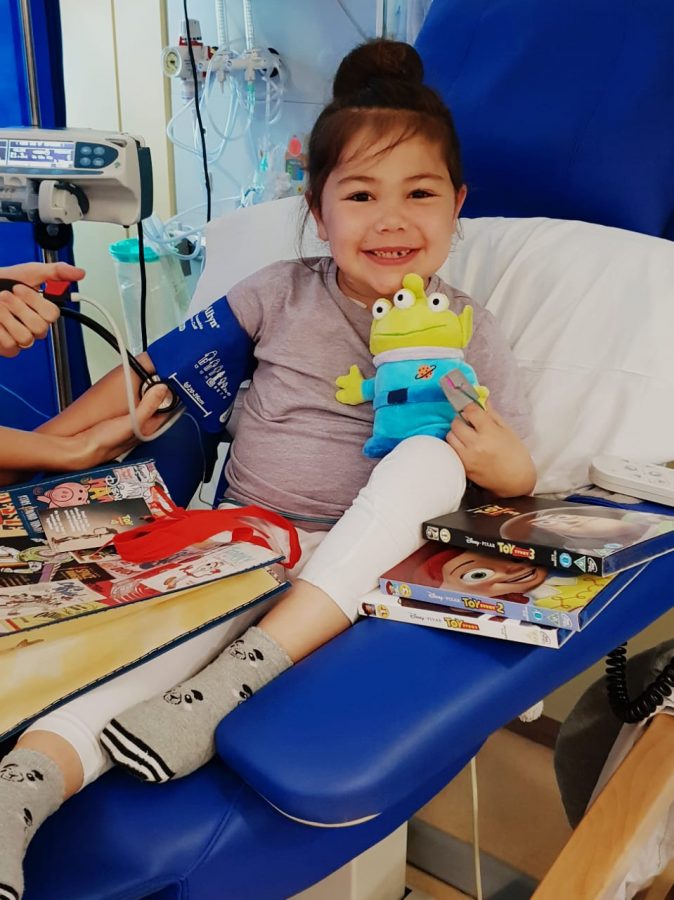 With the Evelina being one of two major children's hospitals in London (the other being the Great Ormond Street), it often gets visits by famous people to raise money for them or bring a smile to the many children who spend their lives at these hospitals.
Alex has also met the Mayor of London, Sadiq Khan, on a visit to the Evelina a few months ago. Catherine Duchess of Cambridge is patron of the hospital, and also visits regularly – although Alex and Lisa haven't met her yet.
"Closer to home, Alex met some of the Stormers, and held the Currie Cup at the Red Cross hospital in Cape Town last year," says Lisa, "and I think may have been more excited about that!"
***