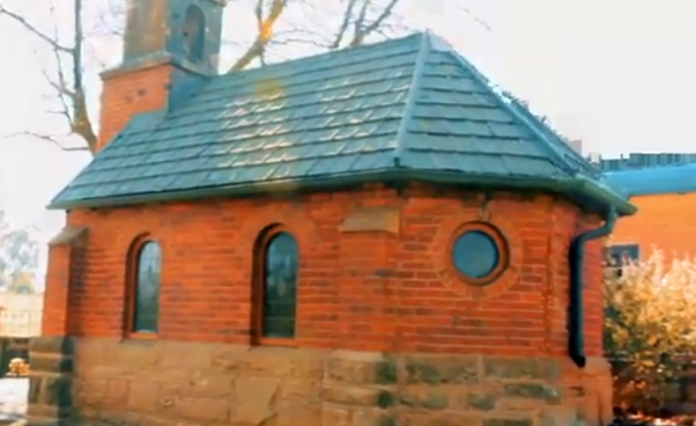 As many travellers between Johannesburg and Durban know, there is a quaint little church that is situated in Van Reenan (Free State) at the halfway mark. It looks beautiful in the spring, summer, autumn and even winter (see below).
This weekend filmmaker Richard van Schalkwyk stopped on his way to KZN and took some footage of the church – famous for being one of the smallest in the world – for those of us who've never seen it.
Fortunately for Richard the church was filled to capacity – it seats only eight people! – and "these visitors kindly agreed to sing while I made a quick video. It added so much to the occasion."
The reason the church has only eight seats is to commemorate eight people whose lives were saved by Llandaff Mathew during a coal-mine accident in March 1925 at the Burnside Colliery.
Llandaff himself was tragically killed when he returned to check if more workers needed help and got buried by another rockfall. His body was never recovered.
According to Country Life, his grief-stricken father – former magistrate Maynard Mathew – asked the Ladysmith Catholic Church if he could erect a plaque to commemorate his son's bravery. But since his son had been neither clergy nor a prominent national figure, they wouldn't allow it.
So Maynard built his own church! And so honoured his heroic son…
WATCH Visitors sing in the Smallest Church in South Africa
The plaque in the church reads: "To the Glory of God… And in loving memory of Llandaff Mathew, who gave his life to save those of others at Burnside Colliery on March 19th 1925 Aged 28 RIP."
If you're travelling between Joburg and Durban, it's so worth a visit – you'll find it at the top of Van Reenan's Pass. According to their website, The Little Church (with a big heart) offers coffee and breakfast all day, tea with scones and jams, and a daily homemade lunch special. It's also available for weddings!
More photos of the Little Church in South Africa:
Coming soon…
The Little Church in Winter:
The Little Church in Spring: