The miraculous rescue of South Africa's famous flamingos, which were left starving and dehydrated when Kamfers Dam in Kimberley in the Northern Cape dried up, was featured Wednesday on CBS This Morning in the USA. Watch the video below.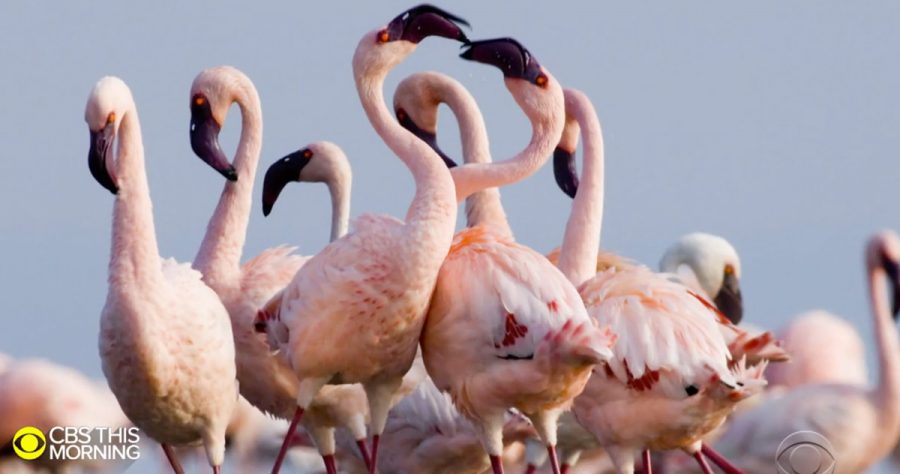 Presenter (and best friend to Oprah Winfrey) Gayle King said: "Severe drought has cost South Africa an estimated half a billion dollars, and it's forced an unprecedented rescue mission.
"Thousands of flamingos were forced to abandon their eggs and newborn chicks earlier this year because of the lack of water."
King then crossed to South African TV journalist Debora Patta in London who had reported on the mission from South Africa.
The story is of particular interest to Americans as specialists from the Dallas Zoo in Texas travelled to South Africa to form part of the rescue team. The project was challenging; a "delicate science" was needed as the birds required hand-rearing… but the humans had to ensure the birds did not bond with them too much, or they wouldn't have stood a chance being returned to the wild.
CBS also showed footage of the recent release of 500 birds who were fixed with trackers.
Letting go of the birds was emotional for everyone, including local veterinarian Donovan Smith who pointed out, if your children aren't ready to leave you when they're grown up, then you've failed as a parent.
It was a big day for Smith, successfully waving goodbye to amongst others, a tiny chick he had rescued which had been so injured they had named him Zero.
The release has so far been extremely successful with one bird already tracked in Namibia, over 600 miles from Kamfers Dam!
VIDEO: CBS This Morning Features South Africa's Famous Flamingo Rescue and Release
South Africa's current affairs show Carte Blanche also recently did an in-depth segment on the birds – watch below. If you're in SA – you can watch Carte Blanche on DStv Now. If you're overseas: you can watch #CarteBlanche and thousands of other popular local South African shows & movies by subscribing to Showmax International now. You can try it FREE for 14 days.